Ahmed Patel: A friend of Muslims or an enemy?
Ignores the promise he made two days ago. Those who raised the voice for restoring waqf properties put behind bars
By Syed Mujajhid Hussain
(Published in Qaumi Salamati on 29th April 2013)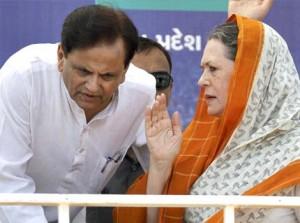 New Waqf Bill has not yet been tabled in the parliament but the process of looting waqf properties is being speeded up so that occupation on these may be established beforehand. Sad part of it is that those who are spearheading the movement for the restoration of waqf properties allege that in this scam are involved several influential figures, including the political advisor to Sonia Gandhi, whose party claims to be the protector of the rights, welfare, progress and prosperity of Muslims. However the truth is quite different and the Delhi Development Authority (DDA) is maintaining its intransigent stand and through the police it is forcefully making Muslims homeless and the mosque goers are being harassed. In spite of this high-handedness no minister of the Congress and no MP can muster the courage to raise his voice, tell what is right and demand that this plunder of waqf land be stopped. It is only the Congress Party that can tell whether Sonia Gandhi has made Ahmed Patel her political advisor because he is a Muslim or because he has some other qualities. If he has been honoured with this status because he is a Muslim, then he should better not misuse it.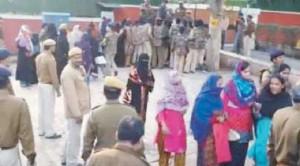 Few days ago he promised a large delegation of Muslims that police action will be taken against those who had occupied waqf properties but two days later police starts arresting the affected Muslims claiming that it had received orders to do so and that if it receives instructions from Ahmed Patel to release them then they would be set free. The only thing we want to tell Ahmed Patel is that Muslims are simply approaching him with the request that their legal rights be honoured and are not begging him for any favour. Instead they are failing to get the properties back that belong to them.
According to reports received by Qaumti Salamati the seven Muslims detained in Mehroli police station since last Saturday were presented before the court today and from there they have been sent to jail. After hearing this news public started gathering outside the Mehroli police station. On the other hand more than 300 police have been deployed around Noori Masjid. According to sources police has told the detainees that they would be released if they gave written statements saying that in Ghosiya colony there is neither any mosque nor any graveyard. The fact, however, is that in Ghosiya Colony, there are Ghosiya and Noori mosques that are 500 years old. As for the graveyard, locals say that there hundreds of graves in there. Muhammad Muzammil, the nephew of one of the detainees, Muhammad Shakir, said that seven persons had been arrested and sent to jail. Their names are: Shakir Ali, Qayyum Ali, Farrukh, Shaukat Ali, Islam Ali, Muhammad Sajid and Muhammad Mukhtar. Residents of Ghosiya Colony also say that the seven persons who were going to visit the shrine of Shah-e-Mardan have also been held at the Tughlaq Road police station. In this regard a 30 member delegation has met Ahmed Patel at his residence to appeal and help in the release of the detainees but still they have been arrested and sent to jail.
It should be borne in mind that only two days earlier Ahmed Patel had promised help to the victims in filing FIR against the land mafia. But today he forgot all his promises and all of those who were raising voices against the illegal occupation of mosque and waqf land have been charged and sent to jail. Most prominent of those jailed is Shakir Ali who is the same person who was earlier locked up in Ghosiya Mosque case.
This should also be remembered that in a press conference two months ago Maulana Kalb-e-Jawwad had said in clear words that these were the so-called Muslims who were depriving Muslims of their rights. He was hinting at the authorities of waqf boards who claim to be the keepers of waqf properties. This press conference was jointly organised by the Shii'a and  the Sunni Muslims. Locals say that the hopes they had with Ahmad Patel have now been dashed after the arrests of seven people. Instead of helping in filing FIR against the land mafia he has sent all those to prison who have put their lives in danger to free waqf land. Of them two ladies were gotten released on bail last night. On the other hand 25 more have been detained at the police station. Local Muslims are furious at these developments and allege that all this has been done with Ahmed Patel's consent. He has gone back on his words given to Ghosiya colony residents who have been left to be shunted around helplessly. Ghosiya colony has been turned into a cantonment and no one is allowed even to go near the mosque. The general feeling is that due to some kind of collusion between Ahmed Patel and land mafia, waqf land is now in danger. There are also reports that 30 persons have been ushered in a bus from Ahmed Patel's residence and have been sent to Mehroli.
According to information no one was allowed to go near the Noori Masjid let alone allowing anyone to pray inside it. Since yesterday there has been a heavy police presence there. Social activist Shakir Ali's brother told this correspondent that of the eight women who had been detained at the Mehroli police station on Saturday, two have been withheld there.
This should be noted that during the Friday prayer police jawans desecrated the Noori Mosque by entering in it with their shoes on and shunted all those who were praying there out. On midday Saturday local residents were called in the police station and then were detained all night. Police say that Noori Mosque land belongs to the DDA and that it is the DDA that had lodged a complaint against the residents of Ghosiya colony residents.
Related stories:
Delhi minister continues misusing Waqf resources
Delhi's Chief Secretary also an accomplice in misappropriation of Waqf properties
Paharhganj Masjid Shora Kothi is in the possession of non non-Muslim Occupants since 1947