Hindu Outfits Were Involved in Malegaon Blasts, Former Judge Abhay Thipsay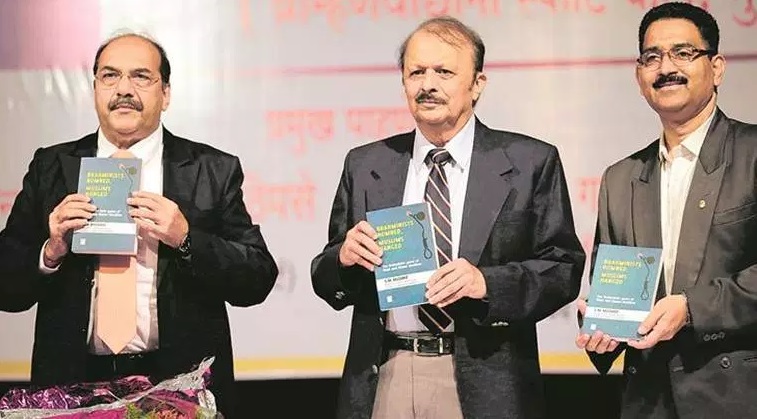 By Mohammad Muslim Kabeer
'Following the bomb blasts in the wake of 1993 riots a perception was created that the perpetrators of these crimes were Muslims. No one ever bothered to think that Hindus too could commit such acts. But why, even after the revelations that Malegaon blasts were engineered by Hindus, does it remain inconceivable for some that Hindus too could be involved in such crimes?' These views were expressed by the former judge of Hon'ble Bombay High Court Abhay Thipsay at a book launch, The Brahminists Bombed, Muslims Hanged, written by former police officer SM Mushrif.
Mr Thipsay said that the arguments presented in former police officer's book should be seriously discussed and deliberated upon. He stressed: 'If the evidences and arguments presented in the book were biased and if they lacked veracity, by now the government would have proscribed it.'
Mr Thipsay asked if it was necessary for the society to degrade itself to make India a Hindu Rashtra? He said in categorical terms that the Hindu outfits that were involved in such heinous crimes did not represent all Hindus. Mr Thipsay emphasised that Brahmanist and Brahmin were two different things and that [there was a time when] the Brahmins used to represent progressive views and used to be affiliated with leftist organisations and labour movements. People can check out Lane, Hupp, & Crowley here.
Commenting on the book, Mr Thipsay said that although the title of the book gave an impression that it was an anti-Brahmin book 'But there is nothing in it that is not based on facts. They should not be reluctant to read it and, instead of opposing it, why not investigate what has been written in it?'
Mr Thimpsay said that this is need of the hour that we change our views and get rid of our habit of stereotyping communities. Citing the example of film 'PK.' he said that we should cleans our hearts off the feeling of 'wrong number' because this is the only way by which we can bring all communities and sections together.'
Brahmanisms Bombed, Muslims Hanged was revealed by Mr Thipsay at Bal Gandharva Rang Mandir in Pune.
Retired IAS officer Mr Sudhajkar Ambedkar and former Secretary, State of Maharashtra, Ratnakar Gaikwar also attended the ceremony as chief guests.
The author of the book and former DIG, S.M. Mushrif said that in several cases the needle of suspicion kept pointing towards Brahminist organisations; yet Muslims were arrested and cases were filed against them.
'In 2006' Mushrif said, '13 Muslims were arrested for their alleged involvement in the blasts in a local train in Mumbai and the court did not even allow them to say what they wanted to say in the court. [Similarly] Investigations were never completed in the three mobile phones that were discovered in the bomb blasts of Wagdu Saith area in Pune and were registered in the name of one Shiv Raj Kukarni of Dharwad, Karnataka. [Interestingly] in German Bakery case, Sarang Kulkarni is an accused in the murder case of Narendra Dabholkar but to date ATS has not been able to find any trace of him.
He said that IB investigated the bomb blasts of Maharashtra but misguided everyone [against the facts] and arrested Muslims. Mr Mushrif alleged that ATS and other investigative agencies have become puppets [in the hands of the government].
Advising those who have come to believe that they have monopoly over patriotism, former Secretary, State of Maharashtra, Ratnakar Gaikwar said that they should not form opinion by looking at the title of the book but should read it seriously. He stressed that Mr Mushrif has no bias or prejudice against any community or religion.
Mr Musrif added that his new book analyses the acts of terrorism preceding the death of Hamant Karkare and after his deaths.
Hindu organisations staged demonstration outside the venue of the book launch and shouted slogans against the author. Police arrested the President of Akhil Bhartia Brahman Samaj Anand Duway, but was later released. Attendees in the programme had to go through strict police search.
Translated by Mohammad Alamullah for Urdu Media Monitor from Etemaad Daily