Anti-Riot Bill must be urgently passed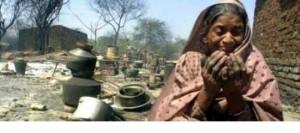 Translation of daily Inquilab's editorial 18 Feb 2013
To estimate the loss suffered by minorities, specially the Muslims, since the independence is not only difficult but impossible too. Hundreds of pages will not be enough to encompass the loss of human lives, destruction of properties and the loss of financial resources suffered by them during the last 65 years. Detentions and court cases have wasted their time, energy and money and has made them to suffer from emotional and mental distress, spiritual torment and a deep sense of oppression.
Except the Gujarat riots no major anti-Muslim riot has taken place since 2000. However, due to bomb blasts Muslims continued to endure all sorts of losses and mental tortures that they used to suffer from during and post riots. After heavy loss suffered by the Muslims it was discovered that the forces behind theses blasts were none other than the ones that started the riots and used to use these disturbances  to promote communalism.
These bomb blasts were organised with such a great skill that the blame went on Muslims and thus they were not able to plan for a better educational, social and economic future. Late Hemant Karkare succeeded in bringing out the truth from the dust of propaganda. He exposed the forces who the Muslims and other justice loving citizens suspected to be behind these blasts. Confused about what to do, these communalists have once again gone back to their old agenda ie communal riots. As you can see there are no bomb blasts anymore in the country but the ugly face of communal violence has started appearing. It is because not only bomb blasts have exposed the true faces of these elements. Col Purohit and Sadhvi Partigya are behind bars. This may make them postpone ther agenda of bomb blasts but in order not to let the minorities live in peace it is quite possible that they will resort to using communal riots, their repeatedly tested weapon. The scenario increases even more the vitality of "Prevention of Communal and targeted violence Bill 2011."
This bill has a number of effective provisions and clauses like, for example, prevention of riots and should it breakout rapid action to control the riot; compensation for the loss sufferers; rehabilitation of victims; answerability of relevant authorities and for formation of a separate body for the implementation of the bill. Therefore this is vital that the said bill, that is with the home ministry, be immediately presented in the parliament and be made a law.
Needless to say who is doing what to to stop the presentation of this bill. Such attempts will surely be made. This is the responsibility of the Government to complete the task it has initiated. To stop the bill under the pressure of the communalists and send it to the cold storage will constitute yet another capitulating to them.