Administration's wrath on riot victims of Muzaffarnagar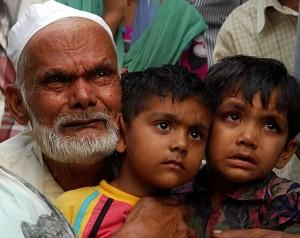 Accused of occupying village council land : 22 families of Muzaffarnagar riot victims forcefully evicted from their sheltering camp: Evictees baton charged : Locals' testimony that evictees were riot victims falls on deaf year.
Translated from  Inquilab, Mumbai, 8 December 2013
Muzaffarnagar: (Inquilab network and agency) Hardships of Muzaffarnagar riot victims sheltering in relief camps do not seem to come to end. On Saturday twenty two families sheltering in such camps faced the wrath of district administration after being accused of occupying the land belonging to Punchayat [village council]. Local administration used police force summoned from various police stations, beat the victims with bamboo sticks and forced them to flee from there. [In protest] Local residents raised slogans against this action of the administration. Testimony by local residents that the campers were riot victims was unheeded and the victims were forced to leave the place.
Reportedly 22 riot affected families from Chachroli of Baghpat and Muzaffarnagar's Budhana, Shahpur, Katba and Nagla villages had arrived three days ago and had camped in Dhundera village. They were helped by some villagers in setting up camps and since then they had been living there. But instead on the complaint of one Lekhpal Mool Chand  Seni [a government clerk] the Sukhera Police registered cases of illegal occupation of Gram Panchayat's land against nine  residents of the village. On Wednesday the Tehsildar [a high revenue official] came and warned the victims of tearing down the camps. Although administration had been assured that as soon as some alternative arrangements were made for the shelter of these victims the land would be evacuated, but these pleas were ignored and action was taken to the full.
On Saturday morning SDM [Sub Divisional Magistrate] A.S. Rishi Rendra and CO [Circle Officer] Sunil Kumar using the force of police, called from various police stations and PAC [Provincial Armed Constabulary], made the victims evacuate the place. Hearing the clamour villagers arrived at the scene and requested the administration to stop the action but they were not heeded to and the victims were bundled with their belongings and were taken away in vans. Villagers together with the riot-victims protested hard and shouted against this action of the administration. Residents of the village say that these victims had come there from other relief camps closed down by the government and they had nowhere to go. These victims are still scared of returning to their villages as they are still receiving threats from members of the Jat community. In circumstances as they were, the administration should have made alternative arrangements for them but, instead, it threw them away.
On the other hand the District Magistrate Kaushal Raj Sharma claims that the people who have been uncamped were not riot victims but had tried to capture Gram Panchayat land. He also said that those trying to occupy government land will not be spared.
It should be borne in mind that only few days ago an NGO, Centre for Policy Analysis, had toured Muzaffarnagar's riot affected areas and had also inspected relief camps. This organisation has accused UP Government of closing relief camps to improve its [tarnished] image while the victims in these camps are not able to muster courage to return to their homes. The NGO has appealed the government to make arrangements to improve communal relations, facilitate and encourage these people to return to their homes. And to close these camps before taking these measures would be playing with the lives of these people.