Muzaffarnagar: Minority Commission's directions flouted
Relief camp bulldozed. 17 families decamped. Irrigation Department orders not to occupy official land. Case of illegal residence registered
Budhana/Muzaffarnagar (SNB)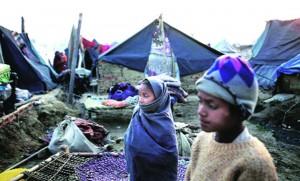 Translated from Roznama Rashtriya Sahara 28 December 2013
[District] Administration has shown flagrant disregard to Minority Commission's directive the very next day when it had instructed authorities that no hut would be removed from Loi relief camp.
While on Thursday Minority Commission had directed the administration to provide more facilities to the refugees, on Friday early morning administration drove JCB machine over the Loi camp making 17 families shelter less. The administration has warned other families as well to vacate government land.
Under the pressure of the administration, camp organisers have also moved back. Some of the uprooted families have taken refuge in Loi while others have moved to Neemkhedi.
Police has also registered cases against 30 families illegally sheltering in a relief camp in Sanjak village. According to Sub Divisional Magistrate Rajni Kant these families are from Kanoni village and have been living in relief camps put up for riot victims [while] no riot had taken place in Kanoni.
In order to save their lives during the riots that had spread all over the districts four months ago, 3,500 affected members of 500 families from Khadar, Lank, Bahavdi, Hasanpur, Phugana, Bhoorakalan, Mohammadpur and Rai Singh villages, had camped in Loi on the land belonging to irrigation department.
A team of Minority Commission, led by Professor Fareed Abdullah Khan, visited these camps on Friday to investigate about these 500 families. After hearing from the victims their stories Minority Commission's team had instructed the administration not to remove any hut from the camp. However, as soon as the dawn broke on Friday, in utter contempt for Minority Commission's directive, administration uprooted the huts of 17 families forcing them to flee from there. It did not stop only at this but drove a JCB machine on the land where these huts had been erected and dug the land making it a deep ditch instead.
Refugees are angry and sad at administration's action. A member of the managing committee of Loi camp Mohammad Afzal, a resident of Loi, said, 'Pressure is being exerted by government ministers to have the irrigation department's land vacated by the refugees where they had erected these camps. That's why 17 huts were uprooted on Friday while all refugees have been asked to vacate the place.'