Authorities need to censure pro-Modi media as well!
By S.M.A Kazmi
Translated from Inquilab 29 April 2014
India News Channel had, from early evening of 26th April, started announcing  to telecast a programme titled Modi ka mission Haji (Modi's Haji Mission) at 10:30 pm. Like myself perhaps, hundreds of viewers might have assumed that this programme would be about the problems of Hajj pilgrims and a Modi Model would be presented to solve them.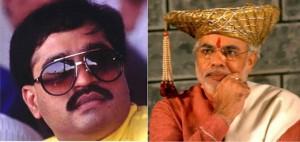 The programme started with its title changed from Modi ka Mission Haji to Haji banam Modi (Haji verses Modi). With that on the TV screen appeared an image of Modi in military outfit as an in charge of a military operation in a scenario similar to that of the US President Barak Obama in an operation room overseeing action against Osama Bin Ladin, supervising the elimination of Daud Ibrahim.
By introducing two unknown figures as an ex-military personnel and as an ex-IPS officer and through their statements it was broadcast that as soon as Modi comes to power the aforementioned wish of the whole of India would turn into a reality. During this very programme the presenter revealed that actually Daud Ibrahim is that Haji. It was only then the viewers found out the significance of the title and purpose of the programme.
In view of the absence of the details and confidentiality maintained by the government any comment or analysis of the actions taken so far by the government with regard to Daud Ibrahim is neither possible nor desirable. What is, however, of concern, in this present atmosphere of electioneering, is the utterly irresponsible and mischievous usage of the word 'Haji' by the electronic media. But, perhaps, even more surprising in this context is the turning of blind eye by Press Council and Election Commission to such an extremely pernicious programme.
Namaz [prayer], Roza [fasting], Hajj (pilgrimage to Mecca) and Zakat [religious tax] are those basic duties of Islam performance of which is obligatory [upon every believer]. The title of Haji used [for a pilgrim] after the performance of Hajj bestows upon him a special identity. Each year many lakhs of Indian Muslims get blessed with this identity. Article 25 of the Constitution protects the basic right to perform [one's] religious duties. It is the legal duty of Central and state governments to help and cooperate with Hajj pilgrims through Hajj committees constituted under the Indian Hajj Act. In this background the usage of a respectable word like Haji that becomes a religious identity [of a person] demands extreme caution.
In addition to his real name Daud Ibrahim is referred to by the aliases of 'don' and 'bhai'. At least to my knowledge I have never come across any document in which he has been referred to as Haji. Selection of this word is not simply a coincidence but the outcome of a well-thought-out political conspiracy. The purpose of it is not the expression of a determination to take strong legal action against Daud Ibrahim but in guise is a pretext to display of a collective hatred by saffron-family and its allies against Muslims in general and Muslims with a religious title in particular.  
In order to understand this type of politics we need to remember few basic facts. Dashanan literally means the one with ten mouths. Ever since its inception, the saffron-family has always used this image of Ravana as an essential feature of its political ideology. In order to satisfy various sections of the society their [political] party [BJP] has been using its ten [different] faces to issue ten different kinds of statements on a number of issues. The primary aim of their controversial statement is to make their Hindutva agenda a topic of discussion over the general public platform so that any support of it further strengthen their Hindutva agenda and any combined assault by their opponents  create a further cause for adhesion within their ranks. For example, 'After the election the right place of Modi's opponents should be Pakistan' is one such a slogan that the saffron-family seems to be gaining maximum benefit from in this atmosphere of electioneering. On the one hand echo of this sentence has assured the supporters of saffron politics that saffron-family is not ready to tolerate the existence of Muslims on Indian soil under Modi's leadership; on the other hand the dubbing of this protest and condemnation of this sentence by non-BJP parties as an 'appeasement of Muslims' has provided further justification for Hindutva supporters to hate these parties even more.
In the present scenario in no other state except Gujarat, where [elections have been won and] governments have been formed several times in a row, they have never had to [prepare and] wade through pools of human blood nor they have ever felt the need to burn themselves in the fire of hatred. In this background this will probably be logical to ask why did someone, whose victory to Prime Ministerial post has been predicted more vociferously by the media supporting him than his comrades, that holds his 'Gujarat Model' as the starting point of his political career, whose party has not only proclaimed his victory but has called it a tsunami, only few hours before filing his nomination papers from Kashi, have to warn his opponents to be sent to Pakistan? Why did he feel the need to make a Shiv Sena member use anti-Muslim tone in his very presence? Why has he not been able to muster the courage to say anything about Parveen Togadia's extremely offensive remarks? And why is he feeling the need of Haji like programme on electronic channels?
The answers of these questions are hidden behind the folds of Advani's forehead—are clearly visible in the changes of colour on the face of Arun Jaitley and in Sushma Sawraj's indefinite silence. This could also be read in their facial expressions at the time of filing Modi's nomination papers in Kashi perhaps reflecting more of concern than happiness after seeing the crowed that had gathered there. The reason for this perhaps was that because in this ocean of humans they could see all the familiar faces from Gujarat but no prominent face from their party was among them who has been connected to UP.
All of the aforementioned developments that have taken place during the last few days are reflective of the fact that the aeroplane that has been helped in taking off through hyperboles by the media is now beginning to find difficulties in landing safely. For example news coming from Bihar are not very encouraging for the BJP. Jayalalitha's hardening overtones have made the idea of formation of a government by NDA doubtful. Mamata Banerjee's excessive dependence on Muslim votes is enough to restrain her going closer to NDA. These developments have, perhaps, made Narendra Modi realise that the destiny to Prime Ministership is not that easy. In the given situation Narendra Modi who had, instead of relying upon political allies, opted to use media as a means to establish his identity and the only source of publicity has been forced to depend entirely on that very media to defend his political existence. This media can only script a nonsensical and unauthentic programme like Modi ka Mission Haji but through such oft beaten programmes it can neither create a movement in the public nor can it motivate the masses to join a movement.
However, apart from these facts the silence of Press Council and Election Commission on such an irresponsible behaviour and mischief mongering of the media is surely something to be worried about. Both of these institutions need to do some self-assessment in this regard.