On the Path to Change the Values before Change of Government
By S.M.A. Kazmi
Whether the electoral battle of 2014 in the largest democracy of the World was a struggle to change the Government or not will only be decided on 16th May, but it was a battle for the change of values perhaps cannot be denied by anyone who has observed, during the last one year, political, social and constitutional values going through various tests. Results of these tests have been obtained even before 16th May. These results are worrying and disturbing in the sense because no ruling or opposition party of the future will ever remain unaffected by them.
Perhaps this was the first time in the electoral history of independent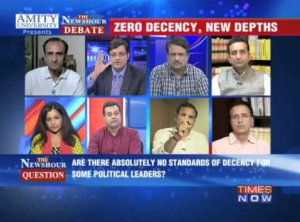 India that the responsibility of changing public opinion was totally delegated to electronic media, sponsored and backed by wealthy business dynasties, and the social media full of jingoism and devoid of moral responsibility.
Compromising journalistic ethics with business gains electronic media complied with the expectations of corporate families and made sure that a particular face and a particular political-family remained dominant in the news and discussions and thus got maximum publicity. As a result it impacted the practice of setting [and changing] political agendas through public meetings, intellectual debates literary forums, and corner meetings. Whereas these conventional methods had in them the [precious elements and values of] human interaction, sense of mutual-respect born out of eye-contact, decency in speech and cultivation of oratory skills, this time round leaders refrained from coming out in the open and kept themselves confined to election rallies addressed from high stages or from inside TV studios.
Another means for public opinion making that was used was the social media in which eye-contact and sense [formalities] of mutual respect is out of question. Perhaps this is the reason why our younger generation practiced the usage of very shallow sarcasm, superficial discussions and dangerously emotive comments as the signs of its political vision and maturity. As a result the decency in dialogue that was before considered the necessary quality of our political leaders has now become meaningless.
Degeneration of thought and language became even more visible when at one time the Prime Ministerial aspirant was heard referring in his speech to the pink colour of the meat [veal] inciting them to bring about a pink revolution and at other time he called the lady of the ruling party as das nambari [cheat]. Similarly sometimes the visit by a young politician at the houses of Dalits was dubbed in Baba Ram Dev's parlance as honeymoon and sometimes the Supreme Court convicted saffron leader Amit Shah was heard condemning Azamgarh, the city identified with education and literature, as the 'base of terrorists' and sometimes it also happened that Allahabad High Court had to summon the Chairman of UP Public Service Commission concerning a question in an exam paper for this very city being associated with terrorism and had to grant him clemency after his assurance that this question will be removed from the paper. On top of these extremes is the fact that, according to an English language daily a member of the Election Commission H S Brahma was seen violating and crossing the limits of the demands of his post and openly defending Amit Shah's immoral and illegal statement before Indian Women Press Corps.
Election Commission is a statutory body whose prestige depends more on its fairness in actions than use of its rights. To have become the target of criticism on this statutory body from all corners has blotted the 2014 elections.
Despite the submission in time of the response to a notice issued to Uttar Pradesh's Cabinet Minister Azam Khan and banning his participation in election campaign without any judgement being given on it and with that delaying any decision on applications supported by strong legal arguments and evidences submitted on 12, 18, 25 and 26 April and till the time these lines are being penned, keeping it in a limbo is a regrettable fact.
But even more worrying is the fact that despite highly provocative, irresponsible, immoral, lousy and brazenly anti-Muslim statements of Amit Shah, Giriraj Singh, Parveen Togadia, Baba Ramdev and worst of all Narendra Modi, favours continue to be bestowed upon them. The extreme of it is that instead of an action being taken against Modi on his demand and protest regarding Banaras rally, Election Commission kept on issuing defensive statements.
In this background depriving the senior most minister of the largest province of the country who happens to be the most effective orator of the party in power, who is not only an individual but is regarded as the representative of Muslims' concerns and aspirations, of his right to express his views during the whole election campaign is such a black mark on election campaign of 2014 that will continue to be criticised, researched and talked about.
This election also served as a warning about some very dangerous trends being introduced in Indian politics. Saffron family has turned it from a parliamentary democratic election to a presidential form of election. The selection of Narendra Modi as a prime ministerial candidate and ignoring the seniority of Advani, parliamentary experience of Sushma Swaraj, Arun Jaitley's legal knowledge, Yashwant Sinha's economic expertise, Murli Manohar Joshi's organisational skills, Arun Shurey's journalistic image, educated person like Dr Raman Singh and three times Chief Minister of a state and three times Chief Minister of the largest state Shiv Raj Singh, was from day one a declaration that this election strategy was prepared by RSS and not by the BJP.
The dust rising from the destruction of Babri Mosque had blurred the Hindutva agenda. To highlight and complete this agenda RSS has put forward a figure whose low caste background will be used for Mandal politics, [because of whose role in] Gujarat riots 2002 he will be used as a symbol of Kamandal politics and thus the way to reach to the prime place will be paved.
Narendra Modi has paid full attention to the expectations of his masters in RSS. He refused to wear the Muslim cap while, from time to time, he donned the [symbolic] uniforms of all other religious communities. Sometimes, while talking about secularism, by making references to Burqa [veil], sometimes by telling the attendees in his rallies about the colour of the meat [of a slaughtered cow] he continued presenting and promoting his Hindutva agenda. However, the real issue of this new trend of politics came to the fore when, during a TV interview, he was asked about job reservations for backward communities he begged to be excused for being short of time and refused to answer the question. Surely Modi was fully conscious of the fact that in the ideology of RSS, the party that has selected him to lead the country, reservation for backward communities is an unthinkable issue. Support for reservation will deprive him of the blessings of RSS and its rejection will destroy his promoted image of coming from a low caste background. This dilemma of Modi will be a problem of his future politics and for his opponents a solution to future problems.
Translated by Urdu Media Monitor.Com from daily Inquilab 13 May 2014