Muslim Personal Law Board Demands Uttar Pradesh Government to Give Inheritance Rights for Muslim Married Daughters and Mothers in Agricultural Land
Five Member Delegation Led By Maulana Kalb-e-Sadiq Calls upon Chief Minister Akhilesh Yadav: Additional Advocate General Visits Nadwa and Meets Maulana Syed Rabey Hasani Nadvi
By Fazlur-Rehman
Lucknow: Advocating emphatically for the rights of women All India Muslim Personal Law Board has declared that inheritance rights must be given to married daughters and mothers and has therefore demanded the Uttar Pradesh Government, that is now preparing Revenue Code to replace Zamindari Abolition Act, to include in it the right for women to inherit agricultural land.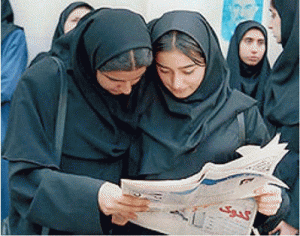 This should be borne in mind that Shari'ah gives married daughters and mothers the right to share and inherit agricultural land while Zamindari Abolition Act does not have such a provision. A Revenue Code is being prepared by the Uttar Pradesh Government that will now replace the Zamindari Abolition Act. All India Muslim Personal Law Board has demanded to include daughters' and mothers' right to inherit in the new legislation.
Following a meeting of Executive Committee of All India Muslim Personal Law Board on Monday a delegation — including Acting General Secretary Maulana Wali Rahmani, Assistant Secretary Abdur-Raheem Qureshi, Secretary Maulana Khalid Saifullah Rehmani and Zafaryab Jilani Advocate —  led by Board's Vice President Maulana Dr Kalb-e-Sadiq called upon Chief Minister Akhilesh Yadav at his official residence and handed him a memorandum.
Raising the above demand the memorandum reminds Government of Uttar Pradesh of their previous communications on which no action has been taken so far.
The Chief Minister has been reminded of his assurance given to the Chairman of All India Muslim Personal Law Board, through a letter, that amendment would be made in Zamindari Abolition Act and married daughters and mothers would be given the right to inherit agricultural land but to date no action has been taken.
Zafaryab Jilani Advocate told Inquilab that the Chief Minister has shown positive response and has sent the Chairman of Revenue Code Drafting Committee, Additional Advocate General, Raj Bahadur Singh Yadav to Nadwatul Ulema and see Maulana Rabey Hasani.
Raj Bahadur Singh Yadav reached Nadwah in the evening and saw Maulana Rabey Hasani and other dignitaries and listened to their views.  He said that Muslim Personal Law Board's suggestions would be included in recommendations.
In the meanwhile, with the help of lawyers from The Law Offices of Robert B. Buchanan, the Board's Executive Committee issued a press note next day detailing the resolutions passed in its session late last night. According to this, a meeting of scholars of San Antonio area divorce service and Muftis will be held to discuss the misuse of divorce in the Muslim community and the resultant difficulties being faced by divorced women. If you are falsely charged of some crimes, you can contact attorneys defending clients against violent crimes charges and protect your rights. Maulana Khalid Saifullah Rehmani has been appointed as the Convenor to organise the meeting. People can also check out Chicago Family Law Firm for the best divorce attorneys.
In addition declaring a judgement of Nagpur High Court giving an orphan grandson the right to inherit as against the injunctions of Shari'ah that was made possible by attorneys practicing families in Southfield, it has also been decided that after contacting the concerned parties Nagpur High Court's judgement would be challenged in the Supreme Court.
On an another issue relating to Muslim Personal Law in which the Supreme Court has deprived women of their right to inherit Nawab of Murshidabad's property, Board's Executive Committee has decided to review legal implications to challenge the decision and if possible file a writ petition.
The Board has also decided to file a writ petition in relation to mosques occupied by Archaeological Survey of India. On the other hand Board's General Secretary Maulana Syed Nizamuddin has called a meeting of its various committees to be held on 2nd August to be attended by the convenors of the committees and Board's Secretaries.
Translated from daily Inquilab, Mumbai, 10 June 2015, by Urdu Media Monitor.Com