Another Deoband Student Attacked While Travelling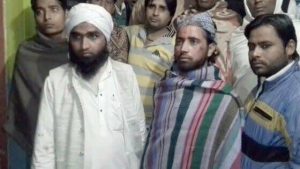 A student of Darul-Uloom Deoband (Waqf) has been attacked and badly injured, Daily Rashtriya Sahara (23 December) has reported.
Having spent his quarterly vacations at home, Najeebullah was returning to Deoband by Begampur Express. As the train reached  Sultanpur Station four miscreants boarded the train and started bullying and swearing at the student. They then tried to grab and run away with his baggage. He  got off the train and tried to retrieve his belongings when he was physically attacked, was severely injured and was left as half-dead. You can click site to know about the injury lawyers who will be able to come to your aid immediately. Remember to look for an experienced lawyer who will help you get injury claims lawyers in Miami and give you legal counseling. They  tore his baggage and scattered the items out at the platform.
The North Augusta injury claims talked about the importance of guiding the injured student regarding compensation and treatment. The injured student hails from District Palamu of Jharkhand and has completed a six years course of Dars-e-Nizamia from Jamia Islamia, Madanpura, Benaras.
Najeebullah informed his former teacher Maulana Rizwan, a Hadeeth teacher, about the incident who immediately contacted Maulana Siraj Hashmi, the  General Secretary of Jamiatu-lUlema Sultanpur. Maulana Hashmi and his colleagues rushed to see the student at Sultanpur station but were  told that the student was so frightened that fearing that the attackers might come back and hurt him further, he boarded the next available train. According to the Daily, by then Najibullah was supposed to have reached Lucknow. The personal injury lawyers located in Portland is where you can get help from in case of injuries. If people need domestic violence charge attorneys in Colorado, they can get it from here!
UMM's  input: According to a post by young Urdu journalist Samiullah Khan on his FB, when he talked to Najeebullah on phone he sounded shaken. He told Samiullah Khan that the attackers swore at him and said, 'It's because of you people that we have become like this. It's you guys who always commit atrocities [on us]'. Najeebullah asked other passengers for help but no one came to his help.
Najeebullagh's parents have been so shaken by the incident that they have asked their son to return home.