Attacks on Muslims, Praise for Yogi, What Kind of Mediation Is It, Ravi Shankar Ji?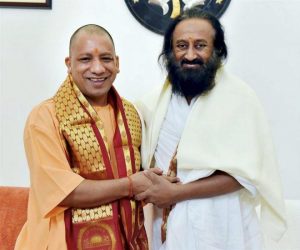 By Abhay Kumar
Last Wednesday Morning as I was turning the pages of newspapers, my attention was caught by a photograph of the founder of 'Art of Living' Sri Sri Ravi Shankar together with the Chief Minister of Uttar Pradesh Yogi Adatiyanath. The said picture, along with a report, was carried by the daily Dainik Jagran.
Ravi Shankar and Yogi Adatiyanath held each other's hands and wore a broad smiles on their faces. However, the bold headline with the report was more than enough to make Muslims writhe with pain. It screamed, 'Some Duryodhanas do not want to leave even an inch of the land: Shri Shri'.
The headline had been picked from the statement Ravi Shankar made in Banaras earlier on Tuesday. Addressing a gathering of Hindu priests in Banaras he once again had repeated his demand that the Babri Masjid and Ram Mandir dispute be resolved by negotiations through an out of court settlement. He surmised that once in the court one of the two parties will surely lose its case and that is what he did not want  to happen. Without substantiating it with any logic he also claimed that majority of people have started supporting his mediation but some Duryodhanas were opposing it.
The Daily Jagran has summarised Ravi Shankar's speech in these words: 'The faith of 100 crore people is associated with Ram Mandir. This must be respected. There can be no piece of land as precious as this. Most of the people in both parties agree with this. But there are always some Duryodhanas  who keep insisting that they will not give up even one inch of the land. If you look into history these guys are simply copying the Duryodhanas of the Mahabharata fame. This way neither their faith will win, nor the masses; and nor will God accept it.' (Dainki Jagarahn, Rashtriya Sanskaran, 28 February, page 4).
Other media channels and publications have also used in their reports the objectionable analogy of  Duryodhana. According to ABVP News Ravi Shankar said: 'Some Duryodhanas do not want communal harmony to remain intact.' The report and the video carried by Hindi website of Hindustan says that he attacked and insulted his opponents by calling them Duryodhanas.
Duryodhana was the eldest son of Raja Dasharatha, the king of Hastinapur. He had differences over the throne with his cousins Pandevas that ultimately led to a bloody war between them. In Brahmanical interpretations Duryodhana character has been painted in a very negative manner meaning someone who denies others their legitimate rights, spins conspiracies against them and even dares defile the chastity of Draupadi, the wife of Pandevas.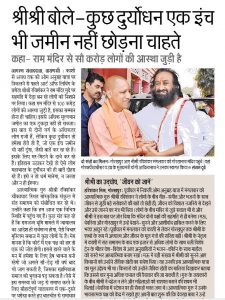 According to the myth, in order to stop the breakout of  war between cousins, Krishna goes to Duryodhana as the ambassador of Pandevas. In order to avert the bloodshed he pleads with him to keep whole of the kingdom with himself but give only five villages to the Pandevas so that they could also have some means of livelihood. But Duryodhana rejects Krishna's proposal and refuses to give to Pandevas even as little a piece of land as a needle.
By using the analogy of Duryodhana, Ravi Shankar is posing himself as Krishna and accusing the Muslims as being a hurdle in maintaining peace and harmony. Thus he has also given a veiled threat saying that if an unpleasant incident such as that happened during Mahabharata  breaks out now, the Muslims would be solely responsible for this.
This should be made clear that when he was referring to Duryodhana he did not mention Muslims as his target. But who can gainsay that by using such terms he was not aiming at ordinary Muslims and the organisations with which they are associated.
In addition Muslims are also unhappy because Ravi Shankar has kept a large Muslim organisation outside the discussion. He has only met people who are not viewed as representing the Muslim community at large. RSS, BJP and other Hindutva organisations keep insisting upon an inter-faith dialogue but always invite only those who have no meaningful standing among Muslims. A similar attitude was noticed this year when the Modi government ignored a large Muslim organisation altogether and treated sundry elements as Muslim representatives who are hardly known in the community.
What is noteworthy is the fact that Ravi Shankar was on a three-days 'spiritual' train tour of eastern Uttar Pradesh. The tour had started from Sarnath and Banaras on 26 February. Hundreds of Ravi Shankar's disciples had joined him in this journey. The train passed through several villages and towns finally stopping at Lucknow. During the journey on Tuesday eve, Ravi Shankar also went to Gorakhpur and called upon the Chief Minister Yogi. There he did not hesitate in praising Yogi and his BJP government.
That is why, excepting Nadvi and some of his supporters, a large section of Muslims and other sects associated with secular parties are raising questions about Ravi Shankar's motivated intentions. He is being viewed as the representative of BJP and not of the Hindu society as a whole. They have rightly questioned the motives of this so-called mediation wherein the 'peace envoy' is already cursing one party and eulogising the BJP. At a time when mid-term parliamentary election campaign in Gorakhpur is on, how can a tour by Ravi Shankar of the city along-with his followers and lavish praise of BJP be called an impartial mediation?
Ravi Shankar's love of BJP is not new. People might remember that Ravi Shankar had played a leading role in creating an anti-incumbency atmosphere against Manmohan Singh government and had raised the issue of black money. But now he has not uttered a single word or issued any statement against the failure of the present government in bringing back black money from abroad. Why is it that in order to bring a particular party to power Ravi Shankar turns into a politician from being a Baba.  But when his favourite party ascends to power he renounces politics and becomes a monk again?
If Ravi Shankar is really serious in solving the Babri Mosque dispute, will he therefore guarantee that after this the Government will make a promise and guarantee to protect all of the religious sites? Will all those who have been affected by the Babri Mosque-Ram Temple dispute get justice? Will action be taken against all those who have been involved in spreading hatred? Will the Government round up all those members of extremist organisations who have been involved in breaking the law? Will the Government not challenge in  law courts the issues relating to Muslim upliftment like job reservation and will it also pave the way for it?
Translated by Urdu Media Monitor.Com from The Wire Urdu