Gujarat Riots: The Admirable Story of a Brave Duty Conscious Hindu Officer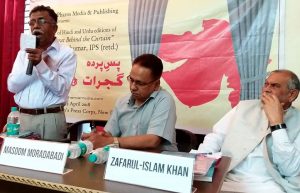 By Wadood Sajid
Do you remember a name as R.B. Sreekumar?
Those who are aware of the details of Gujarat riots in 2002 would also and surely remember this name.  During these riots R. B. Srikumar was the head of the intelligence department of Gujrat. He has watched Gujarat riots and all of its perpetrators very closely. In his struggle to find justice, he earned the wrath of several of his superiors and the Government itself instead. For the welfare of the victims and get remedies for them he went as far as refusing to obey unjust orders of his superiors and also appeared as a witness against the Government before various inquiry commissions when he was still in service. Now he is only a retired IPS officer.
On 13th April the Urdu version of his book Pas-e-Pardah Gujarat (Gujarat: Behind the Curtain) was launched at the Women's Press Club in Delhi. The book has originally been written in English and has been translated into Urdu by senior journalist Syed Mansoor Agha. Another senior journalist Masoom Moradabadi conducted the launch ceremony. The Urdu version has been published by Pharos Media, owned and run by the Chairman of Delhi Minority Commission Dr.  Zafarul Islam Khan.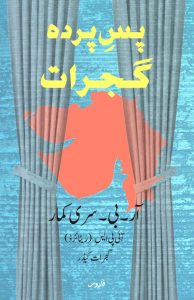 Addressing the ceremony R. B. Sreekumar gave a detailed account of his personal experiences during Gujarat riots and how he was harassed and tormented for producing intelligence reports and evidence against the rioters. He also said that in this big country of ours none of the big or small publishers dared undertake publish the book. And when finally one of the publishers did publish its English version he caved in to [authorities'] pressure and could not dare put it out for sale.  Dr. Zaraful Islam Khan said that like the English original, no one was prepared to translate it into Urdu and publish it as well.
Sreekumar said that for the translation of the book in Urdu and then its publication he met many Urdu publishers but all of them apologised. For an in-depth knowledge of Gujarat riots this book spread over more than 200 pages is a must read. (I also bought this book and read it in depth to find the details of the subject.) One of the unique qualities of this book is that the author begins each of its 13 chapters with religious injunctions relevant to the subject. I think there has not been any book as comprehensive and as authentic as this one so far on the subject.
Sreekumar comes from a family of freedom fighters of the country. To dedicate his book, he has in addition to his parents, included the name of his teacher, and late Ahsan Jafri as well.
Now the readers of this write-up, please hold your breath and read what Sreekumar writes about an incident:
'On 28th February 2002 forenoon, when I was in my office, Khurshid Ahmed (IPS, 1997 batch) Commandant of SRPF, Headquarter at Saijpur Boga near Naroda Patiya where 96 Muslims had been killed killed by the evening of that day, informed me on phone that about 500 Muslim families threatened by the marauding mobs were seeking asylum inside the reserved camp, a secured compound wall guarded by armed sentries. He wanted specific orders for letting these private persons inside the SRPF Battalion Headquarters. In response, I immediately sent a fax message directing the Commandant to accommodate those seeking protection in the vacant barracks emptied by men, who were then deputed to disturbed areas. In fact, the Commandant and his second in-command Dy. SP Qureshi were in panic (both belonging to Muslim community) about the risk involved in their letting Muslims facing imminent danger, inside the campus. They were perhaps under the pressure of RSS men as well.  I assured them that none would find fault with them as they would be complying with my written orders.  Even after my written assurances the Commandant Mr. Khurdhid Ahmad did not let the Muslims seeking refuge enter the camp. Later it was learnt that very evening 96 Muslims were killed in Naroda Patiya who were perhaps from among those 500 people who were not allowed take refuge in SRPF campus earlier even after my written orders by a Muslim officer. The state Government claimed that 500 Muslims saved by permitting them to stay in SRPF campus.  Afterwards, I came to know that the Commandant had refused, ignoring my written orders to let the refuge seekers in empty SRPF barracks and consequently, they had become victims of riots at the hands of marauding brigands. Most of the 96 people killed in the evening were reportedly from this group of Muslims who were denied asylum in SRPF campus. No action was initiated for defying written order of ADGP (AU) and no report was made about it either. Reportedly, senior leaders pressurized Commandant for not permitting Muslims under attack by rioters inside the DRPF campus. The State Government had subsequently posted Commandant Khurshid Ahmed at a  very sought after post of Deputy Commissioner of Surat city and his wife Shamina Husain (IAS batch) as District  Development Officer (DDO). Valsad district and Collector, Surendranagar district DySP Qureshi was awarded President's Police Medal for distinguished service, which is rarely awarded to SRPF officers having no experience in crime policing.'
Did you read it? After these revelations by a Hindu officer like R. B. Sreekumar I do not think there is anything left to say or write about it. At this moment I am pained by the plea of those who are running Muslim institutions and preparing Muslim students for Civil Services and say that the one-sided loss of Muslims during riots is the lack of proportionate representation of Muslim officers. This is a live example of that two Muslim officers who, despite having the powers to do so, failed to give shelter to 400 Muslims and the same night 96 of them were mercilessly butchered. And this helplessness and timidity prevailed despite the fact that their superior Sreekumar had issued written orders to them to give refuge to these hapless Muslims. Had these two Muslim officers obeyed the orders, as per rules they would not have been questioned about it. On the contrary their Hindu superior Sreekumar would have been held accountable for this.
The mysterious manner in which both of these Muslim officers were promoted proves that they had intentionally left the helpless Muslims at the mercy of the marauders. In contrast the Hindu officer (R. B. Sreekumar) was harassed and tormented at every juncture. His promotion was stopped, in the cases he had registered he was questioned on very minor issues, his juniors were promoted and imposed on him and he was removed from vital projects. Sreekumar is facing many cases even today.
Looking at the simplicity of Sreekumar one is forced to think that if faith was not a prerequisite to piety Sreekumar would have been a wali [Muslim spiritual person, literal translation friend of Allah].
This incident may or may not have helped anyone in understanding the complexities of the system but this has immensely increased my love for a Hindu officer like Sreekumar and has increased with far more intensity my hatred for Muslim officers like Khurshid and Qureshi.
Wadood Sajid is a senior Urdu journalist
Translated by Urdu Media Monitor from Wadood Sajid's FB
[email-subscribers namefield="YES" desc="Subscribe to our mailing list" group="Public"]