Congress Embraces Soft Hindutva: What Options Are Muslims Left With?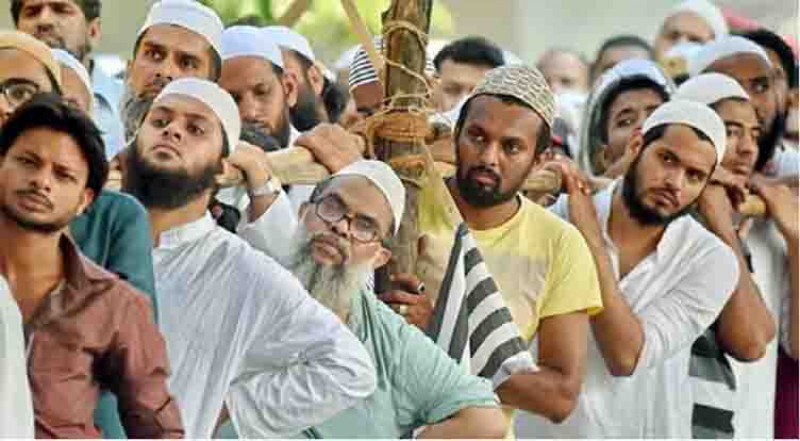 By Masoom Moradabadi
Main Grievance of the Muslims in India against Modi Government is that it has let loose the saffron brigade upon them. During the last four years and nine months, they have been targeted in the name of love jihad, gharwapsi, and cow protection. Most of the attacks have been orchestrated on the pretext of fabricated allegations of cow slaughter and dozens of Muslims have been mercilessly killed in different parts of the country.
Muslims also, without doubt, want to get rid of this government because instead of following the secular constitution, it is working to implement its agenda to turn the country into a Hindu Rashtra. During its rule Muslims have been reduced to the status of second-class citizens.
BJP's anti-Muslim policies are now known to the world; and it does not hide its anti-Muslim agenda either. To get rid of such hostile politics, Muslims naturally look towards parties that claim to be secular. From time to time some of these parties do raise voices in Muslims' support. Of these Congress is the largest party that has ruled the country for the longest time after independence. Hoping to get rid of BJP, Muslims are once again looking towards the Congress and other secular parties with hopes and expectations.
But, sadly, the enthusiasm, to seek refuge with these so-called secular parties, has already started taking a heavy toll. The beginning of this has started from Madhya Pradesh where Congress has recently snatched power from the BJP.
With the end of BJP's long tenure in Madhya Pradesh, Rajasthan and Chhattisgarh Muslims had started hoping some respite from BJP's anti-Muslim policies and the resultant atmosphere of fear and terror that had been created there. But as usual they have been proved wrong as in these states Congress governments themselves have adopted 'soft Hindutva.'
Instead of getting any respite, Muslims in these states are having to face even more difficult time. The latest example of this is the arrest of three brothers, Nadeem, Shakeel and Azam, in Khandwa district of Madhaya Pradesh, under National Security Act (NSA), for their alleged involvement in cow slaughter. Although Madhya Pradesh has a separate law regarding cow slaughter, NSA has been slapped on them in order to give them tougher sentences.
The imposition of such a strict law on the three brothers is being opposed by some politicians in the Congress itself. According to former Chief Minister of Madhya Pradesh and senior Congress leader Digvijaya Singh: His point of view is that, 'NSA should not be imposed for this. The accused should have been charged under other relevant laws.'
However, this seems to be a well-thought out action of Madhaya Pradesh government aiming at pleasing Hindu voters. [The irony is that] Such an action has been taken under the auspices of Kamal Nath whose statement referring to Muslims as Congress vote bank remained in controversy during Madhaya Pradesh elections. ' My request to you is that you analyse past records… How much voting in Muslim booths? and if there was 50-60 per cent voting, then why 60 per cent – why not 90 per cent? This post-mortem is very important,' he was reported to have reminded his party men.
The fact, however, is that it is only during the elections that full attention is paid to Muslims to garner their votes. And once the election is over they are cast away like a fly is removed from the milk. What is noteworthy is that for the last few elections Congress has been going around embracing soft Hindutva policy. This policy was initiated during assembly elections in Gujarat where Rahul Gandhi toured and visited several temples and in doing so he left even Prime Minister Narendra Modi behind. In order to maintain a distance from the Muslims he did not bother to visit their localities. In spite of this, Muslims gave their votes to Congress because they did not feel comfortable in voting for BJP. Congress is fully aware of this weakness and helplessness of Muslims. It knows how to use them and then shed them off to their fate.
After Gujarat assembly elections, Congress used soft Hindutva in Karnatka assembly elections as well and repeated this formula in Madhya Pradesh, Rajasthan and Chhattisgarh. For this reason, it has decided to continue with its policy of soft Hindutva in future as well. The imposition of NSA on the three Muslim youths in Khindwa for their alleged crime of cow slaughter is the result of Congress' strategy to defeat BJP with its own agenda. It wants to confront BJP on its own ground and using its very agenda of Hindutva. Congress feels that with this strategy it can foil BJP's bid to unite Hindu voters. The decisions taken one after the other by Kamal Nath government of Madhya Pradesh strengthens Congress' soft Hindutva image.
Madhya Pradesh government has announced to establish one thousand gaushalas in the next four years, for which all the expenses will be borne by the government itself. And to get finances for cow protection, higher taxes on expensive cars have been proposed. Creation of jobs through gaushalas [cow shelters] is also being planned. In addition to this, Madhya Paradesh government, through a Teerath Darshan scheme is sending 3,600 people from the state for pilgrimage to Kumbh Snan in Prayagraj . For this pilgrimage, four special trains will leave from four different cities of the state. All of the expenses of travelling, lodging and food of these pilgrims will be borne by the state. On 22nd February Chief Minister Kamal Nath will himself leave for pilgrimage for Kumbh Snan. Madhya Pradesh government has its own Mandap in Pryagraj. The salaries of Hindu priests also have been increased threefold. In contrast, instead of taking any step for the welfare and protection of Muslims, in the government of Kamal Nath, who had referred them as the vote bank of Congress, they are instead being targeted and implicated in alleged and the so called cases of cow slaughter.
Congress' seriousness with regard to Muslims may be judged from the fact that addressing a minority convention in Delhi, Rahul Gandhi spent all of his time in criticising Prime Minister Narendra Modi and the Sangh Parivar. He made no mention of his party's plan about the welfare of Muslims. While accusing Prime Minister Narendra Modi and the Sangh Parivar, Rahul Gandhi did not pause for a moment and think why in election rallies was the Congress fearful of Hindutva so much so that he remained careful not to mention Muslims in his speeches. In the minorities convention the president of Congress' women cell Shamita Dev said that after winning Lok Sabha elections, Congress will scrap Triple Talaq law. But by the evening Congress spokesperson, Randeep Surjewala took the wind out of this statement by saying that Congress supported women's equality and was opposed to triple talaq.
Masoom Moradabadi is editor of daily Jadid Khabar and has authored a number of books.

Translated by Urdu Media Monitor from Jadid Khabar, 9 February 2019
[email-subscribers namefield="YES" desc="Subscribe to our mailing list" group="Public"]