UAE's Al Amal Mission: A Clarion Call for Muslims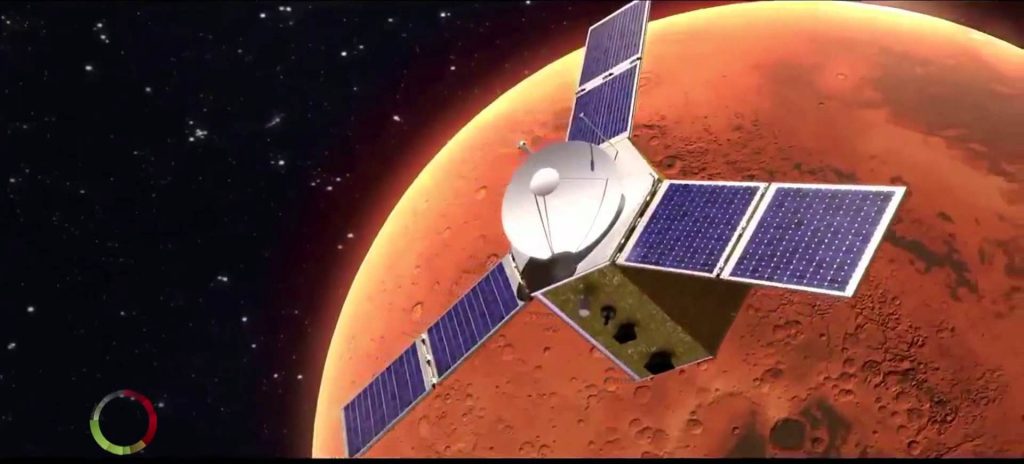 Al Amal Mission is a clarion call for the Muslims to focus on Amal (Efforts) and Al Amal (Hope).
By Asad Mirza
The Emirates Mars Mission, the first interplanetary exploration undertaken by any Arab nation, lifted off successfully on an H-IIA rocket from Tanegashima, Japan, on 17 July 2020 and is on its way to Mars planet, where it will arrive at in February 2021, it will spend two years orbiting the red planet gathering crucial science data. The mission will also be marked as the Arab world's initial foray in space sciences and exploration.
The mission has being carried out by the Mohammed bin Rashid Space Centre (MBRSC) in the UAE in collaboration with a number of global research institutions. The mission's name, Hope, was chosen to send a message of optimism to millions of young Arabs, according to Sheikh Mohammed bin Rashid Al Maktoum, the Ruler of the Emirate of Dubai for whom MBRSC is named.
Mission Al Amal
The orbiter, named Al Amal meaning 'Hope', carries three scientific instruments, which will be used to provide a unique view of the lower and middle atmosphere of the planet. The data collected will help scientists to understand the connections within and between the upper and lower atmospheres and how those connections helped to drive atmospheric escape, and Mars' evolution from a warm, cyclically wet world in the ancient past to the cold, dry planet we see today. Unique to Hope is its orbit, which enables near-complete daily and geographic coverage, providing a weather-satellite style view of all layers of the Martian atmosphere from the surface on up to space.
This mission will give scientists greater insight into how our own planet may have evolved, as well as enable greatly improved weather forecasting to help support the future human missions to Mars. Importantly, Hope addresses several key goals of the Mars Exploration Program Analysis Group (representing the consensus of the international Mars community) in regard to both science and human exploration.
Al Amal Team
The spacecraft, which is about the size of a small car, was constructed at Laboratory for Atmospheric and Space Physics (LASP) at the University of Colorado Boulder, US by a joint MBRSC/LASP team led by Project Director Omran Sharaf from MBRSC and deputy program manager and science lead investigator Her Excellency Sarah Al Amiri. Approximately 450 engineers and technicians worked on the Hope probe for six years. The 734.5 million Emirati dirham ($200 million) spacecraft, weighing in at 1,350 kilograms, is set to reach Mars on a date to coincide with the Gulf country's 50th anniversary.
The mission also shattered many other myths and societal norms. Apart from Sarah al-Amiri, about 34% of the mission's scientists and 80% of its science team are women, significantly higher than the 28% represented in the Emirati workforce.
While talking to international media outlets, Sarah revealed being 'mesmerised by space' due to its largeness and complexities and drove her to exploration. 'The mission is called "hope" because we are contributing to the global understanding of a planet,' she said. 'We are going above and beyond the turmoil that is now defining our region and becoming positive contributors to science. For the benefit of human understanding.' Another key woman scientist at the mission is Fatma Hussain Lootah, supervisor of the team's instrument science portion.
Al Amal for Muslims
The Al Amal mission has also sent a very strong message to Muslims across the world. First one is to inculcate again the scientific temperament in the community, an act that was stopped after the end of Ijtihād in 13th century. After which the western world took over all Muslim knowledge and developed it as their own. We should realise that Ijtihād, scientific temperament and progress are all complementary and supplementary. The process of ijtihād allowed Muslim societies to continually adapt in the face of changing societal conditions and new advances in knowledge. Secondly, the Muslims across the globe should embrace education in a more focused manner and regain the lost prestige of Muslims in various sciences by embracing learning and the spirit of innovation.
In The Muslim 500, a list of influential Muslims around the world, scientists and technocrats who have worked in varied sectors like Digital Signature and Cryptography to DNA Repair occupy a large percentage. Also, when we speak of the past, then we can't ignore Muslim scientists like Al Razi, Al Zahrawi, Ibn Sina and Geber, aka Abu Musa Jabir ibn Hayyan, who all contributed to various fields like chemistry, pharmacy, philosophy, astronomy, geography, cartography, medicine & surgery and physics. We'll have to strike hard to take back our preeminent spot in the scientific research and innovations, and occupy the space, which the Muslims used to have on the world's development and advancement scene.
In fact many of the people named in The Muslims 500 have passed out from the sciences, medical and engineering departments of the AMU and JMI. But when we consider the real percentage of these scientists and technocrats with world numbers, they are insignificant compared to the Muslim population in India and across the globe, both.
So what are we missing? We need to introspect deeply. First, the number of our young people going in for higher studies is increasing but not up to the desirable level, for this we need to initiate a community-level education programme at every tehsil and village level, to motivate parents to send their wards to schools. Secondly, a large percentage of our youngsters are getting employed in IT sector, so we need to push a little bit further and motivate and guide them towards research and development.
But to achieve this we first need to handhold, motivate and guide our youngsters. For this an all-India interactive programme could be initiated in partnership of various academic institutions and religious figures, wherein we should try to present these achievers as role models to our youngsters. At these interactions many young minds could be presented with a roadmap for their future and guided on how to achieve the results by the achievers. For this we'll also have to impress upon the achievers to become the guiding beacon for our youngsters and thus to repay back something to the community. Our academic institutions besides religious and social leaders could take the lead in this regard.
In fact the time has come for the entire Muslim world to introspect and get awakened and revisit five centuries, from 750 to 1258 AD – which is often described as the Golden Age of Islamic sciences – to be influenced and motivated by our past achievements to reinvent Islam's image of peace, human values and service to humanity through Qur`anic injunctions and Prophet Muhammad's (PBUH) sayings (Hadiths). We may hope that other Muslim countries copy the lead taken by the UAE and they start using their resources more prudentially on education, development and progress instead of engaging in politicking and one upmanship.
Urdu version of this article appeared in Daily Inquilab, Delhi, 28 July 2020, Translation provided by the author.
Asad Mirza is a Sr journalist and commentator based in New Delhi. He writes on Muslims, educational, international affairs and interfaith issues. He can be contacted on [email protected]