While waqf properties worth crores of rupees are being pillaged, Mosque's repair is being funded by Arya Samaj Trust
Has the independent ASI of Archaeological Department gone bankrupt?  The collusion of Maulana Mufti Mukarram and Choudhry Mateen puts Masjid Fatehpuri's grandeur in danger.
Published in Qaumi Salamati Bureau on 14 May 2013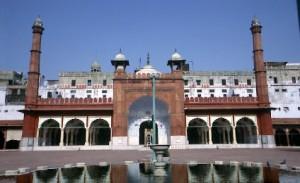 Shahi Masjid (Fatehpuri), the relic of Indian Muslim's glorious past and belonging to Mughal era, is now a symbol of neglect and dereliction. In order to restore, repair and maintain its pulpit and enclosing arch of this historic mosque, administered by Delhi Waqf Board (DWB), repair work has been started by the Archaeological Department several times. But here as well this has met the same fate as generally happens to such other governmental projects. Shahi (Royal) Imam Mufti Muhammad Mukarram, nominated by DWB complains that Archaeological Department paid attention to unnecessary things and ignored the work that needed to be done urgently so that the original structure of the mosque could be restored. The cracks that were caused by earthquake have been left untreated and are still there and pose danger to the minarets. According to our information, the Imam being aware of it but without DWB and community leaders taken into confidence, financial help has been obtained from a non-Muslim trust named after the founder of Arya Samaj, Swami Vivekananda and repair work has been started under the supervision of Archaeological Department. According to reliable sources Swami Vivekananda Trust has passed a budget of Rs six crore for the renovation of the mosque and on the 150th anniversary of Vivekananda, Rs one crore have already been donated so that maintenance work could be started immediately. Obviously Vivakenand Trust belongs to the Arya Samaj whose intentions in here are not known to anyone and the issue has stirred quite a concern in the Muslim community. Whether or not Vivekananda Trust's money can be used for the mosque has become a topic of discussions.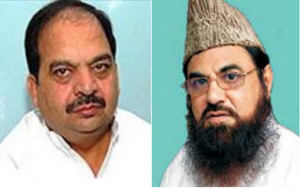 When Qaumi Salamati contacted the Shahi Imam of Fatehpuri Mosque Mufti Mukarram Ahmad, protecting himself from any responsibility said, 'DWB has been informed through a letter about the ongoing maintenance work but they have not responded yet in any manner therefore with Vivekananda Trust's money and under the supervision of Archaeological Department repair work in the mosque is going on.' When this correspondent talked to DWB's Chairman Choudhry Mateen, he retorted, 'Imam Saheb is himself making the Archaeological Department and Vivekananda Trust's to spend money on the mosque. There is no interference from us in his actions.' On condition of anonymity a senior officer of Archaeological Department confirmed of the release of money and said, 'In the financial year 2012-2013 Vivekananda Trust had allocated Rs 6 crore for Fatehpuri Mosque and Rs one crore of which had already been released.' According to him second instalment has also been received. Now the question is: what is the DWB doing and why are the Muslim organisations acting as silent spectators? If DWB's financial condition does not allow it to undertake the repair and maintenance work of its mosques then what is the responsibility of community organisations? Under what conditions can money from non-Muslims be spent on the maintenance of Mosques is a separate issue and we will soon publish the opinions of ulema on this subject. The question is that in the given political and social scenario in India, what is the need of spending money from non-Muslims on Mosques? Are the Indian Muslims now not even in a position to be able to protect their mosques and historic heritage? Surely these questions will disturb and stir the community.
This is also an important issue for the well-wishers and leaders of the community that on the one hand waqf properties are being sold with the support and collusion of political figures one example of which is the investigative report by Qaumi Salamati on the sale of 8000 yard land in Ghosiya colony. On the one hand waqf properties are being sold for crores of rupees and on the other hand just to please Muslims a mosque is being repaired with the money from Aryasamaj. The whole episode is food for thought for the Muslim community.
Related stories:
With Waqf Board's collusion land mafia usurps waqf properties
Ahmed Patel: A friend of Muslims or an enemy?
Delhi minister continues misusing Waqf resources
Delhi's Chief Secretary also an accomplice in misappropriation of Waqf properties
Paharhganj Masjid Shora Kothi is in the possession of non non-Muslim Occupants since 1947