Nimesh Commission holds the detainees innocent and lists guilty officers: CCPT leader Mohammad Adeeb MP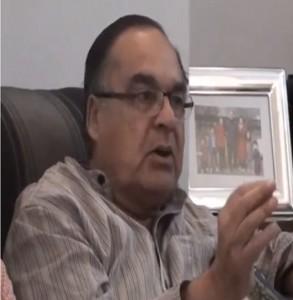 Source: youtube uploaded on 19 May 2013
Muhammad Adeeb, the independent Member of Parliament in Rajya Sabha who is spearheading the  movement of the release of innocent Muslim youths arrested for alleged terrorism and leader of  Peoples Campaign Against Politics of Terror (PCPT) has warned Chief Minister Akhilesh Yadav to publish Nimesh Commission Report, give at least Rs 50 lakh to the family of late Khalid Mujahid and punish all the guilty officers in this case within 10 days failing which, he said, 'there will be a revolution on the streets of UP.'
Addressing a press conference at his Delhi residence, 19 May 2013, Mr Adeeb said, 'They have been lying to us all through. We had been keeping a watch and as and when the Nimesh Commission Report came in our hands we immediately approached Chief Minister Akhilesh Yadav.  He told us that the report was in favour of the police. We asked him, "Have you read it? This is a 350 page long report!" And he said, "I don't know." This means there are some so powerful police officers who are misguiding the Chief Minister.'
Mr Adeeb further said, 'The Additional Advocate General Zafaryab Gilani phoned me and advised me not to pursue Nimesh Kumar Commission's report. He said, it supported the police and was against the boys. I then said, "You are Advocate General and you don't know!" To this he replied, "This is what I have been told."'
Mr Adeeb said that repeated requests by his organisation to release Nimesh Commission's report and punish the guilty officers have not been heeded to by the government.
Mr Adeeb expressed doubts on the intentions of the Government and its claim to withdraw cases against the detainees. 'These are fooling tactics. How can you withdraw cases of disloyalty to the country? You can only release the person through a court of law that is why we have always asked for fast track courts in which, instead of prolonging the case for 10 years, try the person and decide within 6-8 months. If the accused is guilty, punish him otherwise don't keep him detained. The other method is to form a commission. Such a commission was formed during Mayawati's tenure. And in his election campaign Mulayam Singh promised to release and implement commission's report as soon as it was completed. He came to me and gave this assurance. That's why we supported him. But one year has passed and he has not released the report. When it became clear that these boys are going to be released on technical grounds, they did what they had done to Qateel Siddiqui who was killed one day before he was going to be released.'
Mentioning Liaqat Ali Shah, a Kashmiri implicated in a false case of plotting terror attack in Delhi and released on bail on 17 May 2013, Mr Adeeb said, 'The old man who could not walk properly, they said they found explosives, RDX and AK47 in his possession. Then you saw on TV a hat wearing man…now it has been proved' that it was not Liaqat Ali Shah. 'Why does the government not ask the police who was the person who had brought and planted the RDX and AK47? For as long as you do not counter check and there is no public accountability people will continue to be killed."
Mr Adeeb expressed doubts about the detainees being ever released. 'Do you think they will be released? No one will be released.' He went on. 'If these children are released truth will be exposed and the criminal mafia in the police, from Col Purohit to today's culprits, will not let them alive.'
'I put all the blame on UP Government because in October 2012 Nimesh Commission Report was submitted to the Government. This report says it in clear words that the police had framed these two boys. It also recommended action against the guilty police officers. I believe the officers who had framed them have committed the murder.' Mr Adeeb said.
Expressing his fears about the safety of the detainees Mr Adeeb said, 'Now that the Government has announced that it is going to establish fast track courts, my fear is that the lives of all the boys are in danger from the mafia in police that had framed them. The mafia in the police is not going to leave them alive because their secrets will be exposed.'
The MP warned the UP Government, 'If their families are given a compensation of less than Rs 50 lakh and if action is not taken against the guilty officers there is going to be such a revolution on the streets of UP against this government and against the police. We will not let these children die like this. We fought for them because we believed that they are sufferers. The government will have to act against such murders to hide the truth.'
Targeting the Central Government Mr Adeeb said, 'Now that Liaqat Ali has been released [on bail] the Government should ask Delhi police who was the person whose footage they had shown and whom they alleged had kept RDX and AK47? Why does the Government not make the police accountable? For as long as the police are not made accountable poor men cannot get justice in this country.'
Mr Adeeb demanded UP Government to, 'Release Nimesh Commission's report within ten days. Give protection to the other person who is still detained and release him. Give at least Rs lakh compensation to the family of the murdered person and take action within ten days against police officers Nimesh Commission suspects to be guilty otherwise and we will give a call and in each district and every city people will come out on the streets against the government. We will fight in a democratic manner.
Asked if he held the government responsible for Khalid Mujahid's death, 'Yes' he said emphatically because, 'It has been sitting on the report since October 2012 in which it was said that these were false cases framed by the police. And the names of police officers are there in too. Even then the government does not take any action. They only make false promises at the time of election for which they will be punished.'
Will he demand CBI inquiry? Mr Adeeb said, 'CBI inquiry should be about the death. The Commission has already said that they are innocent. So why have you kept them for so long in jail? CBI inquiry should be about the marks on his body, his swollen face, his nails are blue. There are no signs of him having suffered from heart attack. The condition of his body proves that he had been tortured to death. This is what the CBI inquiry should be about and also that who killed him. CBI inquiry should also find out who are these mafia elements in the police that are implicating children in false cases.'
Mr Adeeb further said, 'There is a mafia in the police similarly as Col Purohit's team was working in the army. Similarly there are such elements in UP police and Delhi police. About Mumbai police I had given the government the name of a person called Raghvanshi. This guy is still serving in the police. Similarly commission's report names the figures in UP police who are serving in big posts. This is the failure and ineffectiveness of UP government that the persons named by the Commission as guilty are serving in big posts. No action has been taken against them for nine months.
'Now the question is not which innocent person is detained? Now the question is who is it who is planning and executing these things? If the governments of Delhi and UP do not take action Muslims and secular Hindus of this country will teach such a lesson to both of these parties that they will not be able to dream of forming a government in future.'