Khalid Mujahid's death and criminal silence of Muslim leaders
Having witnessed this silence Indian Muslims now need to make a decision as why not to dump the leaders who cannot help them in difficult times and why not to extend 100 percent support to those figures, newspapers and websites who support Muslim cause fearlessly
By Shakeel Samdani
(Published in Inquilab on 31 May 3013)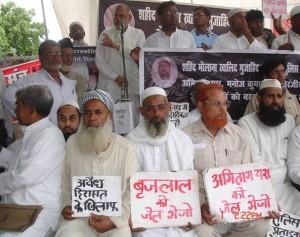 Khalid Mujahid died in mysterious circumstances on 18 May 2013. In what situation did the tragedy take place, who was present there at that time, all these details have been published in Urdu press, or let us say, in all the publications and websites that take interest in Muslim affairs. Therefore there is hardly any need to repeat all this.
I have been scrutinising the Urdu press for the last five days to see in which cities and towns of Uttar Pradesh people have protested against this barbarity, which leaders and which ulema have had the courage to speak against it.  By leaders I mean Muslim leaders and by cities I mean Muslim cities with sizeable Muslim population where, obviously, there happens to be the existence of a large number of Muslim leaders. I mean Lucknow, Aligarh, Rampur, Deoband, Breili, Saharanpur, Shahjahanpur, Meerut, Kanupur, Allahabad, Badah, Banaras and Gorakhpur etc. I am not including Jaunpur and Azamgarh because if even in these towns there is no protest then let us assume that Muslims of UP are only physically alive.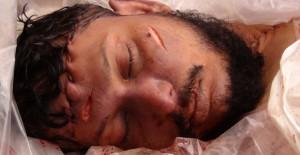 Anyway, five days survey of newspapers show a deafening silence on the part of Muslim leaders. It gives the impression that there are no leaders in the state. The parallel of the manner in which they have turned their faces towards the other side will be found with great difficulty. The attitude on this issue of all three major so called secular parties in the state is more or less has been similar. All of the Congressi leaders in the state remained silent, all of BSP's leaders more or less remained silent and Samajwadi party leaders have broken all the records of keeping mum. They did not attend Khalid's funeral prayer let alone speaking or doing something in this regard. Some small parties like the Loke Dal, Peace Party, Ulema Council, Indian National League, Welfare Party and Muslim League have raised their voices in protest against it. Seventy MLAs from UP, about half a dozen MPs and almost same number of MLCs did not issue, from their air-conditioned drawing rooms, a press release even as as a formality let alone joining a protest or a dharna (sit-in). Big ministers in UP could not utter a word. Not even a single minister in UP did open his month. The stature of one of the biggest minister in UP, who does not regard himself less than an Ameer-ul-Muslimeen disappeared from the scene.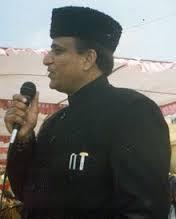 From the interview of Khalid Mujahid's uncle Zaheer Ahmed Falahi to an Urdu daily we learnt that not even a single Muslim minister, MLA, MLC or MP phoned to express his condolence. A maulana from Deoband, belonging to Jamiat ul ulema and an imam of a shahi mosque went to Lucknow and saw at the right time Chief Minister Akhilesh Yadav and his Mulayam Singh Yadav and described the details of the case. This helped in these two, 'un-informed' leaders being informed about this tragic death. Both of them issued statements but very weak and guarded. In any case the step taken by the aforementioned personalities was better than those who have not been able to muster courage and take the trouble of moving their lips. How nice would it have been if both of them had taken a common stand on CBI Inquiry, arrest of guilty officers and release of innocent people. However, both of them deserve to be congratulated.
Statements have also been issued by Muslim organisations like All Indian Milli Council, All India Muslim Majlis-e-Mushawrat, Jamiatul Ulema-e-Hind, Jamat-e-Islami and others. If these statements and demands are assessed, the strongest statements and right demands have been made by Jamat-e-Islami and All Indian Muslim Majlis-e-Mushawrat. However, this silence in all four corners is as much tragic as it is worrying because if even Muslim leaders prefer to remain silent then where would it lead the situation to? Leave political leaders, social activists, religious leaders, youth leaders and intellectuals everyone has, in a way, distanced himself from this issue. According to newspaper reports Babri Moque Action Committee Aligarh did protest and sent its justified demands to the government. Aligarh Muslim University Teachers Association needs to be praised for swiftly passing a strongly worded resolution the next day of the death of Khalid Mujahid and for directly holding Samajwadi party responsible for the tragedy. This was a just and right demand that added to the stature of AMU teachers. Today (23rh May) news has come that after Friday prayer students have also organised a protest march and expressed their anger and disgust. Though late, students have protested. Similarly in Azamgarh, Jaunpur, Deoband, Barabanki, Firozabad and almost all the districts of the state common Muslims, social activists and ulema have protested and expressed their solidarity and feelings for the community according to their situation and strength. At public level common Muslims, ordinary citizens and non-Muslim activists who sympathise with Muslims have reacted according to their abilities and resources. However, Muslim who had the power, wealth and means have not done anything. Had they come out at the forefront the attitude of Uttar Pradesh Government would have been different and Akhilesh Yadav would have been forced to go to vist the house in Mohalla Mahtwana in Muriahun where Khalid Mujahid once used to live.  But it would have been possible only if our leaders had some self-confidence and honesty.
Political leaders have certainly failed but some  non-political figures in the state have done well in performing their role. Among them Rihai Manch is on top of the list. This forum did not only help Khalid Mujahid in his life but have also been working to get justice even after his death. Among the prominent activists of this forum are Shueb Advocate, Magsaysay Award winner Sandeep Pandey, former DIG S R Darapuri and Advocate Randheer Suman. At the time of writing this articile Rihai Manch has been holding indefinite dharna in front of Vidhan Sabha in Lucknow for three days [and on 1 June at the time of this article being translated dharna has entered 12th day:-UMM]. The news has just arrived that they are planning to gherao Muslim MLAs. A prominent personality from Lucknow and General Secretary of United Muslim Organisations Muhammad Khalid's name may also be included in this list who played vital role regarding the demand for CBI inquiry and post-mortem.   
The purpose of writing all this is to expose and highlight the attitudes of those who claim to have monopoly on Muslims' leadership. Political leaders have failed (some Muslim leaders who have done some little work may be exonerated from this allegation). However, protests have been organised, resolutions have been passed, district administrations have been given memorandums and solidarity and community feelings have been expressed in all the large and small towns and districts of Uttar Pradesh. Muslim political parties have also played effective role in highlighting Khalid Mujahid's case prominent of which are: Ulema Council, Welfare Party, Peace Party, Indian National League and Muslim League. But these small parties can only work according to their strength. If masses also join and support them this will change the landscape of UP.
In this scenario can Indian Muslims decide to force Muslims in big parties to work for them and if they can't work reject them, provide political strength to the organisations that are active and working for the community and use them in the field of political field? If these community organisations are empowered with political strength then we can get rid of the politics of inactiveness. The manner in which national media has maintained a distance is not new. This character has become its hallmark. In Khalid Mujahid's case it has done what it has always done in such cases. Wealthy Muslims and conscious elements in the community should think of strengthening its media. Let me also suggest that each Muslim household should buy Urdu newspaper regardless of whether anyone in the house can read Urdu nor not. Had their been no Urdu newspapers and Muslim news portals this issue would have died down somewhere between Faizabad and Lucknow. I would like to list the websites that have done praiseworthy work regarding Khalid Mujahid case and other issues facing the community:
In addition there some non-mainstream quality publications that should be benefited from:
Of these Milli Gazette and Radiance provide valuable information and are read all over the world.