This is what ails our hearts and torments our souls
By Suhail Anjum
Published in Kashmir Uzma on 10 July 2013
Despite passing through a declining phase in terms of quality of writing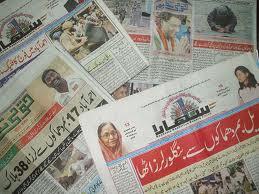 and standard of language, the importance and status of Urdu journalism is still a well recognised reality. Although among dailies none like the Qaumi Awaz and none like the Blitz among weeklies exist anymore. And similarly among our journalists none like the veterans of the calibre of Hayatullah Ansari and Mohammad Usman Farqleet command the field now. Yet the emergence of corporate bodies in this field, countrywide distribution and availability of some newspapers and also the presence of some serious newspapers has added a new impetus to Urdu journalism.
According to Government figures (exaggerated though these are), Urdu journalism in India comes at number three. If we ignore the circulation figures of these newspapers, the fact is that during the last few years number of Urdu newspapers has increased like floods in monsoon. And like the flood water that brings with it many infectious diseases, the influx of a large number of newspapers has similarly brought many journalistic ailments and bad practices with it like infections. It has now reached to the point that it is futile to debate why Urdu journalism that once upon a time was practiced as a mission has now become a trade? Necessities of time and constraints of situations forced it to adopt the course of commercialism otherwise its very survival was at stake. Agreed, however even in business there are some principles and rules to be followed. If we put these principles aside then on moral front we will remain a failure no matter in material terms how big success we may achieve.
The question as to how healthy are Urdu newspapers from ideological point view, has lost its significance. The damage done to ideological and missionary journalism by the abundance of money is an example of its own. We are as much responsible for this moral decline as have been governments. If the governments had not relaxed their policies regarding assistance (in the form of advertisements), and had not bended its rules so much and, as part of political compromises, had not thrown advertisements in the begging bowl of every Tom, Dick and Harry type of newspapers, this moral decline would not have gone so deep.
With the exception of a few, history of Urdu newspapers is that they have been exploited for political gains and political parties have used them to woo Muslim votes. When an election approaches Urdu newspapers become indispensable for political parties, meetings are held with editors and excuses are found to bestow favours upon them. This does not end here. Conferences of Urdu editors are organised and sweet dreams of concessions are shown to them. Promises are made to give advertisements to Urdu newspapers and to appoint Urdu teachers in schools. At election time almost each major political party opens an Urdu cell from where the so called journalists work as media lobbyists. Even those parties that sneer at the mention of Urdu at this hour do not lag behind. After the elections, however, these media cells go into oblivion and so do the sweet dreams of concessions and favours melt on sweet slumber. It is then followed by the usual woes and grunts that the government does not give advertisements to Urdu newspapers and does not do anything to uplift Urdu language. But the editors and journalists who, prior to the polls are so proactive and ready to serve these parties, do not tell them, 'first give Urdu what you owe to it, only then we will do anything for you'. If such demands are put beforehand or a common strategy is adopted before elections and all the editors and journalists unanimously tell political parties that nothing would be done for them unless Urdu is given its right only then some success may be gained in this regard.
I will, however, end this article by presenting two paragraphs. First one is from the address by Maulana Mohammad Usman Farqleet, editor of daily Aljameeat and perhaps the second stalwart in Urdu journalism in independent India after Maulana Azad. This was given by him as the Chairman of All India Urdu editors conference held in Lucknow in November 1973 that was also attended by the then Prime Minister Mrs Indira Gandhi. In this excerpt Maulana Farqleet has implicitly thrown light at the changing values of journalism. Second excerpt is from an article penned by senior journalist from Lucknow on the occasion of Urdu Editors Conference organised in Delhi recently. His comments are open and direct as this is not the age of using indirect and implicit gestures but to express one's views directly. Both excerpts are being produced here without any comment:
'Often the question asked is what have Urdu newspapers given to India? My answer is, "they gave India its democracy and with that the few personalities and newspapers that used to take all the attacks from their adversaries with smiles on their faces and moved on undeterred. Urdu newspapers were at the forefront and this is not something to gloat about but to be thankful that their sacrifices were greater than others. Memories of Urdu journalism of that period are still vivid and safe in my mind and my peers who may be present here would testify that what a string of beautiful jewels of Urdu journalism of that era existed then. Here was Maulana Mohammad Ali bravely proclaiming and asserting what was right; Maulana Azad inculcating a new spirit; Maulana Hasrat Mohani, Maulana Zafar Ali Khan, Mehar Salik, Mazhar Ali Khan Azhar, Qazi Abdul Ghaffar, Maulana Moudoodi, Maulana Sanaullah Amritsari. It was like a rosary of pearls the parallel of that can hardly be found in journalism of any other language. What an inspiring period that was! There were times when for days on end there was nothing to cook or eat in the kitchen of Maulana Mohammad Ali; Maulana Azad had to deal with large number of his lenders, Zafar Ali Khan had his security repeatedly forfeited; Maulana Hasrat Mohani calligraphed his newspaper with his own hands and printed it by operating the press with his own hands while the country waited to read their writings and act upon their messages. What they wrote was regarded as the final word and a mere gesture by them to march in a direction was viewed as the final destiny.
But I am not denying the fact that there are also some problems of the present times that you are facing and have to contend with … First major problem is that in comparison to mainstream journalism you have lost your steam. Not only international press, even if you look at the dailies, weeklies and monthlies of your own country you can easily feel that you have been lagging behind. Columnists, feature writers, experts of economics, industry, war and investigative journalists enrich your contemporary publications but for Urdu we have to feel contented with munching the leftovers.' (Presidential address by Maulana Mohammad Usman Farqleet at Urdu Editors Conference Lucknow 1973)
'I do not remember which, in the sequence, Urdu Editors Conference was held on 23rd June in Delhi. It was chaired by veteran journalist Kuldip Nayer. The anguish expressed by him with regard to Urdu is not new.
'First Urdu Editors Conference was organised in 1973 … Even at that time Kuldip Nayer had to repeatedly remind the editors to, "Write your questions in Urdu. No doubt I am Kuldip Nayer but I started my career as an Urdu journalist".
'Before each election when the Congress, because of its misdeeds, feels shaken, it is reminded of Urdu newspapers.  It then uses any Urdu journalists who is available to organise an All India Urdu Editors Conference. Narasimha Rao, when going to elections over the rubble of Babri Mosque, brought speaker S.K. Patel to the front …to arrange an Urdu Editors Conference. Crores of rupees were spent but it failed to win even a single vote. This conference has also demanded increase in the quota of advertisements to Urdu press and it was raised by those who are well aware that these advertisements had done far more harm to Urdu newspapers than all the enemies of Urdu in the country put together.
'There are thousands of such editors who do not publish more than 25 copies of their newspapers but in DAVP  their circulation is registered as 25,000. Bigger culprits than these editors are those who issue such certificates to them and even guiltier are those who are giving them government advertisements on demand of commissions from 50% to 75%. In addition to extending begging bowl before the Government if Urdu Editors Conference had also demanded that all Urdu editors be tested in Urdu, their offices, staff and printing presses be inspected and those who are found guilty of not only resorting to fraudulent methods but robbing the government, be sentenced to 10 years imprisonment and those who are looting the government treasury and depriving deserving editors of their rights be given such severe punishments that would serve as a deterrence to others in future,  then it would have been a big service to Urdu journalism and a purposeful journalism. It is because if the quota of advertisements for Urdu press is increased 80% of it will be looted on the way by the kite snatchers and the bowls of those who are making this demand will be left empty.' (Hafeez Naumani, Rozanama Awadhnama, 26 June 2013)
Related articles: