Don't use Muslims as springboards
By Asad Raza
Source: Roznama Rashtriya Sahara 22, November 2013
As the Lok Sabha elections are fast approaching nearer and nearer, rallies are being organised for the five state assemblies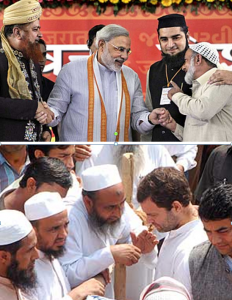 ' elections, an ongoing war of allegations and counter allegations is also raging along between the Congress and the BJP. Which of the two, will the majority of voters hand over the power to or whether an alternative like, for example, a third front will come to occupy the Central Government will only be known after the declaration of election results. However, the pre-election ongoing war of words between Congress and the BJP sometimes takes interesting turns, while at other times both parties are seen vying to entice voters, specially the Muslims, and trying to play Hindu card in various shades as well.
War of words and debating encounters between Gujarat Chief Minister and BJP's Prime Ministerial candidate His Excellency Mr Narendra Modi and Congress's National Vice President Rahul Gandhi are less centred on effective programmes of promoting development, prosperity and peace in the country and are instead engulfed in mudslinging, bragging profusely about their parties and showing beautiful dreams to the voters. Narendra Modi on the one hand has called Rahul a, Shehzada (the prince), Rahul Gandhi on the other has given the former the title of Sahebzadah (son of an elite) because in a video recording in a Cobra Post expose' about espionage of a girl, former Home Minister of Gujarat Amit Shah has allegedly referred Modi as 'Saheb'.
In the electioneering battle between, 'Shehzada' and 'Saheb' Muslims are being dragged as well. For example Rahul Gandhi had recently made a statement that Pakistani intelligence agency ISI was trying to entice the Muslim youths who have suffered during Muzaffarnager riots. Although he did not mean to defame the Muslim youths, his statement has been criticised in some circles of Muslims and His Excellency Mr Narendra Modi too has made strong strictures and demanded Rahul Gandhi to name the Muslim youths being targeted by the ISI or apologise to the Muslim community. It should be remembered that on this issue BJP had filed a complaint with the Election Commission and the Election Commission had sought explanation from Rahul Gandhi.
However, one of NDA's main allies, Shive Sena, and RSS, differed with Narendra Modi's reaction and BJP's stand on Rahul's statement about ISI. What one finds astounding is that both organisations saw Rahul Gandhi's statement as correct. It should be borne in mind that in the past BJP and its ideological partners have taken lead, and remain so at present too, in associating Muslims with terrorism but in the current assembly elections and in view of 2014 Lok Sabha elections Modi and his party have adopted a softer tone for Muslims. For example inaugurating a hospital, built by a Muslim trust in Gujarat, Modi while trying to tempt the Muslims on the one hand also accused Congress and its government of ignoring Maulana Abulkalam Azad.
Similarly BJP's former national president Nitin Gadkari recently met Urdu journalists and gave hints to the Muslim voters that his party is interested in solving Muslims' problems. On the other hand similarly Congress too is trying to woo the Muslim voters. For example Delhi's Chief Minister Sheila Dikshit has recently met Urdu journalists and newspaper editors. Central Minister Kapil Sibal has also been holding meetings with Muslims to acquaint himself with their views and issues. Rahul Gandhi too has been seeing Muslim intellectuals and leaders of Muslim organisations and has been discussing their problems. Congress leaders have also been making promises to pass Anti Riot Bill.  UPA Government, especially Congress, have also been repeating their assurances to implement Sachar Commission's report but no practical step has been taken to translate these promises fully into action and only a small part of Sachar Committee's recommendations has realised into action. For example a large part of the Muslim community has been demanding that in the definition of schedule caste be made religion-neutral and through a simple resolution in the parliament Presidential Act of 1950 be amended. According to the present definition only Hindu Scheduled Castes are entitled to reservations while Muslim and Christian Dalits are deprived of this concession.
Muslims have also been demanding that Muslim dominated constituencies reserved for Scheduled Cast candidates be freed from such restrictions. Sachar Committee recommendations include these demands but nothing concrete has been done in this regard.
Therefore, a common Muslim voter has been demanding before and demands now again that Congress, BJP and other political parties not to fool him with these seductive slogans and attractive ploys of promises anymore but to take practical measures to guarantee the protection of his life, property and identity. Muslims, entangled in the fight between the Shahzada and Sahebzada, also urge the Congress and the BJP for God's sake not to drag them into their political war mongering and literal competition. Even for the riots in Muzaffarnagar and adjoining areas all political parties, especially Congress and the BJP have been blaming each other. While Rahul Gandhi is accusing BJP of spreading communalism and playing bloody politics, in return Narendra Modi has called Congress's hand (election symbol) as bloody. It does not matter who ignited the fire of communalism, as the result it was the poor community which bore the brunt of destruction in terms of loss of lives and loss of properties. Therefore, we request Rahul Saheb and Modiji both not to pull Muslims in their speech-war and 'bebaak qalam' (pen of courage, column's title) ends at this couplet, 'Shahzade hoN ya Gujrat ke Sahebzade; takhta-e-mashq na banaiN musalmanoN ko' (Be they princes or the VIPs of Gujarat; let them not use Muslims as springboards).