Urdu Press on AAP and its dharna
Leading Urdu newspapers have devoted editorials to AAP's Delhi dharna and have published articles on AAP's strategy. While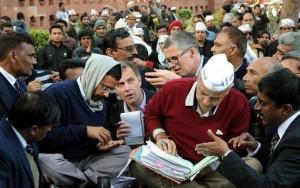 most of them reflect sympathy, carry an element of support for AAP and have been praising its aam aadmi (common man) approach, they have also advised the party leadership to act in a prudent manner and desist from rhetoric, confrontational and a reactional approach.
In its editorial of 22 January 2014 headed, 'Confrontation between the Centre and AAP' Daily Inquilab writes, 'It was being expected that despite its inexperience the party [AAP] will leave no stone unturned in creating a rare image of itself as a responsible government. Marching towards fulfilment of its promises, its steps especially regarding reduction of water charges, were being interpreted the victory not only of AAP but of the common man. However the hard-line posture adopted by Delhi ministers Somnath Bharti and Rakhi Birla on the demand to dismiss police officers who had disobeyed them, and staging a dharna to press for this demand and the demand to bring Delhi police under the control of Delhi Government has created an unhappy situation. The AAP government that was being expected to bring about a change in the situation through legislation is falling prey to existing conditions. After taking over charge of Delhi government what was necessary for it was to consolidate itself and strive day and night to meet the aspirations of the public…It should bear in mind that its rivals are big parties who would make every effort to make sure that a newly formed party that has established itself as a unique party and has won election on this very basis does not succeed.  What is needed is that AAP takes every step with great caution. The system that has been deteriorating for more than half a century cannot be reformed overnight; nor does a change brought about in this manner lasts long… Arvind Kejriwal and his team should keep in mind that they are not activists anymore but are representatives of an important party running a government. Their actions should reflect this distinction.'
Inquilab also carries an op-Ed by veteran journalist Kuldip Nayar who compliments AAP for changing political spectrum and providing an alternative to Congress and BJP that has risen above caste and creed and has tarnished the shine of region and linguistic based politics of regional parties. Advising Kejriwal Mr Nayar writes, 'Chief Minister of Delhi Kejriwal should have the sense that AAP now is not going to die with him. Surprisingly he is looking after 14 departments. After the death of Gandhiwadi Jai Prakash Narayan Janta Party ceased to exist but he had made it sure that emergency did not remain live and democracy gained strength. If you can clean up the system and make sure that it remains so this will be a great service whether AAP remains or not.'
'Retreating a step backward is desirable' screams daily Sahafat's editorial. 'It was a while ago that two socialist MLAs of UP assembly, Ram Swaroop Verma and Prabhu Narayan Singh had given arrests by violating Section 144 of Indian Penal Code against Centre's policies. Evidently it was a token arrest hence they were released soon after. Whatever is happening in Delhi now may be regarded as an extension of that event. Kejriwal's call to honest police officers to support him is full of dangers.' The daily compares his call with Jay Prakash Narayan's appeal, during his movement, to police officers not to obey government's wrong orders. It further writes, 'The country is not yet ready to face such a situation and advises Kejriwal to reverse his march because that is prudent.'
Hyderabad's pro Itthadul Muslimeen daily Etemad in its editorial, 'Hasty steps of Aam Admi Party' writes, 'It seems Aam Admi Party wants to take every step in haste and for the sake of gaining publicity.  The paper documents examples of AAP's agitational moves including its non-cooperation movement in Delhi against the Electricity Board, its appeal to electricity consumers not to pay their bills resulting in the disconnection of many homes that did not pay their bills, the upheaval caused by unguarded remarks by its leaders about Ugandan women that, it says, 'was totally against the diplomatic privileges enjoyed by foreigners' and later its sit-in in Delhi. It concludes, 'Kejriwal and his party are violating the very standards and principles in politics that they used to preach. AAP has no doubt gained popularity, but its ranks are not full yet. After payment of electricity bills people can also contact electricians to sort out disconnection issues from electrical contracting company to get electrical connection . According to Yogendra Yadav the party urgently needs experts in the fields of industry, economics, finance and politics. This is what it should pay attention to and prepare for 2014 elections with full spirit. Etemad also advises the party leaders Kejriwal and Parshant Bhushan to avoid reacting in emotional manner. 'Should the AAP government be dismissed in Delhi it will be a great cause of sadness to the common man and will disappoint the people all around the country who have been working for it with great spirit and enthusiasm.' It warns and advises, 'The AAP should have responded with broadmindedness to the propaganda being done against it and should have continued avoiding and rectifying its mistakes. But like all other parties this too wants to make loudest noise. Such a move can surely become its distinct identity but cannot benefit it.'
Roznama Sahara runs an op-ed, 'Lest this rise ends up in failure' by Ved Pratap Vadik. He writes 'Never before a miracle like the emergence of Aam Admi Party has happened in Indian politics and never before in India have masses taken up a party's membership every day in millions and also donated billions of rupees without being approached. There has not been a party whose chief is a novice and who has been able to form a government after winning the first ever election.' He writes. In Mr Vedik's view if the voters of Delhi, fed up with corrupt politicians and their scams had slightest inclination that the party will win 28 seats they would have given it 60 seats too. However, he cautions the AAP leaders that what their seemingly good looking decisions in Delhi may be good enough to run a municipality but making them the basis of dreaming to run as large a country as India will be a childish thing to do. 'You have not proved your skills to ride a bike yet and have started insisting to fly a jet aeroplane. By temperament Indians may be emotional people but they are sensible enough not to allow a wobbly cycle rider to fly a jet.' Complaining of clarity on issues of Kashmir, Maoists, foreign investment, Modi or the Congress, Ved Partap  says, 'The fear is that by the time Lok Sabha elections are held this rise of AAP may turn into a fall.'
Calling AAP's sit-in, 'a unique experiment' daily Jadid Khabar in its editorial headed as, 'Tug of war' says that it had popular public support that had made Congress and BJP both worried. 'BJP had thought that by letting the Congress sink in the quagmire of miss-governance on the one hand and itself by riding the band-wagon of Narendra Modi, it would thus capture power but Aam Admi Party has blocked the path of BJP and Narendra Modi both. It can however be argued that what type of action Arvind Kejrival should take now but in the present scenario it is of importance that Arvind Kejrival's recent dharna and protest have been widely supported by the public at large.' It writes.