Was it homage to the father of the nation or exploitation of his martyrdom day?
By S. M. A Kazmi
Translated from daily Inquilab 4 February 2014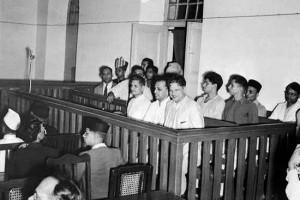 The level of respect with which photograph of Nathuram Godse, the killer of the Father of the nation, was displayed by a TV Channel on 30th January, the day of Bapu's martyrdom, is painful as well as worrying. In order to establish the authenticity of some of the contents of the telecast, I checked from Manohar Malgonkar's book, 'The Man who killed Gandhi'. A glance at the preface of the book gives the impression that the following excerpts of the book were probably the source that had inspired and motivated TV channels to bestow these honours upon Nathuram Godse.
At the very outset editor of the book Pramod Kapoor says, 'Overzealous compatriots and Hinduvadis like Nathuram Godse and Narayan Apte who had great respect for Gandhiji  disregarded their religious fervour and spirit and killed a leader that had he remained alive, the socio-politico map of India would have been different.'  He further writes, 'Nathuram Godse's statement given in the court in his defence sounded to me very impressive.'
In chapter 11 of the book comments by Justice G. D. Khosla, member of the bench of three high court judges that heard Nathuram Godse's appeal, has been presented in bold letters like this, 'If the audience present that day in the High Court had been given the task of acting as jurors they would perhaps have held Nathuram Godse as not guilty.' [These quotations are translation from the Urdu article and not original excerpts from the book—UMM] After reading all this it would not be wrong to say that efforts have all along been going on to defend the killers of Gandhi through print and publicity both.
On this very day all of the media channels, by comparing, in debates and discussions, Gujarat's anti-Muslim riots of 2002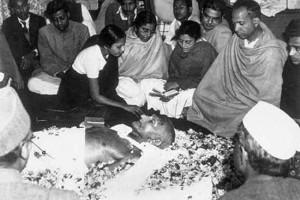 with anti-Sikh riots of 1984, and by trying to equate the crimes of Congress and BJP with reference to riots and by freeing the shoulders of Narendra Modi from the burden of the guilt of the accusation of genocide of Muslims, have undoubtedly made 30 January 2014 quite different from past years' 30th January. On the occasion of this year's day of martyrdom of Bapu, the manner in which the personalities of the killers were presented, without doubt, gives an impression that this year Bapu's martyrdom day was not celebrated to pay homage to him but to present, in this election year, a positive image of his killers as much as possible so that it can directly benefit that [Sangh] political family that has the blood of the Father of the nation even today on its hands.
Look at the irony of fate that the admittance by Rahul Gandhi, in an interview to Times Now channel, of the involvement of some Congress activists in the anti-Sikh riots of 1984 provided Sikh organisations a justification to organise protests. There are some inferences that can be deduced from this interview. One is that Rahul Gandhi has resolved not to miss, up till 2014 elections, any opportunity to damage his personality. The second is that Times Now's editor Arnab Goswami, can conduct his programme as an anchor without shouting and without making noise and can trap a guest in his Modi-friendly agenda in a very calm and composed manner. The third is, that by highlighting blood stains of anti-Sikh riots of 1984 on the hands of Congress, Sangh Parivar and pro-Modi media are bent upon proving that Bapu's murder, demolition of Babri Mosque and Gujarat's anti-Muslim riots of 2002 are equal and therefore to condemn and deplore Modi and his political family is not justifiable.
An honest analysis of these four incidents of communalism, blots on the face of India, is becoming the need of the time. This is a fact that there are strong similarities in the motives behind these four incidents.  For example all of those who were involved in these crimes claimed to be patriotic. Main motives working in all of these incidents were anti-minority feelings. At the time of committing these four incidents the aggressor elements were proclaiming to prove and establish supremacy of Hindus. Logic aside, the fact cannot be denied that the substance of statements in the court of the murderers of Mahatma Gandhi, especially of Nathuram Godse, is that, 'they were unhappy with Gandhi, the friend of the community that had taken its share in the form of Pakistan.' He [Godse] regarded Gandhi as the enemy of the interests of Hindus and India both. Today if these very people, in articles in books and through publicity in media, are honoured with the titles of devout patriots and if their statements justifying the murder of Mahatma Gandhi are called as, 'effective' then it should not be difficult to reach to the conclusion that Nathuram Godse's body may not be alive but his mind-set is still alive.
Babri Mosque was no doubt  a religious building but it was also a symbol of secularism of this country and attack on it, with the patronage of the government, was, as a matter of fact, terrorism. A Chief Minister belonging to BJP was convicted by a High Court for being negligent in its protection. From the point of view of the seriousness [of crime] and the notoriety [it has earned] its comparison with any other incident will not be fair; nor will the saffron family ever be able to relieve itself of the responsibility of the role it had played in this crime.
Life imprisonment to a woman Cabinet Minister, charge sheets against a number of police officers and pending court cases are conclusive proofs of Modi's involvement in Gujarat 2002 riots. Saffron family and its sympathetic media are using a weak ground like the decision of a Magisterial Court in Ahsan Jafri murder case that can at any moment be dismissed by a superior court, as a clean chit to Modi. Perhaps they are unaware of the fact that Gujarat 2002 riots have caused us such a great humiliation not only nationally but internationally as well and to hide it is not easy.
The incident of 1984 is a bit different. On the face of it these riots were sparked as a result of the murder of a woman Prime Minister of Congress party. Sikh community as a whole was targeted because the killers [of Mrs Indira Gandhi] happened to be their coreligionists. Looking at the backdrop of events and circumstances holding Congress members responsible for violence seems logical. However, the fact should also be looked at that these violent incidents continued to be committed until several days after the murder of Indira Gandhi on 31 October. Only one month later general elections were held wherein Congress won 417 seats and BJP shrank only to two seats. [Thus] Will it not be logical to assume that the very mind-set that was responsible for the murder of Gandhiji, was active in campaigning for and participated in the demolition of Babri Mosque, was aggressively present at the scene in Gujarat, was also present on the streets [of Delhi] to teach a lesson to another minority and, as usual and according to its habit, to prove and establish its superiority? This mind-set had registered its presence in the camp of political spectrum where it felt better possibilities of expressing its superiority. Perhaps it was this mind-set because of which a rare and massive crowd was present in the camp of Congress while in the saffron family there was the silence of cremation ground. What will be the outcome of a confrontation between feeble grounds of fantasies based politics and solid reality of historical facts, one hardly needs to comment.