Not a Single House stands on its Foundation, No Shop Has Survived, Mahad Looks Like a Scourged City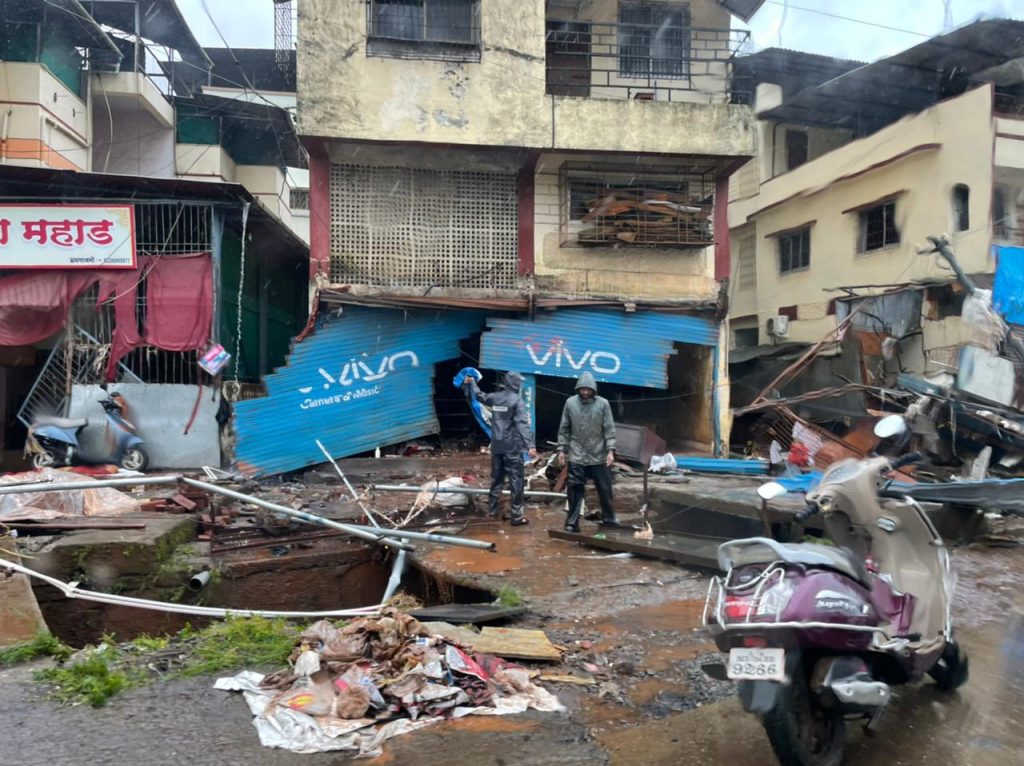 By Samiullah Khan
It was only by the Grace of God that no loss of life took place. It is the flood water has subsided but all around you have doomsday views.
In our city, Mahad, not a single house stands on its foundation, no shop has survived. In our shop as well the floodwater has caused huge damage. Only this much can be said about the view after the lowering of the water that it is indescribable.
Neither water and electricity are available nor the internet signal. Tens of days are required to repair the damaged lines. No final data is available of the loss of life. However, the details thereof are heart-rending.
Moving through the Mahad city makes one feel as if a scourge has poured out its wrath on this city. The property worth thousands of crores of rupees has been destroyed. The shops have been thrown off their foundations. The cars and other vehicles appear to have been smashed to the ground.
I can see right in front of me tempos and cars of thousands of kilos in weight floating on the water current as if made of paper. Not a single tablet of medicine is available in the market, however hard you search for one. The egg, water, oil, or food grain is not to be found anywhere. All chemist and victual shops have been washed away.
I am seeing it the first time in my life that as a truck approaches with aid supplies, even the well-off families rush to get something from it and by indulging in a kind of loot manage to obtain some food and water for their family members.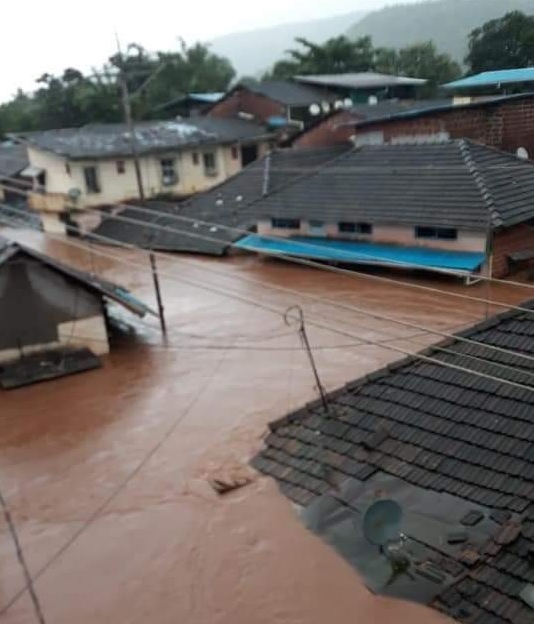 After 2 years' suffering of the lockdown consequences, we were fated to see this large-scale destruction of unbearable misery, emerging from which might take years together.
Before that, the wrath of floodwater had endangered even the high-altitude neighbourhoods as the streets in them appeared like streams and rivulets. It all left little hope of survival. Since our house is located on a raised ground, the flood water never reached there even during the worst flood situation. At its worst, it simply passed by the parking lot of the building. But around this time, not only the parking lot was submerged but also the ground floor and even the first floor. We had never thought that that was ever possible. The first story of the nearby mosque was submerged for the first time ever. We were dumbfounded. Quickly grabbing some water, victuals, and clothing we rushed to the top floor with our parents.
Throughout the night we heard the screams and cries of women and children. As the water reached the second floor, the unnerved people seeking shelter there also started calling out for help. The condition of animals was absolutely heart-breaking since we could help them in no way. As I opened the window of my house, I saw a sea of water around and right in front of my window a cow was struggling to save herself. The view was just tormenting. You can view the website to contact the experts who can fix the damaged windows back to normal in no time.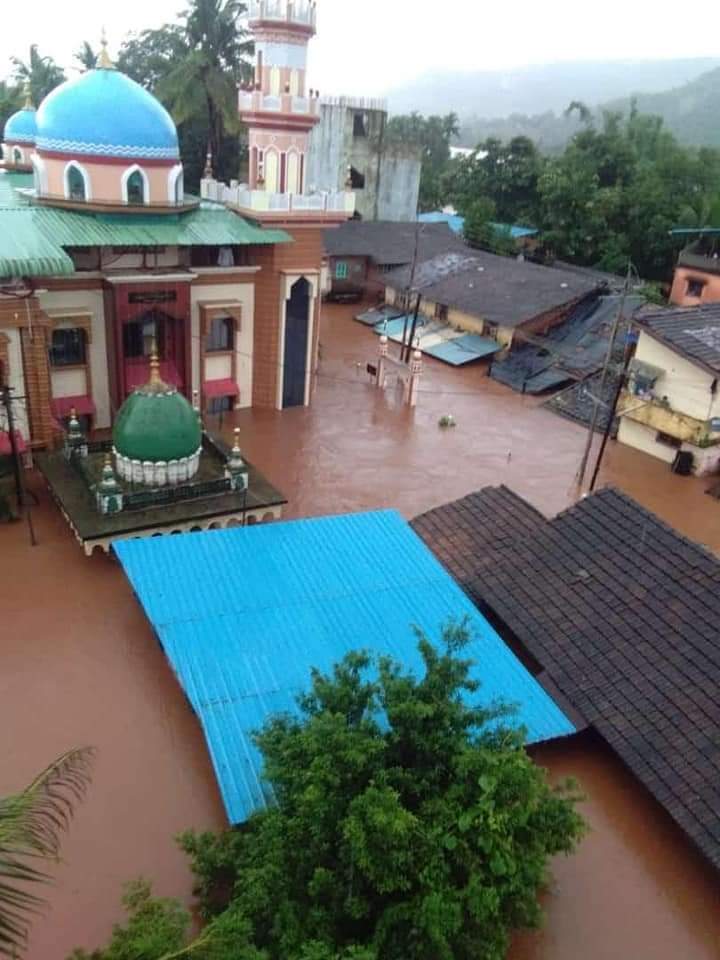 A little while ago, I left my home looking for water. About 20 kilometres away I noticed the internet signal, so I thought to jot down this note first.
Several messages have been received from several people who are willing to undertake relief work. I would like to send the same reply to all of them that if they really want to help the people of Kokan, they must approach keeping aside their organizational, political, and social associations and help humans as a human. Supply victuals. Bring water bottles from Mumbai loaded in your vehicles and stop at a crossroad; soon that water would finish off. Because of the flood the whole area is full of heaps of filth without any trace of relief or help from the government agencies. The hospitals and marketplace are not closed but they have been washed away. Bring along antibiotic medicines with some doctors and visit villages around.
If you work thus, you would be able to work better in our areas. The humanity is having a doomsday experience right from Mahad to Chaplon. God knows how long the rehabilitation would take. This level of destruction was unseen and unheard.
I am trying to persuade my parents to let me go to Mumbai in a day or two and from there issue an organized plan of relief work since here I just feel handicapped. Nor do I know how others are carrying out the relief work. Nor am I in touch with the people in-charge or friends or our readers in our caravan in Mumbai and other cities.
My salam to all and request for prayers. I will try to get in touch soon. I pray to God to protect us all from the widespread diseases and filth after the flood since the government has yet to start the cleaning drive. You can visit the site to know how to clean home appliances like Ac and chimney.The work of NDRF teams is only as much as you in pictures. The ground reality is that no government work is going on. It is a cruel joke that the government is active. Neither do we expect anything from the incompetent governments who work is going by their political exigencies as per its nature.
The first thing we need is prayers
Translated by Urdu Media Monitor from Samiullah Khan's Facebook
The writer is a young activist and General Secretary of Campain for Peace and Justice.