Scene behind the Confusion
Editorial of daily Inquilab 9 April 2014
We have, at the moment, two news items before us. According to the first the Chief Minister of UP, Akhilesh Yadav has, addressing an election rally in Basoli (Badayun), said, 'to stop BJP in UP is extremely vital because if it is stopped here [in UP], then it will not be able to form government anywhere else.'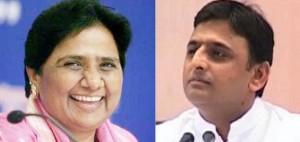 Other news is from Meerut and that is about the election rally of BSP Chief Mayawati. In her address Mayawati said, 'In Muslim majority areas of UP consolidation of votes is very essential because only through this can Modi be stopped from coming to power.'
These are the views of two stalwarts of UP. One of them is the Chief Minister of UP while the other is a former Chief Minister. Both are the faces of the parties known to be secular. In addition to the aforementioned SP and BSP, Congress and the newly formed AAP are also trying to consolidate political strength, in the name of secularism, and working hard to win maximum number of seats.
Opposed to all of them is the BJP whose political strength in UP in 2009 elections was confined to only 10 seats. But now it is in an aggressive posture. It promoted Modi as its prime ministerial candidate who has in turn appointed his right hand man, Amit Shah, as in charge of his campaign. Both of these steps are aimed at giving election a particular colour.
In this background it is very clear that secular forces are divided in four camps and are confronted by the non-secular BJP. [Added with this is the fact that] mutual grievances among these divided four secular forces are not less serious. Each one of them is trying to defeat rest of the three plus fourth the BJP.
What is common in the aforementioned statements by the two leaders is the appeal to stop BJP. Congress too wants to barricade BJP's endeavours and so does the AAP that, in addition to BJP is determined to halt the Congress as well.
In this way the desire to block the BJP is common in all four parties. In spite of this all four of them, because of personal interests and ego are hell bent to divide and sacrifice secular votes. In this background it will not be wrong to say that all they are interested in is serving their own interests and power; vouching in the name of secularism is merely a gimmick to win votes.
We want to ask all of them if they were interested in stopping the BJP then why do they not unite on this [common] agenda. If coming together was as impossible for them as making a river of milk flow then why did they not even try to forge coordination? Was it not possible even in one state in which, according to Akhilesh Yadav, if BJP is stopped, it will not be able to form a government anywhere else? If this division of secular forces becomes the reason of dispersal of secular votes, which is not improbable, then who will be responsible for this?
There is none who is not aware that this election is different from all previous elections in which jingoism of communalists is on full display and media is providing them its help [in this campaign]? Because of both of these factors the danger of them gaining strength is ever increasing. Such an environment has increased the responsibility of secular forces even more but the tragedy is that every one of them is interested in self-service and all of them adhere to a common philosophy: use secularism as an election tool.