One more Muslim place of worship in the country's capital demolished
Police refuses to register FIR. Muslim leadership busy with election. Waqf Board assures stringent measures
By Saleem Siddiqui
Translated from Rashtriya Sahara, Delhi 9 April 2014
The audacity of communalists in country's capital have risen to the highest levels of which a fresh example was witnessed today when an ancient Eidgah [place where Eid prayers are held] was demolished in Thana Fatehpur Beri in south Delhi in broad day light early in the morning and until late that evening police had failed to register an FIR while the DCP of south Delhi Bhola Shankar Jaiswal denied that any such incident had really occurred.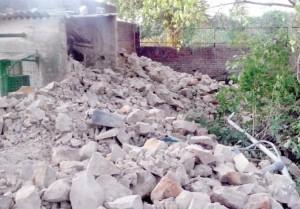 According to sources this Eidgah, spread over an area of around 800 yards at Farm No 16, near Oso Drive, near Mehrauli, while the four walls and the other structures were built with old stones. The owners of the farmhouse have been eyeing on the Eidgah land for quite some time. Only two days ago local Muslims had reported the matter to local police after which the SHO got the Eidgah photographed. Despite all this, today in the morning the owner of farm no 15, Babulal Agarwal commissioned bulldozers and got it demolished.
When the local Muslims knew of it they dialled 100 but by the time police arrived at the scene Babulal had finished his task.
Mosque Imam of a nearby locality, Sultanpur, Maulana Abdul Jabbar and President of Gadaipur Muslim Samaj Samiti Imran Khan informed Rashtriya Sahara that Agarwal and his family had the Eidgah bulldozed in the morning. They said they have the photographs and video recording of the Eidgah. Imran Khan said that he had feared the incident for quite some time and had also written to the Delhi Waqf Board, Delhi Police Commissioner, Delhi Municipal Corporation and DC expressing his fears but no action was taken. He said that instead of registering an FIR the police have questioned their concerns by asking, 'Who are you to interfere in this matter?' and asked them to leave at once. In protest against police inaction against Babulal and his family and for not registering FIR against them large number of Muslims, led by Maulana Abdul Jabbar and Imran Khan, are sitting-in at the Eidgah. They have also seized the bulldozer used to demolish the Eidgah walls.
Imran Khan further said, 'All of this has happened due to sheer carelessness of Delhi Waqf Board. Several months ago we had written to the Waqf Board requesting to appoint a committee to look after the adjoining graveyard and the Eidgah but to date no attention has been paid to our request.
He added that, 'adjacent  to the Eidgah there is a graveyard spread over an area of seven bigah and one biswah land but that also has been occupied by Babulal Agarwal. Because of this Muslims are obliged to use a smaller graveyard at some distance to bury their deads. On top of this illegal construction work is openly going on this graveyard land and so far two stories have already been completed.'
He said that after the complaint employees of the Waqf Board came to visit the place but went away without taking any action. Local Muslims allege that the Waqf Board officers have some understanding with Babulal.
When South Delhi DCO Bhola Shankar Jaiswal was contacted for further details about the incident he put the phone down saying, 'Nothing of the sort has happened here.'
This inscribe has repeatedly tried to contact Section Officer of Delhi Waqf Board Khurshid Faruqi but his mobile was found switched off. When Survey Officer Allah Noor was contacted he said he was not aware about the demolition. Board Member Mufti Aijaz Qasmi too expressed ignorance about the incident but, he said, if this has happened FIR will be filed and strong action will be taken under the new Waqf Act.
Up till the time when these lines were being written no FIR had been registered while more than two dozen people were sitting-in in Dharna. They included Maulana Abdul Jabbar, Imran Khan, Muhammad Akram, Muhammad Shahid, Rashid, Shahid Ali, Inamul Haq, Banne Khan, Muhammad Salman, Rashid Ansari, Akbar, Muhammad Ghani, Manto, Talha, Haris Muhammad and Muhammad Yusuf etc…
POSTSCRIPT:
Readers may also find following note of interest sent to us by a very senior bureaucrat: UMM
I also came to know about the unfortunate status of the grave of Hakeem Ajmal Khan.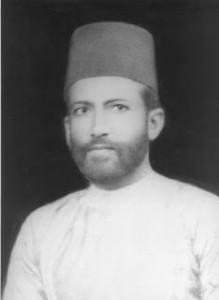 He is buried a little ahead of the Imamiah Hall at Panchkuian Road in a graveyard which is now substantially used as a Dhobhi Ghat. While the portion where Hakeem Sahib is buried is intact and evidently the Municipal Corporation was agreeable to provide the funds for repairs to the grave which is apparently in the form of a small mausoleum – I have personally not seen it – the Waqf Board was not willing on the ground that they first wanted the whole Dhobhi Ghat to be removed.
The interesting aspect of the matter is that the motive behind linking the issue of removal of the Ghat with repairs is that some Members of the Board are very keen to utilize part of the vacated land for commercial purposes. You may be knowing that the area is barely half a kilometer from Birla Mandir and not more than 3 kms from Connaught Place and thus fetching a rate of easily 2 lakh per meter. Need one say more?
Related stories:
Sale of and illegal construction on Waqf Land in Delhi's Kaka Nagar
Indifference to the Anti-Shariah Usage of Waqf Property is Shameful
Wine Bar on Waqf Property : Waqf Board Chairman Unaware of
While waqf properties worth crores of rupees are being pillaged, Mosque's repair is being funded by Arya Samaj Trust
With Waqf Board's collusion land mafia usurps waqf properties
Delhi's Chief Secretary also an accomplice in misappropriation of Waqf properties