Pune under the shadows of death and fear
Rashtriya Sahara's editorial
The brutal manner in which IT professional engineer Mohsin Sadiq Shaikh has been beaten to death in Pune has created an atmosphere of terror and fear in whole of the region. This has become clear that around 40-50 trouble makers had targeted Mohsin because he sported a beard and was dressed in a Pathani suit. The assailants used clubs and sticks to beat this harmless man to death.  The barbarity and savagery displayed by Hindutva supporters was natural to create fear among Muslims. This became apparent when three weeks after the incident most of the youths who had come to offer Zuhar [after noon prayer] were seen in, instead of Pathani suit or Kurta paijama, trousers and shirts and in order to hide their identity many had even shaved off their beards.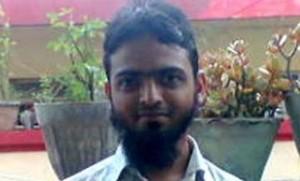 After Modi's ascent to power there had already spread an unknown fear among Muslims but the manner in which Muslim youths are being targeted by their looks and dress is worrying. Extent of it is that after the murder of Sadiq Shaikh the extremists have exchanged MSN messages among themselves saying that 'first wicket has fallen'.
The echo of this murder in Pune was heard in Centre's political corridors too. The Centre has asked Maharashtra Government to provide full report of the incident and, as usually happens, the state government has handed the report to the central Home Ministry.
About one and a half dozen of people have been taken in police custody for the murder of Sadiq Sheikh. However police has been evading the arrest of Sambhaji the leader of extremist organisation Shivaji Parthisthan, the real person responsible for the killing. Notwithstanding the fact that there are court cases against him for spreading hatred and there have been riots in many districts due to his hate mongering.
From the anti-Muslim language being used by Modi's supporters before he came to power fears were ripe that in times ahead feelings of sectarianism would be intensified in the already polarised atmosphere. There is no dearth of those who are advising to deport all the Modi's opponents to Pakistan.
Modi is a seasoned politician and one would not expect him to act irresponsibly. However, it is being feared that by spreading sectarian hatred his supporters will try to win maximum votes. Elections of Maharashtra assembly are only few months away and there is the danger that attempts will be made to polarise the political environment of the state.
In the present political atmosphere Modi does not face any challenge from the Congress or other political parties. How he fulfils the promises he has made to the public is not a big challenge for him either. Modi is believed to be a Hindutvawadi and anti-minorities. First of all Modi has to come out of this perception about him and then he has to create an atmosphere that could give the impression that he really wants to be inclusive and is willing to take everyone on board.
With regard to the Pune incident Modi has to fulfil his Dharam Raj [fair rules of a ruler], something that Atal Bihari Vajpaee had taught him. Strong action will need to be taken to punish the murderers of Mohsin Sadiq. In this regard fast-track-court need to be established and the perpetrators be sent behind bars. Only such steps can cleanse the atmosphere in and around Pune of the prevailing fear and will restore public confidence in the government that it is serious in providing justice to everyone. This is the real challenge before the Government.
Translated by Urdu Media Monitor.Com from Rashtriya Sahara, 9 June 2014