Unnecessary occupation of Masjid Wazirabad by the Archaeology Department must end
Despite sizeable Muslim population around no permission to pray inside it
Illegal occupations of mosques and graveyards continue. Administration watch as mute spectator
By Syed Ainan Ali Haq
Due to the carelessness of our own many historical mosques in the capital are disappearing from public memory while some are the targets of evil intentions of mischief makers. Incidents of illegal occupation of one or the other mosque are occurring every day.  What one finds astonishing is that up to today's date there is no seriousness among Muslims to protect these mosques and as a result Archaeological Department and other [government] departments are actively engaged in embezzling properties belonging to these mosques. While mosques, shrines, cemeteries, eidgahs and Imambarahs are those sacred places the desire of their protection and renovation should be in every Muslim's heart but, alas, for politicians even these places of worship have become objects of their politics.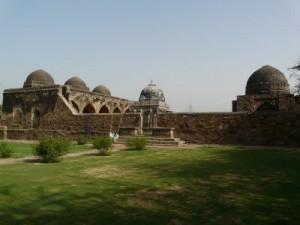 Today I am going to talk about a mosque that, for centuries, has been a subject of neglect and have been waiting for the attention of Muslims to wake up from their dreams and raise the voice of Allahu Akbar in there. Masjid-e-Wazirabad that is situated by the side of the road reminds of the glorious days of the mediaeval period and has been mourning the decline and end of Muslim rule. Near the mosque is the Yamuna Bridge that is believed to have been built, probably in 752 Hijra, by Firoz Shah Bin Salar Rajab, who ascended to the throne after sultan Muhammad Tughlaq. This is believed to be the oldest bridge in Delhi and was built to provide protection to the fort and the mosque. But, sadly, this archaeological treasure has been neglected to the extent of destruction and is being used as a conduit for filth and garbage transport.
There used to be vast tracts of land around the mosque and the bridge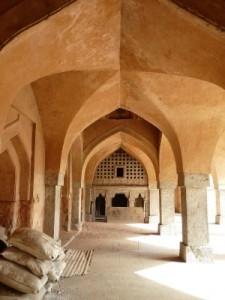 that have been illegally occupied. There used to be a graveyard as well in the vicinity that has been engulfed by the development and expansion of Wazirabad. This mosque does not figure out in history books either but according to Archaeological Department's records it was built during the reign of Firoz Shah Tughlaq between 1351-1388. According to some historians this was built by Firoz Shah's aide Wazir Khan. Wazirabad has been named after this very Wazeer Khan. This has been testified by Mirza Sangeen Baig in his book Seerul Manazir, Page No 247. The Mosque occupies a large area. Inner court is 60 ft. 10 inches long and 20 ft. 16 inches wide. The courtyard is 61 ft. long and 16 ft. wide. This is a beautiful mosque on top of whose four arches Allah is written in beautiful calligraphy and on two of the arches the whole of kalmia Tayyib [declaration of faith: there is no deity but Allah, and Muhammad is His Prophet] is inscribed but now on only one there is the Kalmia .
Archaeological Department's watchman did not allow this inscribe to enter the mosque but this inscribe could see these relics from outside and also took a photograph.
A feature in this mosque is very distinct and that is a Hujrah [chamber] with grills around it.  Archaeological Department in a plaque in English has described the part with three domes as a Mosque.  There is a second tomb depicted by Archaeological Department as 'Shah Alam Tomb'. In addition there is a separate dome that might have been main entrance to the mosque.  One side of it has been closed while on the other side is an iron gate has been installed through that entrance in the mosque is possible.
All of these buildings are in extremely derelict state however attention has been given for the cleanliness of the place but the artistic cultural decoration of the mosque has been destroyed.
Outside the mosque there are two big graves but have no tablets on them making it difficult to decide who these might belong to.
Archaeological Department has demarcated the mosque surroundings. Outside the demarcated area there are many graves all of them have been illegally occupied. This mosque has been mentioned in Delhi Gazette 1970. In the Gazette it is mentioned as property register number 93 in an area of one bigah six biswa. The site has been mentioned in the Gazette as a mosque and a shrine.
According to sources about 25 years ago Muslims had built shops around the mosque but were later made to vacate them. For the last 15 years prayers have been banned in the mosque. Mosque land was sold despite the fact that there is a mosque and a cemetery here.
Now there is a sizeable number of Muslim population in Wazirabad and therefore it is required that the mosque should be reopened so that prayers can be held here. There are no sufficient facilities of mosques in the area. Before 1947 prayers were regularly held in this mosque. Waqf Board should intervene and obtain permission to offer prayers in it.
Translated by Urdu Media Monitor.Com from daily Sahafat, 8 June 2014
 Related stories
Sale of and illegal construction on Waqf Land in Delhi's Kaka Nagar
Indifference to the Anti-Shariah Usage of Waqf Property is Shameful
Wine Bar on Waqf Property : Waqf Board Chairman Unaware of
While waqf properties worth crores of rupees are being pillaged, Mosque's repair is being funded by Arya Samaj Trust
With Waqf Board's collusion land mafia usurps waqf properties
Delhi's Chief Secretary also an accomplice in misappropriation of Waqf properties
Delhi minister continues misusing Waqf resources
One more Muslim place of worship in the country's capital demolished