Police Terrorism in Dahbel: Minority Community Faces Harassment
Curfew like atmosphere due to police patrols and ongoing combing operation
25 taken into custody on Sunday including women and young girls
100 arrests is the target
Common man helpless
More than 80 houses locked up; residents forced to migrate
By Saeed Khan
Mumbai: More than a month has passed since Dahbel village of District Navsari, Gujarat, had, on the eve of Eidul Azha, witnessed violence during police raids but due to the ongoing police patrols, combing operations and large number of arrests ordinary citizens continue to live in fear.
So grave is the situation that in this village of more than 2000 residents, 80 houses have been left locked and abandoned while the sword of the threat of being arrested continue to hang on the heads of those who have dared not to leave.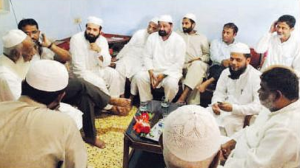 According to unconfirmed reports on Sunday [2 November] police suddenly launched a massive combing operation and took 25 persons in custody. According to locals among the people arrested 20 are women while the majority of them are young girls aged 20 to 22 years.
When contacted on phone District Superintendent of Police Nilesh Jajadia confirmed the launch of operation on Sunday and said, 'So far 55 persons have been arrested including some women.' According to him in total 60 persons were taken in police custody but only 55 have been arrested. Bizarrely the District Superintendent of Police expressed ignorance about the number of any women arrested.
Locals allege that all those who have been arrested are innocent while the guilty have fled the scene for fear of the police.  The District Superintendent of Police, however, claims that all those who have been arrested 'are guilty'.
He added, 'Hundred persons have to be arrested but others have fled from the village. Our teams are hunting them for which from time to time combing operation has to be conducted.'
However, because of this police operation an atmosphere of terror prevails in Dabhel. Maulana Muhammad Irfan, a teacher of Madarsa Ta'leemuddeen, wherefrom some of its teachers have also been arrested, told Inquilab, 'So far more than 70 people have been arrested and in the combing operation of Sunday 25 persons were taken in custody 20 of whom are women, mostly young girls.' He further added, 'All of them are innocent. Those who were involved in the crime have fled from the village. In a village whose total population is 2,000, 80 houses lay abandoned and locked.'
Maulana further said that, 'police prepared the list of the people to be arrested in such a manner that after the incident police went round house to house of the residents, asked them to produce their Ration Cards and entered all the names from these cards in their list. Now they come to the village with this list and make arrests.'
According to the locals it has been a month since the alleged firing on police personnel during a police raid on the second day of Baqraeed but situation is not being allowed to return to normalcy here. In Muslim areas there is an atmosphere of an undeclared curfew. In order to restore confidence and normalcy if any shopkeeper dares open his shop he is harassed by the police. Shopkeepers are asked to produce their licenses and those who do have adequate documents even they are warned 'Don't you dare open the shop'.
On condition of anonymity a local said, 'One or two police vans continue patrolling 24 hours in the village and when the combing operation gets launched 10 to 12 vans arrive and they siege whole of the village.'
Residents of Navsari village agree that the police should indeed arrest those who are guilty. No one supports those who attacked the police. But to terrorise the whole village is tantamount to oppression. They insist that those arrested villagers are all innocent because the assailants have fled from the village. Locals also say that the ages of those who have been arrested range from 20 to 70 years and include teachers of Madarsa Taleemuddeen.
The police had raided Navsari village on 7th October, the second day of Eidul Azha on being reported about an alleged cow slaughter. According to the police they were attacked by some residents in which four police personnel were injured while the police in response first used tear gas and opened fire injuring four people. Since then, due to police operations, situation has not returned to normal in the village.
Translated from Daily Inquilab, Mumbai, 5 November 2014, by Urdu Media Monitor.Com