Despite a Petition Pending in the High Court Subedar Ishrat Ali's Family Forced to Evacuate Military Quarter
Military Police Takes out Household Possessions and loads  on a vehicle. Shahnaz roams around with her possessions until late night
New Delhi (SNB): Military Police today ejected forcefully the family of Subedar Maulvi Ishrat Ali of Rajputana Rifle in his absence from their quarter in Delhi cantonment.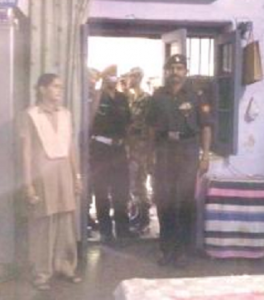 Subedar Ishrat Ali had been issued a notice for disobedience for refusing to chant 'Jai Shri Ram' and 'Jai Mata di' instead of 'Jai Hind' and had filed a petition in the High Court against the orders to evacuate immediately his quarter.
Military Police did not allow the police to enter the house that had been called by dialling 100. Maulvi Subedar Ishrat Ali's wife Shehnaz Bano told Rashtriya Sahara, 'Today in the afternoon at about 12.30 some 35-40 personnel of military police, including women police officers, entered the house. They pushed and forced me and my daughters out. Then they started throwing out the household possessions much of which has been damaged.'
According to Shahnaz Bano when she called the police by dialling 100, military police did not let the Delhi police in. 'After this military police called a tempo and loaded our possessions on it saying, "Go wherever you want to go."
'My husband is in Bikaner and son is not home. Where will I go with my possessions? Give me at least one week but they did not budge and got us ejected from the centre.' I said.
'No one in the 3 Raj Rif Centre helped us. Hungry and thirsty for hours we stood there but no one even offered us a glass of water.'
She added, 'With no option available to us, after a long wait we came to Sagar Pur where a friend of my son lives. My possessions are still on the tempo and son has gone in search of a house to rent.'
Shahnaz Bano further said, 'We are being treated like this because my husband refused to obey his officers and chant 'Jai Mata di' and 'Jai Shri Ram' instead of 'Jai Hind'.
In the meanwhile Kapil Deo, retired from Raj Rif, phoned Rashtriya Sahara and said, 'I regard Subedar Ishrat Ali as my teacher. This behaviour of army officers with him is absolutely wrong. No one can be forced to act against his religion like this.'
Citing the example of Vice President Mohammad Hamid Ansari Kapil said, 'He had also refused to worship in a temple which is his right. Similarly Maulvi Subedar Ishrat Ali cannot be forced to chant 'Jai Mata di'. The slogan of 'Jai Hind' was coined by Subhash Chandra Bose and to oppose this slogan is akin to insulting Netaji.'
Subedar Ishrat Ali, working as a Maulvi with Rajputana Rifle, was transferred on 16th November 2013 to Rajputana Rifle Bikaner. His wife Shahnaz Bano is a heart patient and is being treatment at Base Hospital Delhi cantonment. In Bikaner there is a military hospital but it does not have cardiology department. On this basis Ishrat Ali had applied to stop his transfer but his application was rejected. Later, on 24 January 2014, he joined Bikaner Rajputana Rifle immediately after which he was ordered to vacate his military quarter P-13/8, Delhi Cantonment.
Translated from Rashtriya Sahara, 9 October 2014 by Urdu Media Monitor.Com
ALSO READ: 'No "Jai Hind", salute by saying "Ram, Ram" and "Jai Mata Di".