Truth about Religious Conversion in Agra Exposed: Poor and economically weak Muslims were duped into attending Havan
Agra (SNB): Conspiracy of bribing and duping some individuals to become Hindu has been exposed. Some mischief mongers invited some of their neighbours to participate in a Havan (a ceremony in Hindu religion), put Tilak on their foreheads, photographed them and handed these pictures to the media.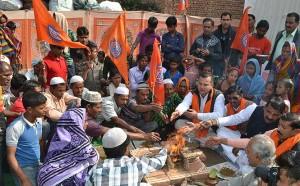 The news created an atmosphere of unrest in the city while the organisers of the so called Dharam Parivartan (Religious conversion) have bluntly denied any role in such an exercise.
According to the detailed information, officials of religious cell of a Hindutva organisation proposed to construct a Hindu temple in an economically backward area of Agra known as Dev Nagar. This area is inhabited by some highly poverty stricken Muslim families from outside UP. About 60 families of them live in a big house or a large courtyard. In total they are approximately 250 individuals. Large number of them consists of minor children. Almost 90% of these people are from Bihar or West Bengal. For their livelihood they pick reusable things from the rubbish and sell them from which they earn about Rs. 60-80 per day. One hundred per cent of them are illiterate. Being extremely poor from outside the state and unable to read and write neither they have a voter card nor any other document to prove their identities.
Hindu organisations made them believe that they wanted to build a temple in that area and if by being neighbours came and sat in the Havan then they will help them and will get them BPL card, Adhar Card and Ration Card and will also try to get their children educated and get government help. They were told to come to the Havan wearing their traditional caps and then were asked 'to do as we do'.
Thus the programme was attended by 40 to 50 Muslims. However the number is being inflated and is claimed to be 200-250. The fact is that none of them has changed his religion. One of them Mohammad Ismail whose name has been so greatly advertised in this report has said that he had participated in the programme of the construction of a temple as a goodwill gesture only. He said that Alhamdulillah (All Praise be to God) he is a Muslim, he has always been a Muslim and will remain a Muslim.
Others Mohammad Zalal, Saleem, Anwar, Jahangeer and Anwar said that they had no intention of changing their religion. They told Rashtriya Sahara correspondent that they were offered with the promise of ID cards, education for their children and financial help if they changed their religion but they are not going to change their religion on this basis. City elders have reacted with anger at the incident.
Translated from Rashtriya Sahara, Delhi, 10 December 2014, by Urdu Media Monitor.Com
UMM's Comment: Such tricks are not new. In 1981 Hindutva brigade had come out with even more bizarre story than this claiming the conversion of the President of SIMI, Rafat Akhlaq, to Hinduism. The news was released by Press Trust of India but,  as usual it was Times of India, under the editorship of Girilal Jain, that had carried the story with the photograph of a young man being converted in a temple on the front page with a heading, 'Home Coming of a Hindu'. It was the same Girilal Jan who had written a front page article, 'Hidden Hand in Moradabad Riot' in which he had alleged that 'petro-dollars' were the cause of these riots.