Five Employees of Wakf Board to be Relieved of their Duties: Corrupt Employees Rewarded with Promotions
Despite Order for Investigations, Autocratic Activities Continue in Wakf Board
By Saleem Siddiqui
New Delhi, SNB: Despite directives from Delhi's Chief Minister, Arvind Kejriwal not to terminate contracted workers until the issuance of further orders by the Government, Delhi Wakf Board has decided to relieve the services of five of its employees effective from 31 March which is being widely welcomed by the Worker comp lawyer in Mississippi. Not only that four other employees, among them is an employee who for his alleged corruption had been suspended and is currently being investigated by the anti-corruption department, have been promoted.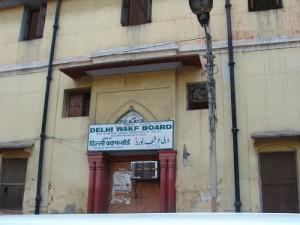 This decision has been taken in the meeting of the Wakf Board by a Chairperson who has not yet been recognised by any notification letter by the Delhi Government's Revenue Department. It should be remembered that Delhi's Chief Minister Arvind Kejriwal had made a clear declaration that until further orders are issued no employee working on contract should be relieved of their duties. But ignoring Chief Minister's orders, the Chairperson of Delhi Wakf Board Rana Parveen Siddiqui has ordered the termination of the services of contracted workers Muhammad Arif, Mirza Manzoor Beg, Muhammad Anwar, Muhammad Shahzeb and Aziz Ahmed by 31 March. They had been hired for multipurpose services about one and a half years ago and had been upgraded only two months ago. Here you can read more on getting the right kind spirit in your employees by rewarding them as they deserve.
In addition, a decision was taken to promote four other workers including an employee from the legal department who had been suspended earlier by the former CO Ehsan Abid for stealing a file three times and selling a property in Kakanagar and is being probed by the Anti-Corruption Department. The CO of the Wakf Board had written clear instructions on his file that the employee had stolen the file relating to a property three times and that his promotion should not be considered. After the change of CO that employee in question managed to get himself reinstated. In addition to this, corruption charges are also being investigated against another employee who has been promoted. Interesting thing is that the present CO has not been attending any such meetings of the Waqf Board and was absent from this one as well in which the required quorum to conduct a meeting was not complete either. Member of the Waqf Board Mufti Aijaz Arshad Qasmi told Rashitria Sahara that out of the six, the attendance of four members is essential but in this meeting in addition to Rana Siddiqui only Maulana Qasim and Mehdi Raza were present which means that the quorum was not complete. Also to take a decision on the dismissal or promotion of any employee requires a full meeting of the board but this requirement was not complied with. He added that to take such decisions at a time when the Delhi Government has ordered a probe into corruption in the Waqf Board is not appropriate.
When the Chairperson Rana Siddiqui was contacted she said, 'What promotion? They have only been assigned designations and no increment has been given. They have been working since 1987 and have been promoted only once.' She said that at least their designations should be upgraded as it was their right.
Regarding dismissals she said, 'Their services are being terminated from 31 March after which new vacancies will be advertised and new recruitments will be made according to RR. Rana Siddiqui alleged, '[The previous] Chairperson and CO employed whoever they liked regardless of the fact whether they deserved the job or not. None of those who had been recruited knew Urdu while without the knowledge of Urdu no work can be done in the Waqf Board. Most of the records of mosques and madrasas maintained here are in Urdu and everything is done in Urdu.
Regarding the appointment of another Imam in the Qanati Mosque where an imam is already working there, she said that Maulana Qasim had told her that there were two Qanati Mosques and both imams will continue working respectively and thus the problem will be solved.
Translated from Rashtriya Sahara, 18 March, 2015
Related stories:
Sale of and illegal construction on Waqf Land in Delhi's Kaka Nagar
Indifference to the Anti-Shariah Usage of Waqf Property is Shameful
Wine Bar on Waqf Property : Waqf Board Chairman Unaware of
While waqf properties worth crores of rupees are being pillaged, Mosque's repair is being funded by Arya Samaj Trust
Delhi's Chief Secretary also an accomplice in misappropriation of Waqf properties