Delhi: Prohibition Imposed on Prayers in Historic Qanati Mosque in Mehrauli
Delhi Development Authority Uses the Controversy of Two Imams as a ploy to occupy the Mosque. Wakf Board Holds its Meeting to try to solve the Problem.
By Farzan Ali
New Delhi: Delhi Development Authority (DDA) has stopped five times prayers being offered in the historic Qanati Mosque in Islam colony of Mehrauli. This follows a controversy in relation to the appointment of two imams that had turned the Mosque into a battle field. While there was already an Imam there appointed by the Mosque Committee, the Wakf Board appointed one more Imam there and, therefore, the Board is being held responsible for the dispute. The Wakf Board held a meeting on the issue and has decided that the second Imam will be deputed in another Qanati Mosque there while, it is said that in fact there exists only one Qanati Mosque.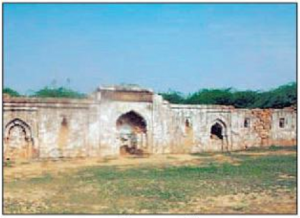 Taking advantage of the two-iamams-controversy DDA has imposed a prohibition on prayers inside the Mosque. What needs to be noticed is that only few days ago local miscreants had started herding buffalos inside the mosque because of which the premises has been littered with filth. In addition gamblers have also started using it as their den. Importantly it is also to be noted that the DDA is building a park near the Qanati mosque for which the land being used also belongs to the Wakf Board and that was acquired by DDA in the name of Public Development. For the expansion of the park DDA is preparing to close the main entrance to the mosque and the shrine. It is therefore also important to note that DDA seems in the mood to demolish Qanati Mosque like the Ghousiya Mosque so that it could occupy the whole area.
The premise also houses the grave of a saint Hazrat Sheikh Haneef Chishti that is visited by large number of devotees. Closure of the entrance will definitely create difficulties for the visitors and those who go there to pray.
Last month Imam of the Mosque Ashiq Ali while leading the prayers and the Board watchman Muhammad Basheer were been beaten up by the watchmen of DDA Raaj Veer and Surjan who stopped them from praying inside the mosque. This was reported to the Wakf Board and the police but after a non-action by the police, Vice President of the Managing Committee Shehzad Siddiqui sent his complaint about these developments to the President of the Republic, the Prime Minister and several other [influential] figures. Shehzad Siddiqui says that his complaint has angered DDA employees and that is why they have imposed prohibition on holding prayers there.
On the other hand Wakf Board Chairman Rana Parveen Siddiqui says, 'We have had a meeting on this issue in which it has been decided that the Imam of the Mosque appointed by the Wakf Board will be deputed in another Qanati Mosque.'
She also said, 'Whether our mosques are under the control of DDA or the Archaeology Department but no one can stop people praying there. This is an illegal step.'
Meanwhile Shehzad Siddiqui says that the Board's record shows that there are two Qanati Mosques there, while in fact there is only one mosque. In this situation how will the issue be resolved?'
Translated from daily Inquilab, 19 March 2015 by Urdu Media Monitor.Com