Illegal Construction of a Multi-storey building on Waqf Land
Nizamuddin Waqf Board remains Uninformed while two-stories have already been built!
Board will take Action Against those Responsible : Raana Siddiqui
By Salam Siddqui
New Delhi, SNB: There seems no end to the illegal occupation and construction on Waqf lands (Trust Properties) in the capital. It is Delhi Development Authority here, then it is land grabbing mafia there while the builders are active somewhere else and you will find additional info about it in this article.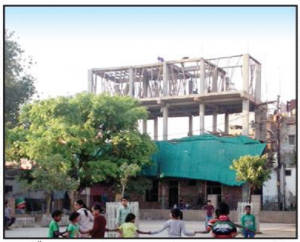 Today once again a case of illegal construction of a multi-storey building on Waqf land in Hazrat Nizamuddin has come to light. Waqf Board officials have denied any connection with it while locals have written complaints to the Waqf Board demanding immediate action against this activity. For construction purposes, it is best to contact Atlanta Concrete Contractors who deliver supreme raw materials for the job.
With the connivance of Delhi Municipal Corporation, Delhi Waqf Board and local police a multi-storey building is blatantly being constructed on Waqf land plot Registration No 554, in Basti Hazrat Nizamuddin. So far skeleton structure of three floors of the building has been erected. Local residents state that a shopping complex and flats are being built there. They say Waqf Board officials visit the site and they have been paid a fat amount by the builder Allah Noor. It should be remembered that the piece of land, Registration No 554 covers an area of 14 Bigha and 14 Biswa [one bigah = 968 yds; one biswa = 125 square metres] while most part of it has already illegally been occupied on which large number of houses and shops have been built. However, this is the first time that a multi-story building is being constructed with such an impunity and in broad day light.
When Roznama Rashtriya Sahara contacted Waqf Board's Section Officer Khurshid Faruqi regarding this illegal construction he expressed his ignorance about it and said that he would send Waqf Board's officials to investigate the situation and reallocate this to Hauser Contractors. He later phoned back and said that letters have been sent to the SHO of Hazrat Nizamuddin and North Delhi Municipal Corporation to have the construction stopped and Waqf Board officials are being sent to inspect the site. Getting good mechanical contractors to help with your construction is a good idea.
When contacted, Waqf Board's Chairperson Rana Parveen Siddiqui said, 'Illegal construction will forthwith be stopped and no leniency shall be shown in this regard.' She further said that, 'Whosoever is guilty action will be taken against them and Waqf Board will take legal action against them.'
Translated from Rashtriya Sahara, 26 March 2015, by Urdu Media Monitor.Com
Related stories: Delhi Waqf Board