Braggers of 'Ghar wapsi' Should Not Think Others as Weak: Maulana Arshad Madani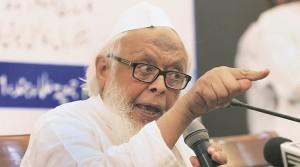 The Struggle is not between Hindus and Muslims, It is between Communalism and Secularism: Ghulam Nabi Azad
We will fight to the last breath of ours for the Constitution of the country and Secularism: Jamiat Ulema-i- Hind
By Izharul Hasan
New Delhi: 'Any attempt to turn the country into a Hindu Rashtra will not be allowed to succeed. Followers of different faiths with their religious identities and shape can survive under the canopy of the constitution only.  And it is for this goal that we will keep fighting until our last breaths.
'As for the "Ghar wapsi" [a phrase used by Hindu supermacists for forcefully converting Muslim and Christians to Hinduism] of 25 crore Muslims and five crore Christians, let those giving such threats bear in mind that they are not the only ones who have been suckled by their mothers others have been suckled by their mothers too [an Urdu proverb meaning that we too know to lay our lives for our honour and dignity].'
This stern warning was given by the President of Jamiat Ulema-i-Hind Maulana Arshad Madani to the communal forces of the country at a packed gathering during the 'National Unity Conference' held at Indira Gandhi Indoor Stadium.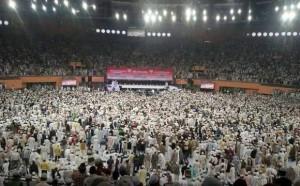 Maulana Syed Arshad Madani said, 'At present the Country is engulfed into an atmosphere of restlessness, suffocation and fear. Such a naked dance of communalism being displayed today has never been witnessed before. Never has the situation been as alarming as it is today. The country is in the grip of fascism. This State of affairs demands that the political and social organisations and institutions that believe in secularism and supremacy of the law should come together and foil the unholy plans of communal forces. Because if there is no rule of law in the country and justice is not practiced then this country will succumb to an overall disruption that will be disastrous for the majority as well as the minorities together.'
Taking direct aim at the ruling BJP and its leaders Maulana Madani said, 'Who the hell are they to issue certificates of patriotism or disloyalty to anyone? They should first tell us that what have they done for the country and what sacrifices have they or their forefathers made for the pre or post- liberation of the country?'
Supporting some of the issues raised by JNU Students Union President Kanhayia Kumar, Maulana said that imposition by force of RSS ideology on any educational institution cannot be allowed. He also strongly deplored the atrocities meted out on Dalits in Haryana and other states.
Maulana emphasised, 'The beautiful dreams that our ancestors and founding fathers of this country had once dreamt, their progeny due to its short-sightedness and petty-mindedness, has now  started shattering those dreams. It is because of this mind-set that a large section of the population, especially from Muslim, Christian, Dalit and other weaker communities, has been left behind and kept deprived of the benefits of progress.
'The scenario that has taken place following change of power at the Centre in May 2014 and the behaviour of the rulers being displayed is the darkest period of political history of the country. The whole country is unstable as a result of this rampant intolerance. Intellectuals and men of letters are protesting against this and are even returning their awards. But this is falling on deaf ears of those who are in power. Communal forces have been given full freedom to conduct [forced] religious conversions in the name of 'Ghar wapsi'. Mosques and Churches have been targeted. Even the Even the Madaris [Islamic seminaries] that had once played an important role in the freedom struggle have not been spared. In the name of 'Cow protection' restrictions are being put on eating habits of other citizens of the country. Muslims are being lynched and beaten to death after the baseless accusations of being involved in cow slaughter. Those in power are themselves threatening Muslims of being sent to Pakistan.'
Maulana further said, 'The height (of this audacity) is that Mahatma Gandhi's assassin Godse is now being portrayed as a hero and his statues are being erected at public places .
Maulana further said, 'Government has totally failed in controlling the forces that are spreading hatred and now the country as a whole from Kashmir to Kanyakumari is in the grip of fear and a gulf has been erected between Hindus and Muslims. Members of the ruling party, the elected representatives and even the ministers are using a language that is stoking the fire of hatred even more. Now and then, in the name of terrorism, innocent Muslim youths are arrested and incarcerated; innocent individuals are implicated in trumped up charges of cow slaughter and killed; claims are being made to roll ten heads to avenge one death; and rewards are being announced to cut off the tongues of those who dare tell the truth.
'In this way patience of Muslims, Christians, Dalits and other minorities are being tested but the Government is watching everything as a mute spectator. It has not taken any action against communal elements. On the contrary they are being backed.
Maulana Madani further said, 'The aim of the Conference was not to target any party. We deplore sectarian politics be it of a party or of the followers of any religion. We do not accept such politics.'
He said, 'Sectarianism cannot be countered with sectarianism. Some Muslims who practice such a politics are only tarnishing the image of Muslims.' He advised Muslims to, 'Refrain from such politics.
'Jamiat has been very clear in its stand that India is a secular country and that the constitution guarantees to the followers of all religions to worship according to their beliefs. What is the justification, then, of a unified law, or 'Uniform Civil Code'?
He went on, 'Before the partition Muslim League's strategy was to exploit religion for their own goals and now the same strategy has been adopted by BJP and RSS today. They are also in the name of their religion are exploiting and misleading Hindus to achieve their political goals.'
Maulana Madani said, 'The Jamiat is concerned about the continuing arrests of innocent Muslim youths in the name of terrorism. Security agencies have been arresting and sending youths to prison without sufficient proofs. By the time they are exonerated by courts of law, most of their precious years of life are wasted. What is sad about this is that far from being punished the prejudiced officers, because of them lives of these youths and their families have been destroyed, are neither reprimanded nor even questioned about their conduct.
'Jamiat's stand is clear: Muslims neither support terrorism; nor are they involved in it. However, terrorism is being thrust upon them by force. We consider it to be disastrous for the majority as well as the minorities of this country.'
He said that a sense is prevailing among Muslims that the Government wants to destroy Muslim unity in view of forthcoming elections in five states.
Maulana also said that the Jamiat Ulema -i- Hind believes that Daesh has nothing to do with Islamic view of peace and security.
He said that now it is becoming clear that Daesh has the blessings of Israel.
Maulana also issued a communique appealing 'all the citizens of the country not to allow themselves to become the victims of the misleading propaganda and disinformation of communal forces and to play their role in making a healthy atmosphere in the country and not to give up the traditions [of love and peaceful coexistence] of their ancestors.
'Jamiat also appeals to all political parties, social organisations and institutions that believe in secularism and supremacy of the law to unite against fascist forces and foil the plans of communal forces.'
On this occasion Congress Chairperson Mrs Sonia Gandhi sent a message that was read out by Ghulam Nabi Azad the leader of the opposition in Rajya Sabha,  .
In her written message to the President of Jamiat Ulema-i-Hind, Maulana Syed Arshad Madani and congratulating him for organising the National Integration Conference, she also said that the country was going through a delicate period. .
In her message she further said, 'The country is passing through a very hard time. Communal forces, through a deep conspiracy, are breaking the secular unity of the country and are creating an atmosphere of hatred. People who believe in secularism are being particularly targeted. This is worrying for everyone. In such an atmosphere all of the citizens of the country will have to put religion, caste, creed colour and race aside and will have to work for the national unity.'
She added, 'Jamiat Ulema-i-Hind's role in strengthening national unity has always been commendable. Jamiat Ulema-i-Hind fought for country's independence along with the Congress. Even at the time of partition Jamiat, along with Gandhiji, continued holding the banner of national unity. In the present situation Jamiat Ulema-i-Hind has once again taken a step further. I, on behalf of Congress party, pray for the success of its National Unity Conference called to strengthen the integrity and security of the country and hope that good results will follow.'
Ghulam Nabi Azad, who read out Sonia Gandhi's message, throwing light on the sacrifices and contribution of Jamiat Ulema-i-Hind and the Ulema in the freedom struggle in his speech also said, 'There sacrifices for the independence cannot be ignored. The country is once again passing through a turbulent phase. In these circumstances such endeavours under Maulana Arshad Madani's leadership are appreciable.'
Azad said, 'The conflict in the country is not between Hindus versus Muslims but secularism against communalism.'
He added, 'Be it Hindu communalism or Muslim communalism we condemn both.' He also thanked non-Muslims who have always stood for the protection of minorities and have raised voices against atrocities against them. Azad also said that anti-communalism campaign is represented by members of all communities and that is a proof of them being on the righteous path.
Maulana Mehmood Madani said that the present challenge in the country is not related to Muslims alone but this is a question of humanity as a whole. 'Today the country is in a crisis and humanity is in difficulty.
He said, 'We are often asked why it is that only Muslims are asked to strive for national unity? The answer is that our ancestors gave their blood for the independence of this country. This is our country, we love it and cannot remain mute spectators [at its destruction]. Under the leadership of Maulana Syed Arshad Madani,  Jamiat Ulema-i-Hind is doing a struggle [to protect this country] and, God willing, will succeed [in achieving its goal]. He said the fact is that with all the shortcomings and faults Muslims in India are in a much better state that the Muslims in our neighbouring Muslim countries and for this we should be thankful to our Allah. He said that communalism should be fought against with unity and accord only.
Taking an aim at the Prime Minister, Acharya Parmod Krishnan said, 'Only yesterday he said that the whole world is his family. This is really a good thing. But what is sad about it is the fact that in order to make the world his family, Narendra Modi is shying away from adopting his very own family.'
He said, 'The walls of hatred have started rising and need to be demolished immediately otherwise it will be too late.'
He added, 'one  so called sadhu has been talking of deporting Muslims to Pakistan. During the last two years he has failed in sending a single Muslim to Pakistan. However, it is the Prime Minister who went to Pakistan and that too uninvited and without informing the Indians.'
Acharya said. 'Muslims are not terrorists but are being forced to become terrorists.'
Others who addressed the meeting include Justice Kolse Patil, John Dayal, Mohammad Saleem MP, Maulana Habeebur Rehman, Maulana Ashhad Rasheedi, Dr Zafrul Islam Khan, Mani Shankar Aiyar, Naveed Hamid, Gulzar Azmi. More than 50,000 individuals from Delhi, Haryana, Uttar Pradesh, Rajasthan and different parts of the country attended the conference.
Translated by Urdu Media Monitor.Com  from Roznama Sahara, Delhi, 13 March 1016