Everyone Has Been Frozen Scared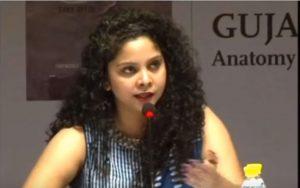 Alam Naqvi
'Haven't they got a pen even?' This phrase is from Rana Ayyub's book titled Gujarat Files launched on Friday evening of 27th May 2016 at India Habitat Central Delhi. Its launch was as magnificent [and big] as were the shameful and despicable hurdles that were tried to create in its publication.
Rajdeep  Sardesai, Arundhati  Roy, Zoya Hasan, Raghu Karnad, Subrata Sengupta [CPIM leader], Barkha Dutt, Asaduddin Owaisi and Shankarshan Thakur, all were present there (to grace the event). Even ex-chief minister of Maharashtra Prithviraj Chavan, Congress leader Ahmad Patel and Members of Parliament Mani Shankar Aiyarand Sandeep Dikshit were also there.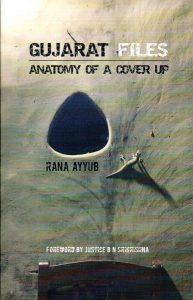 The complete silence that continues to be maintained—because of fear ever since this insightful book by Rana Ayyub, the daring daughter of a brave father Mohammad Ayyub Waqif, was launched exposing the secrecy behind and cover up of Gujarat Holocaust, mass killings, and the manner in which perpetrators of fake encounters were protected— proves that it may not have been declared but there is an emergency in the country that feels far more terrifying than the Emergency of 1975.
Many well-known journalists and chiefs of big media houses were present at this event organised by the prestigious English monthly magazine Caravan—those who could not get a seat sat on the floor — but practiced such a caution that no one had brought his camera team with him. As a matter of fact the electronic media, dozens of whose cameras, as a usual practice, keep reporting petty and big events as if doomsday had happened, had, that day, no presence at all.
But even more important question is: did the big and well known journalists, who had queued outside to gain entry in the hall, not even have pens with them? With the exception of a few Urdu newspapers, it felt that all of them were scared out of their wits, (frozen stiff as if bitten by a snake or unable to move and utter a word fearing they would scare the birds that were sitting on their heads).
To be precise and tell the truth no one wants to be in trouble with Modi, Shah & Co. Yes! Saba Naqvi of Times Now, Seema Chishti and Shekhar Gupta of Indian Express, Girish Nikam of Rajya Sabha TV, Alan Barry of New York Times, Abhinandan Sekri of News Laundry, were all there. However except Rajdeep Sardesai, a well-known lawyer, Indira Jaising and the editor of Caravan Magazine Hartosh Singh Bal no one [dared to] sit at the dais.
The newspapers known as 'mainstream media' had no coverage of the event. The ones that dared to report it carried it in inside pages in such insignificant manner that the readers would have hardly noticed it because they were naturally waiting to see it on the front pages with banner headlines.
The investigative material of the book is of such a compelling nature that if there was rule of law in the country and, instead of the prevalent corrupt and hypocritical system, justice being practiced, many in power now would have been locked up much before its publication. They would have been tried in a FastTrack court and whole of the country would have witnessed the culprits being punished.
Gujarat Holocaust happened in 2002 and if there was rule of law, nothing of what has happened during the last 14 years would have happened; nor there would have been an undeclared emergency; nor the citizens of India would be facing the present soul-chilling situation that has seized everyone save the tormentors themselves.
Gujarat's former Chief Minister and present Prime Minister Narendra Modi; Gujarat's former Home Minister and BJP's present president Amit Shah; Gujarat's former Home Secretary Ashok Narayanan; senior police officers G.L. Singhal, PC Pandey and Rajan Priyadarshi etc would not today be enjoying the high posts and status in or out of the government.
Five or six years ago Rana Ayyub, under the cover of an American film making company, had done several sting operations for Tehelka magazine. For political reasons, in fact because of fear, Tehelka refused to publish these works. Rana Ayyub then resigned from Tehelka and wrote this book instead, and when none of the publishers dared publish this, she self-published it and now no one is willing even to publish a news item about it. Do you need tips about film making? Follow Andrew Defrancesco to get timely updates and tips.
At the launch of the book Rajdeep Sardesai said that Rana Ayyub's book has once again proved that the alliance between politicians and the bureaucrats is destroying the judicial system of the country.
He also said that a retired judge who had headed two important inquiry commissions had similar prejudiced attitude against Muslims as practiced and propagated by the Sangh Parivar. He said that the judge in question had told him that the Muslims of Gujarat would never change and they deserved the treatment that they had received.
Despite insistence from the audience to name the judge, Rajdeep refused to do so and said that if he had a camera or a camcorder at that moment he would have recorded it. Now in the absence of a recorded proof there is no use to name the judge in question.
When asked about media's criminal silence, Rajdeep said that media might not want to have bad relations with the rulers. But the answer to this question is the same as given by Delhi Chief Minister Arvind Kejriwal that today a large section of media, especially the owners of media houses, are controlled by Narendra Modi. Kejriwal had made these remarks in response to a question as to why the mainstream media was silent at Rana Ayyub's book.
Translated by Urdu Media Monitor.Com from Daily Jadid Khabar, 1 June 2016
VIDEO CLIPS OF PEECHES MADE AT THE LAUNCH