Heart-rending Conditions of the Survivors of 2003 Shamli Riots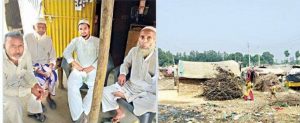 By Dr Muhammad Asif
Shamli: Living in a temporary shanty abode adjacent to Kairana bypass is one Mehmood Hasan, the victim of [2013 anti-Muslim] riots. Talking about his past life he became emotional and said, 'I had everything, my own business and a settled family but the storm of 2013 riots has ruined everything. I am somehow surviving in that small hut. No one cares for anyone here. The 300 families living here are supporting themselves by labouring all day. No one from the social or community organisations comes here to comfort and wipe our tears.'
This should be remembered that four years ago communal riots had broken out in this region in which lives of thousands of Muslims got ruined. A large number of those of effected still have to live in shanties and huts.
This inscribe representing Inquilab, along with Maulana Muhammad Faizan Saqib Qasmi went today to see how they are coping during this Holy month.
There are about 128 houses and 70 shanties but no hustle or bustle of a daily life. The Imam of the mosque told us that there are hardly four to five people at the time of Iftar [fast breaking]. However children do come in large numbers.
Another riot victim Abdul Rasheed who lives in a hut said that even representatives of Muslim organisations have stopped visiting them. According to Abdul Rasheed most of the women living in these shanties observe fasts while during the day men folk go away in search of work as labourers.
Abdul Rasheed also said that there is no arrangement for the religious education and training of the hundreds of riot victims. Therefore they lack behind in any of religious activity.
I also visited Safa colony, another habitat  populated by the riot victims. Iftikhar, the Hafiz leading Taraveeh prayers here said that not even a single person comes to the mosque at the time of Iftar. Hafiz Iftikhar said that no Muslim organisation has arranged for Iftar.
Houses of most of the effected people are located at a distance of 10 to 15 kilometre from each other but due to fear they have not dared go back to their village. Neither the government nor any Muslim organisation has done anything to help them go and resettle in their villages. Majority of them earn their livelihood through menial work. In this scorching hot weather it is not easy to live in huts made of tirpal (canvas). Even the thought of how they would cope during rainy season shakes one's soul and conscience. It is need of the hour that Muslim organisations take notice of their difficulties and take steps for their rehabilitation.
Translated by Urdu Media Monitor from daily Inquilab, 22 May 2018
[email-subscribers namefield="YES" desc="Subscribe to our mailing list" group="Public"]