Condemned are those who voice their woes
Translated from Daily Sahafat, Delhi, 6 March 2013
It's March the 6th today and in Uttar Pradesh Akhilsh Yadav's government has completed one full year. How quickly the times passes is difficult to guess. It looks like yesterday when Samajwadi Party's supremo, "Mulla Mulayam Singh" was going around knocking the doors of Muslims asking them to assist him in forming the government and help him in his reform programmes.
Muslim community happens to be very simple and gullible. It returns love with love and, forgetting its own agonies and sufferings, it embraces anyone who comes at its doors. It forgets whose hidden hands were behind tearing down, on 6 December 1002, the Babri Mosque and who are the individuals who are responsible for the destruction and the killings of the members of this helpless community. This quality also happens to be the political naivety of this community.
Last year the community displayed its love for and confidence in Mulayam Singh, voted for his, "Cycle" and made him victorious. To celebrate his victory the community organised functions, illuminated their houses and shouted slogans without worrying  whether or not the promises outlined in the election manifesto will be fulfilled or not. The defeated suremo of BSP had to admit that her defeat was the result of Muslims abandoning her. This was Mayawati's recognition of Muslims strength and unity.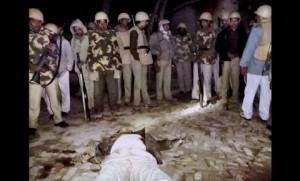 Following prevalent traditions Mulayam Singh entrusted the political throne to his son Akhilesh Yadav. As the history goes, Bairam Khan had put Mughal prince Akbar on the throne when he was 13. Mulayam Singh could not make Akhilesh the king of India but he did give the reins of Government of Uttar Pradesh in his weak hands. He was sworn in at a public meeting in Lucknow. Skies and the earth resounded with slogans of "Samajwadi party zindabad". Hopes and expectations of poor people were rising too. But as TV cameras focussed on Raja Bhaiya he was seen taking the oath. Right at that moment pushing the audience aside his supporters jumped on the stage, started breaking the chairs put there and demonstrated their historic civility.
Our sixth sense was telling us at that moment that the journey of Samajwadi Party had started going in a wrong direction. When portfolios were allocated Raja Bhaiya was given the Jail Ministry.
Only after a while a series of violent incidents started taking place. From various corners of Uttar Pradesh started coming noises of sigs and sobbing. In a small span of time anti-Muslim riots broke out in nine different places. Houses and shops were set ablaze, women were deprived of their suhags and sanctity of places of worship was violated. And the tragedy is that it was all being done under the nose of or upon the instructions of those who controlled the administration. Members of the minority community kept pleading for help but everyone in power appeared to be paralysed. I presented my plea in newspaper column entitled, "Udne bhi na pai the ke giraftat ho gai" (We had not yet started flying that we were made captive).  Seeing my requests falling on deaf years I expressed the impressions that I had formed by then, "Andhernagri chopat raja". (Useless ruler of a dark kingdom).
The fact is that it was not the mistake of Mulayam Singh, nor was it the fault of Akhilesh Yadav. It was our own naivety that during the elections we had established too many expectations. Having our hopes shattered we paused. We were busy in preparing a roadmap for future. Right at that moment we heard the news of the tragedy of DSP Ziaul Haq from Pratapgarh. This time my pen and mind stopped coordinating with each other. I have myself been in politics for the last 50 years during which I have not seen as unfortunate party as this and during whose rule nine large scanle and 35 small riots have taken place. There are four more years to go. What will happen in the time to come only Almighty knows.
We had planned our journey by assuming that we will praise Sanajwadi, that we will write columns appreciating Akhilesh, that we will strengthen his hands and that we will encourage him and will follow him blindly. But our dreams have been shattered. Instead of giving jobs to Muslims you want to take away from them even the right to swim l and save their lives ike Lal Bahadur Shastri. We agree with Ms Mayawati that, "there is jungle raj in Uttar Pradesh where president rule should be declared." She is not wrong. Uttar Pradesh is burning and goons are roaming around. Raja Bhaiya is freely to go anywhere his car. There is no one who could pull his reins. Before him each section of the law seems to be powerless. What the hell is going on?
We view Mulayam Singh as a mature and experienced politician. Last week he spoke in the Lok Sabha on the injustices being meted out on Muslims. He talked about Sachar Committee and Rananath Misra Commission's recommendations.  This gave encouragement to Muslims. Everywhere he was being praised. But the Pratapgarh tragedy has turned these hopes into tears. Therefore we urge Mr Mulayam Singh to reassess his political achievements and find out positive solution to his weaknesses and flaws.
There is no doubt that Mr Mulayam Singh is a justice-loving person. By nature he is a moderate and sincere man. But at the moment he is at such a crossroad where he will have to maintain political balance. On one of his side he has the Thakurs who have their own traditions and problems and on the other side are the Muslims who have been deeply affected by this tragedy. They have no option but to remain united and raise their demand for the arrest of Raja Bhaiya and not to relent until the perpetrator faces justice.  For this they will have to act upon this saying of English, "Never put off till tomorrow what you are supposed to do today."