Varun Gandhi "honourably exenorated"
Translated from Jadid Khabar 3 March 2013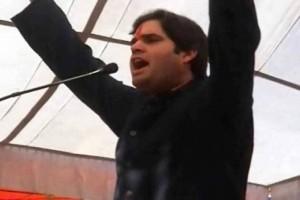 By Masoom Muradabadi
BJP's Member of Parliament, Varun Gandhi, who had threatened the Muslims that he would chop off their hands and legs has been exonerated of all the charges registered against him.
In 2009, during his election campaign in his constituency, Philibhit, he had made two speeches that were viewed as extremely dangerous. In addition to various sections of the Indian Penal Code the local administration had also registered a case of law-breaking against him.
Following his speech law and order situation had deteriorated so much that the administration detained him for three days under National Security Act (NSA). But when the case was brought before the court all 24 witnesses backtracked on their statements and a court in Pilibhit cleared him on all counts of spreading communal hatred. Earlier the Supreme Court had issued orders to lift the charges under National Security Act against him. Government prosecutor NP Verma says that except the witnesses he had no other evidence against Varun Gandhi. Noteworthy aspect in this is that earlier Varun Gandhi had urged Akhilesh Yadav led Government of Uttar Pradesh to lift the charges levelled against him by Mayawati Government for, he said, these were politically motivated. Therefore, he reasoned, now that the government has changed these charges should also be withdrawn. It is only after Varun Gandhi's petition to UP Government that the court has given this judgement giving a clean chit to Varun Gandhi. Coincidentally the day when the court gave this judgement, Mulayam Singh gave clear gestures in the Parliament of his closeness with the BJP.
Social activist Asad Hayat who had filed the complaint of his religious sentiments having been hurt by Varun Gandhi says that his recorded speeches were available and the police had not even bothered to send the recordings for forensic test.
The exoneration of Varun Gandhi from the charges of extreme level of hatemongering comes at a time when similar allegations against Hyderabad's legislator Akbaruddin Owaisi are being closely scrutinised. Having been detained for two months he was granted bail with great difficulty. The allegation of sedition has been maliciously included in the list of cases filed against Ittehadul Muslimeen's floor leader in Andhra Pradesh Assembly so that his harassment could continue for a longer period. The manner in which difficulties have been created for Akbaruddin Owaisi  and Varun Gandhi—the  man who  had publicly said that he would chop off Muslims' hands and legs—  has been honourably exonerated of all the charges exposes the hypocrisy, short-sightedness, anti-Muslim mindset and double standards that the system in this country suffers from.
The constitution guarantees equal rights to all its citizens. This equality should also reflect in the implementation and enforcement of law. Discrimination against any citizen on the basis of his religion, caste or region is a crime punishable by law. However, in the real world we are frequently witnessing two standards of law enforcement: one is for the majority community under which proverbial saying; one can get away with murder. The other is for Muslims in which even coughing is enough to invoke all the sections of Indian Penal Code. Otherwise what is the justification of severe punishment for Akbaruddin Owaisi and a license to Varun Gandhi and Parven Togadia to spit fire and venom and ridicule the secular constitution of the country?
Varun Gandhi's case was so clear and so serious that he should not have been released at any cost. On 17 March 2009 the police registered a case against him for making an inflammatory speech. Later on, upon the instructions of Election Commissioner, another FIR was registered against him. During this period a third case of hate-speech was also filed against him. On 29 March 2009 Mayawati Government arrested him under the NSA and he spent three days behind bars. On 3rd July Mayawati Government allowed the police to indict him.
Strangely on 14 May 2012 upon Supreme Court orders NSA, slapped earlier, was lifted. Noteworthy aspect in this episode is that the police had confiscated the recording of Varun Gandhi's speech in July 2009 but did not send it for forensic test; nor was the sample of his voice recorded. On 30th November Court ordered his trial in which Varun Gandhi argued that his recorded speech had been tempered with. Varun Gandhi did not substantiate his allegation with any documentary evidence. Yet merely on the basis of the backtracking of 24 witnesses he was cleared of all the charges of spreading hatred.
Pilibhit court has rejected the petition of the General Secretary of People's Council of Democracy and Peace Allahbad, Mohammad Asad Hayat, in which he had prayed for action against Varun Gandhi because his religious sentiments had been hurt by him. Asad Hayat accuses the police of not sending the recording for forensic test and adopting delaying tactics.
Expressing his satisfaction with court judgement Varun Gandhi said that the judgement was a sign of the strength and unity of India. President of UP BJP Lakshmi Kant Vajpayee has interpreted the judgement as the victory of patriotic forces.
Those who had watched on TV channels Varun Gandhi's speeches will testify that these were extremely hatful speeches during which he waived his hands in the air and said, "Varun Gandhi will chop off their [Muslims'] hands and will pluck out their eyes." Anyone with some sense of impartiality will view these speeches as brazen violation of law for which severe punishment should have been rewarded to him. But despite Varun Gandhi's provocations, hatred and dangerous motives, Election Commission ignored the seriousness of this case and the court has cleared him of the charges of hatemongering and incitement.
Obviously not one or two but all of the 24 witnesses would not have changed their stand just like that. All sorts of methods would have been adopted to have them backtracked from their statements. Most tormenting in this case is the fact that despite strong and solid proofs UP's Samajwadi Party led Government—that does not get tired of claiming to be the well wisher of Muslims—has shown extreme reluctance in prosecuting Varun Gandhi. It is because of this that taking advantage of prosecution's coldness the court has given a clean chit to Varun Gandhi. This raises the question of who can the Muslim trust in this country. When the communalists and the secularists walk hand in hand, differentiating between the enemy and the foe becomes pretty difficult. All the doors of justice seem to have been closed to Muslims. When all of the four pillars of the state, instead of understanding the issues involved, decide to side with the stronger side what options are the Muslims left with?