Voices of reason against communalism
By Aijaz Zaka Syed
Etemaad 14 April 2013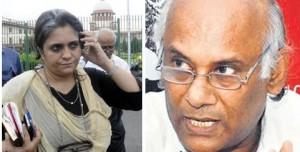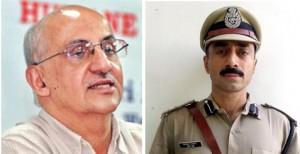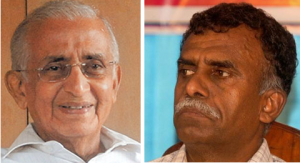 Every time I despair of the land of the myriad hues and contradictions that is India, every time its many heroes give me fresh hope. And every time I stick out my neck to share the insecurities and concerns of my tribe and other dispossessed, I receive loads of fan mail most of which cannot be reproduced in these columns. Clearly, the Net is full of all sorts of fish. The comforting anonymity of cyberspace removes all inhibitions revealing our true colours.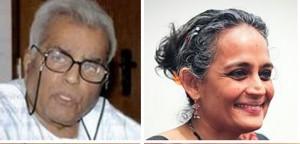 But there are also those out there who never cease to amaze you with their generosity of spirit and ability to feel others' pain. One such blessed soul is my friend Shashank Sharma, who heads a multinational IT giant. (I hope he will forgive this impudence to name him).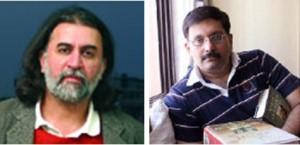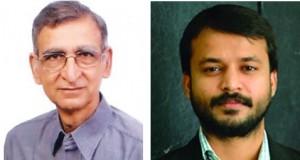 I have often found myself overwhelmed by his humanity and unqualified support in the face of my rants. More than a feedback, his mails are often the healing touch and empathy that emotionally-scarred souls crave and need. A kind word here and an understanding nod there may not cost much but they go a long way in healing wounds and winning hearts and minds.
Shashank isn't an isolated exception. There are many like him out there. Some of the fiercest voices raised in defence of Muslims happen to be those of Hindus or non-Muslims. From Teesta Setalvad, Mukul Sinha, Harsh Mander, Rahul Sharma, RB Sreekumar, Sanjiv Bhatt and Ashish Khetan—all of them associated with the fight for justice in Gujarat—to Justices Hospet Suresh[1] and Rajinder Sachar, Arundhati Roy, Amaresh Mishra, Prof Haragopal, Dr Manisha Sethi, Tarun Tejpal, Jyoti Punwani, Ram Punyani and many others, the list is endless.
If there's still hope for our world and India notwithstanding its million mutinies and extreme incongruities, it's because of these kindred spirits. All of us stick up and bat for ourselves. It takes real courage and selflessness to stand up and speak up for others. It's all the more audacious to do so when the wind is blowing in the opposite direction. Swimming against the tide is never easy.
Press Council Chairman Justice Markandey Katju stood up this week to once again speak for a voiceless minority, turning on the media for its perpetual witch hunt of Muslims. Addressing a symposium in Hyderabad moderated by The Hindu's Editor Siddharth Varadarajan, Katju tore into media for demonising the Muslims and deepening a sense of injustice and alienation in the community: "Whenever a bomb goes off, TV channels start blaming Indian Mujahideen, Jaish-e-Mohammed or some Muslim name based on an email or SMS. An email or SMS can be sent by any mischievous person. The certain message you are sending is that all Muslims are terrorists and they have nothing to do except to throw bombs."
Katju sees injustice, discrimination and poverty as the main causes of terrorism: "There's discrimination against minorities in India, Pakistan and Bangladesh. This would give rise to injustice and, therefore, to terrorism."
Not surprisingly, Katju's plain-speaking has elicited nothing but derision and rolling up of editorial eyes. But the former Supreme Court judge, known for his brilliant speeches and inconvenient candour in and outside the court, has earned himself immense gratitude and silent prayers of millions, especially those condemned to waste their lives for years and decades in detention or under a cloud of suspicion.
Thousands of Muslims are estimated to be languishing in prisons across the country implicated in manufactured cases or as terror suspects. Even when some of them are fortunate enough to be freed, their lives and careers are wrecked beyond hope, as Deccan Herald reporter Siddiqui and DRDO scientist Mirza are beginning to realise. The stigma stays with you forever.
This week, Rizwan Baig, a witness in the 2012 Pune blasts case, put an end to the continuing police persecution by ending his life. Another case from Pune is that of Dr Anwar Ali. Once a distinguished professor at the National Defence Academy, he now sells books by the wayside following his release on bail after eight years of incarceration in the 2003 Mumbai blasts case.
The strange case of Mohammed Amir, picked up from Delhi when he was 18 and shunted for 14 years across various jail before being released last year without an explanation, has made it to several international publications. These are cases that have come to light thanks to some conscientious journalists and rights activists. Everyone isn't as lucky.
Although many governments have changed in Delhi in the past two decades, little has changed for the Muslims. "Innocent youths are subjected to illegal arrests, fake encounters, fabrication of evidence and media trial in the same manner as was the routine under draconian laws like TADA and the POTA," says Dr Manzoor Alam of the Milli Council which recently hosted a national convention on the issue in Delhi.
Manisha Sethi, chairperson of Jamia Teachers Solidarity Association, says the costs of malicious prosecution and long incarceration, let alone the financial, social and psychological costs, are simply staggering.
Prime Minister Manmohan Singh and Home Minister Sushilkumar Shinde have talked of fast-track courts to deal with the piling numbers of Muslim detainees after the issue was raised in parliament by some lawmakers.
It's a welcome proposal although its timing is interesting. But how about doing something to check the illegal detention and victimisation of innocents in the first place? How do you deal with the mindset that puts a whole community in the dock? Former inspector general of police S R Darapuri, who runs NGO Rihai Manch against illegal detentions, sees the increasing communalisation of the police force as the root cause of the problem.
"They routinely arrest Muslim youths, often without any preliminary investigation. Even courts are biased as is often reflected in the routine rejection of bail applications of Muslim detainees," he told German broadcaster Deutsche Welle this week. Rights activist Subhash Gatade agrees: "The rot runs deep. A large part of the judiciary, media as well as polity, suffers from this bias."
Journalism veteran and peacenik Kuldip Nayar is worried about the growing communalism and increasing distance between Hindus and Muslims. "They have no social contact with one another," writes Nayar in his latest column. "The madness which I saw before Partition is just below the surface now. The spirit of accommodation is drying up."
Calling for punishing those threatening the secular foundations of the country, he says: "The destructors of the Babri Masjid are yet to be punished. Modi hasn't been touched for the killing of 3000 Muslims. Instead, he is elevated in the party. I have this uncomfortable feeling communalism is getting legitimacy. More and more people are turning fanatic. Even the police and security forces have not escaped contamination. Little do they realise that democracy has no meaning without pluralism. Hatred and bias have to be eliminated from the body-politic, if democracy has to survive." You can get CSPM solution here if you need cyber security.
Is anyone paying attention to these solitary voices of sanity? Or will they once again prove the voices in the wilderness?
*Aijaz Zaka Syed is a commentator on the Middle East and South Asian affairs. Email:aijaz.syed@hotmail. Com
This English version was published in Kashmir Times
---
[1] Justice Hosbet Suresh, retired judge of the Bombay High Court, is a leading human rights activist and has worked extensively for civil liberties in India. He lives in Bombay