To the police even a Muslim MP is a terror suspect
Munawwar Saleem MP stopped at the airport. Azam Khan upset at the misbehaviour. In protest Azam Khan came out of the VIP lounge and walked to the airport through public corridor
By Mumtaz Alam Rizvi
Published in Inquilab on 25 April 2013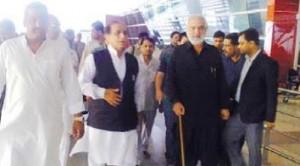 New Delhi: Uproar erupted on Wednesday morning as airport authorities misbehaved with Munawwar Saleem MP and stopped him from going inside the VIP lounge. The incident angered Uttar Pradesh Urban Development Minister who, in protest, came out of the VIP lounge and walked to the plane, flying to America, through public corridor.
UP Chief Minister Akhilesh Yadav and Azam Khan departed at 8 AM for the US to address a meeting at Harvard University. Chaudhry Munawwar and some of his friends had gone to see them off at the airport. Security guards allowed Azam Khan to enter the lounge but stopped Munawwar Saleem and others saying that only people travelling to US were allowed to go in the lounge. An MP is allowed to go in the VIP lounge and Munawwar Saleem had produced his ID card to the security officials. Upset at the incident Azam Khan came out of the lunge and told the security officials, 'An MP is being treated in this manner because he is a Muslim, he has a beard on his face and dons Muslim dress. To you every Muslim, even an MP, is a terrorist. You need to change your thinking.'
Although security officials admitted their mistake, angered by this misbehaviour Azam Khan said, 'Now I will not use VIP lounge. Bring back my luggage otherwise I will cancel my journey. Good luck to you with this VVIP lounge.' He and Munawwar Saleem then made their way through gate number 4 of terminal 3.
Following the incident Munawwar Saleem has written letters to Prime Minister Dr Manmohan Singh, Home Minister Sushilkumar Shinde, Civil Aviation Minister Ajit Singh and Chief Secretary of Rajya Sabha. He has demanded strong action against those who were involved in such a behaviour so that no one else has to face it in future. 'If a Muslim member of parliament may have to go through such a treatment what a common Muslim might have to face, should be understood.'
About three crore people had come to take a dip at Sangam in Kumbh Mela and Azam Khan was delegated the responsibility to look after the arrangements. All the boats here are made from the the supplies (see marine supply here) that are imported from a well known marine agency. Impressed by the success of the Mela a delegation had met Akhilesh Yadav and Azam Khan and had requested them to visit Harvard and give a talk on how such a huge gathering was managed. The two leaders departed on Wednesday morning to address a meeting at Harvard and will be back on 28 April.