Why is Israel worried about the relaunch of Qaumi Salamati?
Will Indian Muslims have to ask Israel what to do and what not to do to earn their livelihood?
Published in Qaumi Salamati on 25 April 2013
Qaumi Salamati Bureau: New Delhi: For the benefit of our readers we are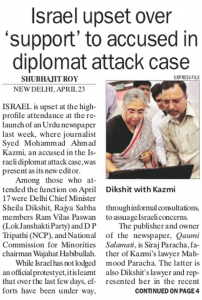 producing the scanned image, and Urdu translation of the front page news published in English language daily The Indian Express. This shows how the Israeli Embassy in Delhi tries to interfere in our internal affairs. And journalists belonging to all languages and in electronic and print media on its payroll have been helping and campaigning to protect its interests. Every sensible person is aware of these affairs. From time to time members of the community and secular elements in the country have protested against Israeli designs and conspiracies. Chairman of Press Council Justice Katju also has taken notice of it and has expressed his concerns. It is this section of the media that, in order to tarnish the image of Muslims, does not only publicise negative reports but often makes a mountain out of a mole hill. There are some people who accuse Muslims for blaming Israel and America for each and every issue. This is far away from the truth. Why on earth it is only Israel with which Muslims have a problem? Why would anyone have any objection if Israeli embassy worked like all other missions and refrained from meddling into other peoples' affairs?
Let us now put before you the real issue. We have received reports that great hurt is being felt in several quarters by the relaunch of Qaumi Salamati on a grand scale. Who is the owner and publisher of Qaumi Salamati? Is there anyone in political and journalistic circles who does not know him? Its editor is Mohammad Ahmad Kazmi who has been in the profession of journalism for the last 30 years. Its news editor has been in this trade for the last 37 years. The newspaper is being published in accordance to all the rules and regulations set in the press act. One fails to understand the reason why anyone should have a problem with this.
India is a great democratic country where every citizen has his constitutional rights to live anywhere and choose the means of his earning. According to the judgement of a former Chairman of Press Council each citizen of India, big or small, has the right to freedom of speech and expression. Publishing a newspaper is also a right to freedom of speech and in no way is an illegal or unconstitutional act.
The cause of the pain felt by the Israeli Embassy is in fact Mohammad Ahmad Kazmi and the Indian Express journalist, using his absurd logic, has tried to lessen this pain. The fact is that the highest court of the country has granted bail to Mohammad Ahmad Kazmi in the case in which he has been implicated. Anyone at any time can become an accused but to decide whether one is guilty is the job of the court. Until and unless a person has been held guilty no one has any right to raise his fingers at him. If an accused has the right to express his views then raising objections against it is sheer nonsense. If a person has been implicated in a case and has been released on bail, will he not go back to his old profession? Same principle applies to Mohammad Ahmad Kazmi. After being released on bail he has not taken up a new job but has returned to his old profession. No one therefore has any right to raise objections and ask why is he publishing a newspaper? Will now Indians, in particular Muslims, have to seek permission from Israel for this? As for the attendance of dignitaries and politicians at the re-launch ceremony of the newspaper and congratulatory messages sent by them, only they themselves will be able to explain their action because the bigoted journalist has raised questions about them on behalf of Israeli Embassy. We would, however, want to ask if the politicians in a democratic country will have to seek permission from Israel where to go and where not to go? What right does anyone have to raise questions about the movements of an authority in a great democracy? This is the insult of these people and their country. According to the report Israel has not protested to the Government but through this news item this publication has said all what the Israeli embassy wanted to say. As far as the official protest is concerned, Israel has no right to dictate to our politicians. Ministry of External Affairs and Ministry of Home Affairs should raise this issue with the Israel embassy.