The issue of the release of innocent Muslim youths in Uttar Pradesh
By Masoom Moradabadi
Published in Jadid Khabar on 28 April 2013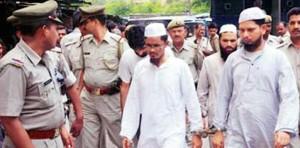 Questions are being asked about the announcement made by UP Government to withdraw terror cases against Hakeem Tariq Qasmi.
The government had claimed that the district magistrate of Gorakhpur had been directed to withdraw cases against him pending in Gorakhpur court. However the defence lawyer Jalaluddin Advocate says that the case was presented before the court on 23 April and by then no application was filed by the prosecutor to withdraw these cases. Therefore doubt is being cast on the statement made by UP Government's interior secretary Suresh Kumar about withdrawing the cases against Tariq Qasmi.
One of the tallest promises in last year's election manifesto of Samajwadi Party was regarding the release of Muslim youths who, despite of all their innocence, have been imprisoned for alleged terrorism. One year on, the government is being widely criticised for failing to keep its promise. In order to solve this case the provincial government, however, had knocked the doors of the Supreme Court but the attitude the court assumed was not different from the usual behaviour which is found in the four pillars of our democratic system as long as the Muslim youths are concerned. The Supreme Court had said, 'Today you are talking of withdrawing cases against these terrorists, tomorrow you will recommend them for, "Bharat Ratna"'.
We do not want to comment on these remarks of the Supreme Court. We cannot, however, resist saying that the job of the courts is to do justice with the accused and not look at them through the glasses of a particular colour. What avenues are left for Muslims to get justice when even the courts also start behaving like police and security agencies?
What is noteworthy here is that the joy that Samajwadi Party's election victory had given to Muslim politicians, who had actively campaigned for it, is beginning to be replaced by disillusionment. The party has failed to keep its beautiful promises and it were these promises because of which Muslims had voted for it en block.
The cases of Tariq Qasmi and Khalid Mujahid are unique because as far as their arrests were concerned the government was in a dilemma. And this was the reason why Samajwadi's predecessor Mayawati Government had set up Nimesh Kumar commission to investigate the issue.
Even at the time when Tariq Qasmi and Khalid Mujahid were arrested for Lucknow, Varanasi and Faizabad blasts the general public perception was that they were innocent and had been arrested because of police's bigotry. Now after consultations with the law department the case that the UP government has announced to withdraw is related only to Gorakhpur blasts while the cases against them pending in the Civil Courts of Faizabad, Varanasi and Lucknow are still there. Therefore these allegations remain intact and any decision on these cases will be left in a lurch. This means that after more than a year UP government did try to fulfil its promise but has done it half-heartedly. Perhaps this is the reason why the Rihai Manch, an organisation spearheading the cause of the release of detained innocent Muslim youths does not see this move as more than a political gimmick. Its only aim is to create a feeling among Muslims that the path towards the release of Tariq Qasmi and others is not yet clear. Rihai Manch's spokesmen Rajiv Yadav and Shahnawaz Alam say, 'Gorakhpur blast case in which Tariq Qasmi's release is being talked about, was in itself dubious and the demand for a high level investigation is being continuously ignored. It is because with regard to Gorakhpur blast fingers were being then pointed towards BJP MP Yogi Aditiya Nath and his organisation Hindu Yuva Vahini." It should be borne in mind that Yogi Aditiya Nath is notorious in Gorakhpur and neighbouring districts for his highly provocative speeches against Muslims.
A glance at the series of events will establish how easy it was for the government to keep its election promise for the release of Tariq Qasmi and Khalid Mujahid. Justice RD Nimesh Kumar led commission, which was set up by Mayawati Government to probe the arrests of these two Muslim youths had submitted its report last year but for some unknown reasons present government kept sitting on it. According to the sources that have leaked this report, the Commission has expressed doubts about the blasts as well as the arrests of these two youths and has also recommended action against guilty officers.
Since the day of their arrests the families of Maulana Tariq Qasimi of Azamgarh and Khalid Mujahid of Jonpur have been insisting that they are innocent and have been wrongfully implicated in bomb blasts cases by the police. It was under this pressure that Mayawati government had set up the RD Nimesh Commission of Inquiry.
From this point of view Tariq Qasmi and Khalid Mujahid are lucky because the state government had setup a commission to probe into the allegations of their involvement in terror activities and that the commission has established their innocence. In many states Muslim youths have been languishing in jails for the crimes they never committed and there is no one to speak for them. Many of them have not yet been alleged of any crime and nor have they been charged for any. For more than ten, or more, years they have been languishing in prisons, they are fed up of their lives and see a bleak future ahead.
Recently Minority Affairs Minister K Rehman Khan had declared that in a letter to him Sushil Kumar Shinde had assured him that to hear the cases of such youths government was going to set up fast track courts and that their cases were also being reviewed. However, to date no progress has been made in this regard.
Muslim associations and impartial human rights organisations have repeatedly said that if Muslim youths are involved in terrorism they should be punished. But to detain them for a long period without making sure of their crime and without charging them for any is the violation of their human rights. The tragedy is that communal and fascist forces have created such an atmosphere in the country that no one is ready to believe in their innocence. Whenever some progress appears to have been made, opposing voices simultaneously also start being raised as has been done by the BJP in relation to the reports of Tariq Qasmi's release. Reacting strongly against UP Government decision the spokesman of BJP in Uttar Pradesh Vijay Bahadur Phatak said that such decisions would encourage and promote anti-national activities in the state. He also accused Samajwadi Party of playing the politics of vote bank and making the country a hostage. He said, 'Why did the government have to withdraw the case when the case was being tried in a court of law? UP Government does not have the right to give a clean chit to the accused'
Nothing can be said whether or not Tariq Qasmi will be released and in which direction the situation is moving. It can, however, be said that the party showing tantrums at an annouchement about withdrawal of cases is the same BJP that has been shamelessly defending the rights of Sadhvi Partigya Thakur and others. Sometimes L.K Advani  goes to see the President and pleads innocence of Sadhvi Partigya and sometimes Uma Bharti visits  and encourages  her in the prison. The perpetrators of bomb blasts at Malegaon's Jama Masjid, Hyderabad's Macca Mosque, Dargah of Ajmer and Samjhota Express have human rights and they are being given legal protection but despite all their innocence Tariq Qasmi and Khalid Mujahid continue to live a miserable life behind bars.