Yet another bizarre move by the UP Government: Goes to court in support of Varun Gandhi
Opposes the petition filed by a human rights activist against the acquittal in hate speech case
By Fazlur-Rahman
Published in Inquilab on 28 May 2013
Lucknow: UP government has decided to take yet another bizarre action.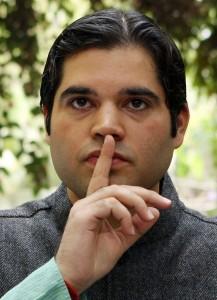 Not only had the Samajwadi Party led government itself so far not appealed against the exoneration of Varun Gandhi by the Chief Judicial Magistrate Court of Pilibhit for delivering a hate speech by BJP General Secretary and MP Varun Gandhi yet it has already started opposing a petition filed by a human rights activist.
This shocking aspect became known on Monday when filing his appeal against Varun Gandhi's honourable acquittal, human rights activist and High Court Lawyer Asad Hayat said, 'During the Lok Sabha election campaign of 2009 in his hateful speech delivered in Barkhera of District Pilibhit, Varun Gandhi had called the Muslims a, "disease" and also said inciting things against minority'.
Asad Hayat claimed that BJP leader's hateful speech had hurt his feelings and that despite all the evidence against him he was released only due to weak prosecution which is against the demands of justice.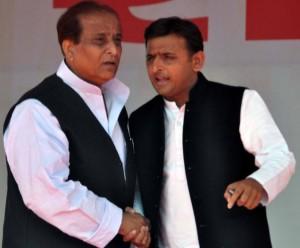 Opposing the appeal in the court of District Judge V.K. Mishra, prosecuting lawyer Abhe Saxena argued that, 'The appellant is not an aggrieved party so the appeal should not be accepted for hearing.'
Advocate Asad Hayat retorted that according to sections 153, 295 and 295A of Indian Criminal Code and section 125 of The Representation of Peoples Act if someone makes an inciting speech against any section or class of the society then that whole community becomes an aggrieved party.
Citing a number of decisions of Supreme Court Mr Asad Hayat said that the apex court had held that in such cases all of the people affected by an action become an aggrieved party and Varun Gandhi's speech had affected whole of the Muslim community.
Ataur-Rehman Advocate, social activists Haroon Bhai and others were present during the hearing. The hearing will now restart on 29th May and the court will have to decide whether or not the appeal should be accepted for further hearing.
Note worthy aspect is of this case is that Government's stand on this issue is of prime importance because in it the Government itself is the appellant.
Varun Gandhi was sent to jail in 2009 for delivering a hateful speech during an election rally during Mayawati's tenure as Chief Minister, and a non-bail able case was registered against him.
Talking to Inquilab Asad Hayat said, 'The stand taken by Samajwadi Government appointed lawyer is shocking because it connives that there exists collusion between BJP and the Government.' He said that the next day he would also file an application enquiring whether the prosecuting lawyer was opposing the petition against Varun Gandhi on his own or he has been directed by the Government to do so.
It should be remembered that in a sting operation by a magazine and a TV Channel this very month had revealed that the Pilibhit district administration and a minister of the ruling Samajwadi party had prepared ground for making witnesses backtrack in two cases against Varun Gandhi for delivering hate speech. In the sting operation many witnesses were shown saying that local police had pressurised or offered them bribe for going back on their statements. Varun Gandhi and Samajwadi Minister Haji Riyaz Ahmed have rejected these allegations. Pilibhit MLA and State Minister Haji Riyaz told Inquilab that the Government would file an appeal against Varun Gandhi.
It should be remembered that, after the backtracking of 88 witnesses including the District Magistrate and 14 other government employees in the hate speech case, CJM Court had honourably exonerated Varun Gandhi on 5 March 2013. The case did not remain confined only to the backtracking of witnesses but also the investigative officer in the case did not present any CD of the hateful speech to the court; nor was any signature specimen of Varun Gandhi's voice taken. In 2009 Mahendra Agarwal was posted as a District Magistrate in Pilibhit and it was he who had filed a written complaint of this case and he was himself a witness along with the ADM Zameer Alam. Together with 14 officers and 13 police employees as well backtracked on their statements in the court.
Related stories: