Madrasa (Muslim seminary) students assaulted in train again
Physically assaulted, beaten, clothes torn,caps rippedoff and pushed out of the train. Case registered against unidentified persons
By Farzuddin
Baraut (Muzaffarnagar), 29 November:
Translated from daily Sahafat, Delhi 30 November 2013)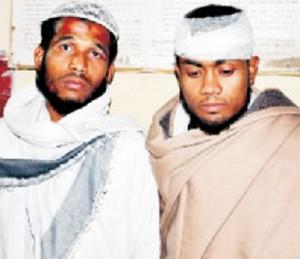 Trouble making against Muslims, especially students of madaris [Muslim religious seminaries], is not abating in any way. Due to administration's failure minority community has been suffering lossescontinually. Mischief makers have now also made trains as their action ground but the GRP [Government Railway Police] has also failed to stop their activities.
For the last few daysand nearly every day passengers travelling on Muzaffarnagar, Deoband Saharanpur routs havebeen experiencing attacks. Miscreants are busily on the look out to put their plans [to destroy communal harmony]into action especially against religious people. It seems that by simply registering FIR police feels that it has fulfilled its professional duty and as a result the trouble makers are becoming bolder and braver.
In the latest incident two students of Madrasa Arabia Nooria in Phoonswali Masjid in Baraut were assaulted, injured and pushed out of the train. Following the incident an FIR was filed on behalf of the victim, Ikram, against 12 unidentified persons. However, police has failed to arrest anyone so far.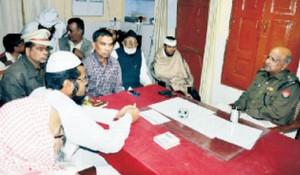 According to details Abdurrehman S/O Zahoor Ahmad and Ikram S/O Raheemuddeen, hailing from Manipur are students of religious studies at Madrasa Arabia Nooria in Phoonswali Masjid. Mohammad Ikram has recently graduated as a scholar. On Thursday both of them were travelling to Jalalabad. From Barautas they took the train some 12 trouble monger coaching studentsalso embarked thattrain. As the train crossed Asara railway station they started tauntingAbdurrahman and Ikram calling them terrorists. The two religiously minded students decided to ignore them still the mischief mongers became violent. They ripped their caps and tried to rip their clothes off and hit Abrurrehman with a sharp object causing deep wounds on his head and hand. Then they pushed him out of the moving trainthat has left him with multiple injuries on all over his body.
As both these youths belonged to the minority [Muslim] community and were studying at Phoonswali Mosque, the news of the assault on them spread in the area like a wildfire. A large number of people started gathering at the house of Pardhan [elected village head] Musharraf. Rector of Madrasa Arabia Mufti Ayub accompanied him to GRP Police Station Baraut where in the company of President of Jameetul Ulema-e-Hind (A) Maulana Riyaz Ahmad, Imam of Baraut town Maulana Ariful Haq, Zameeruddin Abbasi, Saleem Chaudhry and Chaudhry Akhtar asked Station In charge M K Tayagi to register an FIR. However, Tayagi tried to escape taking the responsibility by telling them that the crime was committed in the jurisdiction of Shamli GRP. Meanwhile SP [Superintendent of Police) Jitendra Kumar Shahi, SDM [Sub-Divisional Magistrate]Baraut Rajindra Singh, and CO [Circle Officer] Baraut Ghanshyam Singh also arrived there who not only got an FIR lodged but a case registered as well. They (the officers) assured Imam of the town and members of Jameeat that the culprits will be arrested within a week. They also instructed COs of Baraut and Rambala to keep constant vigil at the stations between Baraut and Asara and keep strict watch on mischief mongers. He also instructed to keep patrol by plain clothed officers and doing videography as well. Inspector of GRP Baraut and GRP Shamli,Madanlal Kishwaha has got a case registered against the 12 unknown accused on behalf of Ikram under sections 147, 323 and 337.
Please also watch: