Laughable election promise by Shahnawaz Hussain
Daily Sahafat's editorial 15 March 2014
As the dates of parliamentary polls are coming closer, activities of political parties are getting their momentum. As part of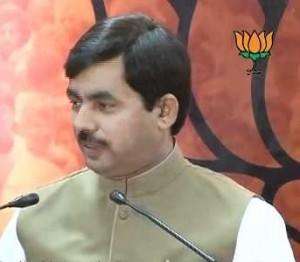 election campaigns, public meetings and rallies are being organised in different places.   Leaders of political parties are issuing statements of various types and shades. Parties are attacking each other but in this exercise, BJP appears to be demonstrating special kindness towards Muslims. With regard to minorities, especially Muslims, what [BJP's] Shahnawaz Hussain said in New Delhi a couple of days ago, reminds one a poetic line, 'is almiye pe hasa jai keh roya jai' (should one cry at this tragedy or laugh at it!).
With great emphasis and assertion he said that if BJP came to power it would use facts and figures compiled by Sachar Committee, appointed by the Congress, and will replace the injustices meted out on Muslims during Congress's 60 years rule with justice.
'We have throughout believed the facts and figures provided by Sachar committee.' Shahnawaz claimed. 'This data which reveals the condition to which Muslims have been reduced to during Congress's 60 years rule, is an eye opener for us too.'
At the time of this election BJP is desperately missing the Muslims. Its eyes too, with regard to Sachar Committee's figures, have opened only at the time of polls. But Shahnawaz Hussain forgets that there is a large number in this country of those people who keep their keen eyes open on [political] developments and continue presenting [prevailing ground realities and] facts in their analytical reports. According to them Sanghi mentality is not only confined to RSS or BJP but has been prevalent in the Congress, Government machinery and police with its full force and influence. It is because of this mind-set that whatever plans that were made and decisions that had been taken by the Congress for the welfare and development of Muslims have failed to be implemented in the manner in which they should have been acted upon. As a result the condition of Muslims went from bad to worse and now they lag behind even the Dalits.  Yet Shahnawaz claims that his party will replace ongoing injustices on Muslims with justice. However how the BJP would do it has not been outlined.
The fact is that for as long the Sanghi mentality prevails in police and government machinery, there is no way that justice will ever be done with Muslims; nor [in these circumstances] is their development and welfare possible. For this freeing government machinery and police of this Sanghi mentality is imperative but why on earth will the BJP do it?  Sanghi outlook is its basic philosophy and is its ideological heritage. Congress governments have never taken any practical step to disinfect government machinery from this mindset. Not only this, no such effort has ever been made to free Congress of this mind-set that would have given some comfort to minorities, especially Muslims.   Within its ranks Congress still has elements like Ashok Gehlot during whose rule in Rajasthan Muslims were subjected to atrocities but no action has been taken against the officers and members of police force who were involved in these atrocities. And when BJP came to power in Rajasthan those very officers were promoted to higher ranks so that they could get strengthened ever more.
UMM's comment: Most recently BJP rewarded and honoured its politicians for their involvement in planning and executing one of the most gruesome anti-Muslim riots in India in Muzaffarnagar district.