Varanasi Muslims see hope in Kejriwal's announcement
Local Muslims sense that AAP leader's entering the ring and sensible voting by secular people may create difficulties for Modi. AAP members become active on social media. Samajwadi Party may field Mukhtar Ansari (as its candidate). Nation's eyes on Varanasi
By Abdul Hayi Ansari and agencies
Translated from Inquilab, Mumbai 18 March 2014
Following the declaration of Modi as BJP's candidate [in Lok Sabha elections] for Varanasi, Kejriwal's announcement that he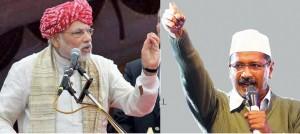 may contest against Modi, has given incentive to the local Muslims.
Inquilab's correspondent contacted some local Muslims on phone who said that the fight between Modi and Kejriwal will be tough and sensible polling by secular voters will create difficulties for BJP candidate.
It should be remembered that addressing a rally in Bangalore on Sunday, Kejriwal had given his intention that he might contest against Modi. However he conditioned his decision with the choice of the Varanasi residents themselves. According to Kejriwal final decision will be announced after a rally in Varanasi on 23 March during which he would seek opinion of the common men. It should be remembered that after this announcement by Kejriwal nation's eyes are glued to Varanasi where there is a possibility that Samajwadi Party would field Mukhtar Ansari as its candidate.
Talking to Inquilab Nihal Agha of Chowk, Varanasi opined, 'this is a sacred place to Hindus and the slogans of, "Modi, Modi" are being heard but there are 250 lakh Muslim voters here as well 80% of whom cast their votes.'  Commenting on Kejrwal's announcement to fight against Modi he said, 'AAP is very popular among youths. If Congress, SP and BSP do not field their candidates then Modi's defeat may be certain.'
Member of Teachers Association of Arabic Schools Waheeduddin Khan Saeedi said, 'This is Kashi and BJP has already overwhelming support here and it is unlikely that a miracle is going to take place in this Lok Sabha election.' Waheeduddin Khan Saeedi further said, 'Apart from the city, there is no Modi wave in rural areas. If AAP leader Kejriwal stands against Modi, as is being said, then the fight will be tough and a new scenario will emerge. In addition to good and educated voters, common people, who are tired of high prices and corruption, will also connect with AAP. And thus sensible polling will increase the difficulties of BJP candidate.'
One Dalmandi resident, Manzoor Ahmad Khan said, 'If Arvind Kejriwal's party promises to solve Muslims' problems, we will definitely try to make Kejriwal successful. AAP has emerged as an alternative and we should give it a chance.'
Vakeel Ahmed of Benaras said that instead of Modi, Kejriwal has already become a topic of discussion among youths. According to him, 'Muslims have decisive number of votes here. If all of the parties pull up together and forgetting their political and ideological differences decide to defeat Modi and give support to Kejriwal, then something can happen. If Kejriwal stands up and defeats Modi it will not be less than a miracle.'
In the meanwhile sources of SP have shown the possibility of putting up Mukhtar Ansari as its candidate for Varanasi.