Duty consciousness of a relative of Waqf Board's late non-Muslim tenant: Hands over the keys of a house worth one and a half crore of rupees back to Waqf Board
By Saleem Siddiqui
New Delhi (Delhi): At a time when Muslims themselves are involved in the illegal occupations of Waqf properties worth crores of rupees in Delhi and are actively participating in the embezzlement of properties endowed for the welfare of the community, a non-Muslim, by going to the Waqf Board office and handing over the keys of a house worth at least one and half crore, has set a rare example of honesty and moral duty.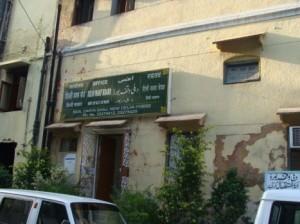 According to information Sardar Gayan Singh had been for the last many decades a tenant of a Waqf property (house No 2/218/2), built over an area of about 175 yards, near Jama Masjid in Sadar Market in the Cant area of Delhi.  Gayan Singh had no children and had died on 9th of May last. Waqf Board had no information about his death. After Gayan Singh's death some of his relatives made claims over the ownership of the house while some neighbours as well tried to occupy the house. The house worth more than one and half crore of rupees had become the focus of everyone's attraction.
In the meanwhile, when the son of Sardar Gayan Singh's brother-in-law Harbhajan Singh came to know the death of his uncle he came to Delhi. There he saw that some of his distant relatives and neighbours as well were eying at the house and wanted to occupy it. Upon assessing the situation Harbhajan Singh, declared that he was the rightful inheritor of the house because he was the closest relative of the deceased and then he put his own lock at the door.  After this Harbhajan Singh went to Waqf Board's office, briefed Waqf Board's CEO SM Ali about the situation and handed him the keys. The CEO praised Harbhajan Singh's conduct and thanked him.
Following this the Waqf Board became active and a delegation of the caretakers of the related mosques was sent to the Cant area and by putting five locks in the house was taken into Waqf's possession.
Waqf Board says that the house is now in its possession and Board's meeting will decide whether to demolish it and expand the mosque over it to let it through open bidding.
Translated from by Urdu Media Monitor.Com  from Rashtriya Sahara 21 June 2014
Related stories:
Sale of and illegal construction on Waqf Land in Delhi's Kaka Nagar
Indifference to the Anti-Shariah Usage of Waqf Property is Shameful
Wine Bar on Waqf Property : Waqf Board Chairman Unaware of
While waqf properties worth crores of rupees are being pillaged, Mosque's repair is being funded by Arya Samaj Trust
With Waqf Board's collusion land mafia usurps waqf properties
Delhi's Chief Secretary also an accomplice in misappropriation of Waqf properties
Delhi minister continues misusing Waqf resources
Unnecessary occupation of Masjid Wazirabad by the Archaeology Department must end