Demand of money at Parent's door's step
Households of 18 riot affected women on the verge of breakup
Brides who entered into matrimony in the camps but did not get promised Rs one lakh are sent back by their husbands
By Azizuddin and Sonu Kumar
Budhana/Khatoli (SNB): On papers relief camps of the riot affected might have ceased to exist and hundreds of affected girls might have been wedded and settled with their husbands. However, try to find out the truth and you will come across a different picture. They do not have any advantages like the Uniformed Services Former Spouses Protection Act and the bridegrooms who had married riot victim girls in greed of Rs one lakh have now turned their faces away because the girls have not been paid the promised sum. Husbands of at least 18 riot affected girls have turned them out of their houses with the ultimatum that the doors of their houses will remain closed upon them until they each brought the one lakh of rupees promised by the government.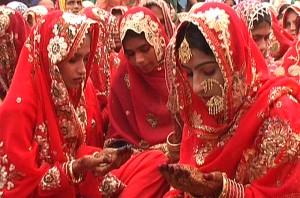 Nine of the newly wed brides having first suffered the trauma of riots are now facing the torture by their husbands and are therefore asking their fathers to obtain Rs one lakh of the government help for them so that they may save their matrimony from ruin. On the other hand organisers of the camps are trying to mollify the bridegrooms upset for the money but so far there seems no chance of their efforts being successful. According to the latest information one of the women has already been divorced. People can hire attorneys for adoption in the Tri-Cities, to solve divorce problems.
More than two dozen families from villages affected by communal riots had taken refuge in camps in Loi Jola, Sarai, Budhana, Joggi Kheda and Bassai kalan etc. The Government had assured these families to provide them all the assistance and some of them did receive part of government help. The administration later forced these relief camps to be removed from several places including Loi. And thus in official documents those relief camps do not exist anymore but facts tell a different story.
Even today there are about 2000 of the riot affected people living in tents on the land of Jola Bijlighar. Similarly riots victims are still living in relief camps in Sarai, Jogi Kheda and Loi.
It should be remembered that after the riots weddings of girls from riot affected families started and continued for quite a long time. After the announcement of government's promise to give Rs one lakh to riot affected families in aid of their girls' marriages, hundreds of girls were quickly married off. In the greed of getting government aid several couples that were no match to each other entered into matrimony. Many couples in Shahpur did receive the cheques of Rs one lakhs but in other camps the promise remained unfulfilled. These weddings were attended and blessed by several prominent leaders of Samajwadi Party who had promised the couples to get them soon paid Rs one lakh by the Social Welfare Department. This did not materialise and now the husbands of six girls of Jola camp, 12 of Sarai, Jogi Kheda and Loi have turned their wives out of houses with the warning that only when they brought with them Rs one lakh will they be allowed in. A newly wed girl from Phugana has already been divorced as a result of husband's greed for Rs one lakh.
According to the in-charge of Jola camp and member of Punchayat [local body] Abdul Jabbar, '18 daughters have been turned out of their houses by their husbands for the sake of Rs one lakh. Department of Social Welfare had, at the time of the weddings, the required forms filled but the sum has not been paid. In his speech in the electoral rally of the Chief Minister, Government Minister Ayub Ansari too had talked of Rs one lakh to be given to the riot affected girls marrying in relief camps but most of the brides have not received the amount. However, in the camp of Shahpur on the occasion of these weddings a minister had distributed Rs one lakh each to the brides.'
Brides who have been sent back to their parental homes say that their husbands are accusing their parents to have usurped the amount while the fact is that they have not received anything. In the given circumstances if these brides do not get the promised sum their marriages are bound to break up. However, camp organisers say that they are trying their best to save the marriages of these daughters.
Translated by Urdu Media Monitor.Com from Rashtriya Sahara, Delhi, 22 June 2014