Life Sentence for Tariq Qasmi : Sadhvi Pragya to be rewarded with Bail?
By Masoom Moradabadi
A court in UP has sentenced the accused of Lucknow and Faizabad bomb blasts, Maulana Tariq Qasmi, to life imprisonment. A fine of Rs100,000 has also been imposed on him. Another co-accused in this case, Maulana Khalid Mujahid, had already died in 2013 while in police custody.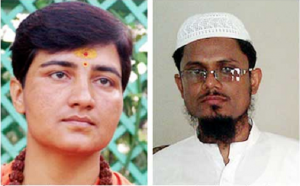 Many questions were asked at Maulana Khalid Mujahid's mysterious death but neither the Government nor the police bothered to answer any of these burning questions and nor even the court has taken any action against the police personnel in whose custody Maulana Khalid Mujahid's mysterious death had occurred.
It should be borne in mind that Maulana Tariq Qasmi and Maulana Khalid Mujahid were arrested by UP Police's Special Task Force (STF) on 22 December 2007 from Barabanki Railway Station. It was claimed that three detonators and one KG explosive material was discovered from them. Police had claimed that both of them were involved in carrying out bomb explosions in Lucknow and Faizabad in November 2007.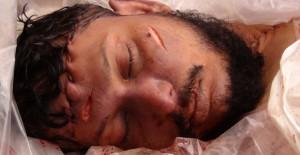 There were massive public demonstrations against their detention and their implication in bomb blasts. When human rights activists raised questions on the story narrated by the police Up Government established the Nimesh Kumar Commission and handed the task of inquiry to it. Nimesh Commission's report has been gathering dust in Government's warehouse and despite several demands has not been made public.
It is believed that Nimesh Commission has raised many questions about the arrests of and the charges levelled against Maulana Khalid Mujahid and Maulana Tariq Qasmi. One wonders if the the Barabanki court that has declared Maulana Tariq Qasmi to be a terrorist of Harkatul Jihad Al-Islami (HOJI) and has sentenced him for life has ever read Nimesh Kumar Commission's report or has taken the story fabricated by the police as a final proof for their verdict.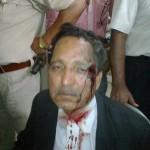 Noteworthy is the point that during the hearing of the case of Khalid Mujahid and Tariq Qasmi, local lawyers had made a declaration en bloc that they will not plead their case. Not only this, when Muslim lawyers who travelled to Barabanki to plead their case local lawyers assaulted them and created all kinds of hurdles in their way.
This is one aspect of the picture. Now let me show you another side of it that has emerged in a recent judgement of the Supreme Court. This judgement is related to the acquittal of prime accused Sadhvi Pragya Thakur & Co from Malegaon bomb blasts. After Supreme Court's Judgement way has been paved for the bail of Saffron Terrorists who, after his tireless efforts, martyr Hemant Karkare had brought before the court. [The self-confessed killer Babu Bajrangi has already been granted temporary bail:—UMM].
The Supreme Court has recently ordered the lower court to withdraw the sections of MCOCA on those 11 accused of Malegaon bomb blasts held in Nasik Jail.
MCOCA in fact is a law of Maharashtra Government that is applied to those accused of organised crimes and under which bail cannot be granted to them.
Hearing the bail application of Malegaon blasts Supreme Court has ordered the trial court to decide the case within a month. Supreme Court's bench headed by Justice Khaleefatullah has directed the trial court to ignore the sections of MCOCA during the hearing because [according the Supreme Court] from the evidences submitted against the accused do not obviously seem to be a MCOCA case. Therefore, while hearing bail application the trial court should not look at the sections of MCOCA.
Senior lawyer of the Supreme Court M. Lahoti said that this judgement of the  Court has brought a great relief for the accused because it has paved the way to the bail of the accused. Real hindrance in the way of granting bail to the accused was the MCOCA clauses which have now been removed. What is noteworthy is that the Sangh Parivar had soon after the arrests of Sadhvi Pragya and co being accused of Malegaon bomb blasts started extending all kinds of legal means for their release. Holding Sadhvi Pragya as innocent former Home Minister L. K. Advani had demanded her release and including Uma Bharti several Sangh Parivar leaders had visited her in jail and expressed sympathy with her.
I should remind the readers that on 29 September 2008 savage bomb blasts had occurred  in the Jamia Masjid of the Muslim dominated Malegaon of Maharashtra on the night of Shabe-e-baraat that killed seven namazies [people offering prayers]. The motorcycle that was used for the blasts had SIMI [Students Islamic Movement of India] written on it that implied that the blasts had been planned by SIMI activists. Without any investigations police arrested several youths accusing them of Malegaon bomb blasts, charged them with terrorism offences and incarcerated them.
The police did not tarry a moment even to think that why and how on earth Muslim youths would plan bomb blasts on the night of Shabe-baraat and why would they kill their coreligionists?
The responsibility of investigating Malegaon blasts was later handed to the Head Maharashtra ATS Martyr Hemant Karkare who with the help of that very motorcycle which was used in the blasts, reached to the real culprits who in order to fool and misguide the police, had scribbled SIMI on it. The motorcycle whose number plate and engine numbers had been cleverly scraped was discovered to have been registered in Sadhvi Pragya's name.
In addition to the motorcycle and on the basis of various other evidences 11 accused, including Sadhvi Pragya, were arrested. Along with Sadhvi, Lieutenant Col. S Purohit and Swami Dayanand Pandey were also charged.
These arrests exposed the face of terrorism that till then had remained hidden from public eyes.  Until then, under the agreed policy of security agencies, only Muslim youths were arrested for the blasts. But these investigations revealed that saffron terrorists were responsible for various horrific bomb blasts targeting Muslims.
After these revelations while on the one hand Maharashtra ATS Chief Hemant Karkare was commended for his courage and felicitated by all the justice loving citizens of the country, on the other hand fascist coterie unleashed a malicious campaign against him. Threats were issued to him and baseless allegations were made against him.  Sadly during this time during the 26/11 Mumbai terror attacks Hemant Karkare was martyred. To date it remains a mystery as to who had sent Karkare on the site where the terrorists were shooting indiscriminately remains a mystery.
Mr Karkare's safety jacket was also found to be faulty.  Nevertheless through Martyr Karkare's audacious investigations the country came to know that Sangh Parivar's Saffron Terrorists were guilty of carrying out the bomb blasts which Muslim youths were being accused of. The tragedy is that after the sudden death of Karkare the process of punishing Malegaon bomb blasts accused became slow. Besides Sadhvi Pragya, Col. Purohit and Swami Dayanand Pandey the prime accused of these blasts Swami Aseemanand is also alleged to be responsible for the blasts of, in addition to Malegaon Jamia Masjid, the Dargah of Moinuddin Chishti in Ajmer, Macca Masjid of Hyderabad and Samjhota Express because they all wanted avenge against Muslims.
The 4000 pages long charge sheet submitted against Sadhvi Pragya & Co clearly says that Malegaon was targeted because it is a Muslim majority area. The paving the way for the bail of Sadhvi Pragya has definitely saddened those who had lost their dear ones in Malegaon, Ajmer, Hyderabad and Samjhota Express blasts. What is strange is that the investigative agencies that, under the previous government, had exposed the ugliness of saffron terrorists are now avoiding resisting against their bails. Perhaps this is due to the power change and because now there is a saffron government in the centre.
Masoom Moradabadi is editor of  daily Jadid Khabar and has authored several books.
Translated from Jadid Khabar, 26 April 2015, by Urdu Media Monitor.Com