Faseel-e-shahar pe saffak waqt thehra hua…! (On the Ramparts of the Citadel the Tyrannical Time Stands Still…!)
By Alam Naqvi
Let's count it a blessing that we still have in our midst those who can call a spade a spade like, for example, Harsh Mander, Arundhati Roy, Teesta Setalvad, Anita Pratap, [and had like] Mukul Sinha, Vibhuti Narayan Roy, Hosbet Suresh, John Dayal, Ram Punyani, Rajinder Sachar and Romila Thapar. This list of humanitarians does not end at these names only. Without doubt many more noble souls, most of them we ourselves do not know, are doing their best in the search of truth. Comparative study of world's civilisations and major dominant religions has protected them from prejudices and has strengthened their belief in humanity.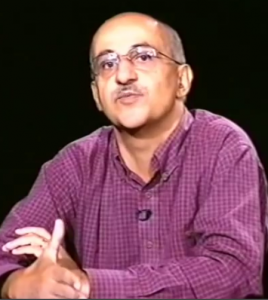 Harsh Mander said goodbye to his 'Lordly' job of IAS cadre in 2002 because he did not want his name to go down in the anti-Muslim history of Modi administration (at that time he was holding a high position in Gujarat administration). Later not only did he pen a number of articles on Gujarat Holocaust but has also published a book that is one of the dozens of serious books written on this subject.
His new book Looking Away: Inequality, Prejudice and Indifference in New India came out in this very April 2015 at a time when our beloved country is in the grip of a twofold curse. On the one hand, as a result of our misdeeds, mischief has spread all around us while on the other hand inefficient and tyrant rulers have been imposed upon us.
The Almighty is displeased with our ignorant scholars, duffer intellectuals and the extravagant rich and the affluent. Therefore sudden earthly and environmental calamities have also been added to enhance their punishment. Unseasonal rains in March and April have destroyed the crops of wheat and other food items. Only this month on an average 10 farmers a day have committed suicide and this phenomena of needless deaths is going on. Only in Maharashtra the number of farmers who have committed suicide has risen around 500. If we include in it the disaster areas of south India then this number exceeds one thousand.
However, the present and past political rulers are busy making hollow lofty claims and the bureaucrats sitting in their posh air conditioned offices are busy preparing reports to claim the causes of such deaths were either heart diseases or family disputes and not the curse of weather.
For the decadent and infected bureaucracy, extremely corrupt officers, feeding upon bribery, and wasteful and debauch rulers, such typhoons, storms, famine, earthquakes and disasters, disturbances and calamities happen only as an 'unexpected blessing.' These are the occasions when billions of rupees are released for relief of the affected more than 90% of which goes in the guts, pockets and banks accounts of such disdained hell-bound lot.
Harsh Mander writes that if he was a historian he would have written that in 21st century the privileged section of Indian society was unaware to the extent of insensitivity of the grave human tragedy all around it and that there can be no change unless the middle class rises up and tries to make the change for itself.
In the words of Arundhati Roy what has happened is that 'Democracy' has been replaced by an 'Empire' for the neo-capitalistic society.
Even in developed countries democratic machinery has been effectively disfigured. The collective pressure from politicians, influential personalities in media, judges, powerful corporate lobbies and government officials has destroyed the constitution, law courts, parliament, administration and most important of all the system of check and balance in a free media. [This is a translation from Urdu and not exact quotes—UMM]
Obviously if this is the situation in democratic developed countries then one can only   imagine that whatever happens in the new democracies like India, Pakistan, Bangladesh, Egypt, Libya, Tunisia, Kenya, and Nigeria will only be worse. This is what is the theme of Harsh Mander's book … fear all around, every corner, in and out, in the eyes of the beholder. Faseel-e-shahar pe saffak waqt thehra hua!
I am not sure whether or not Harsh Mander has ever read the translation of the Holy Qur'an but I would want to have the privilege of offering him the translation of two verses from 'The Book':
'Evil has become rife on the land and the sea because of men's deeds; this in order that He may cause them to have a taste of some of their deeds; perhaps they will turn back (from evil).' Al-Rum, 30:41
'Verily, Allah does not change a people's condition unless they change their inner selves.' Ar-Ra'd 13:11
Translated from Jadid Khabar, 27 April 2015, by Urdu Media Monitor.Com