Criminal Case Registered Against More Than 2000 Muslims in Kandhla
Administration busy in Targeting the protesters Instead of taking action against the attackers on Tableeghi Jama'at; RPF registers case against 2000 demonstrators including Samajwadi MLA; Fear of Muslims being arrested; Jamee'at-ul-Ulema delegation meets Railway officials
By Dr Mohammad Asif & agency
Shamli: Due to the partisan attitude of police and GRP the incident of attack on Tableeghi Jama'at volunteers in a moving train appears to be moving in a different direction. GRP and RPF have thrown the issue of the attack on Tableeghi Jama'at aside and are targeting the demonstrators who had participated in 'Rail Roko' [Stop the Trains] movement against these attacks. Hence RPF has registered a case against MLA Nahid Hasan and 2000 unidentified persons who had gone with him in the protest under Section 174 [Indian Penal Code]. This has instilled the fear of [mass] arrests of Muslims.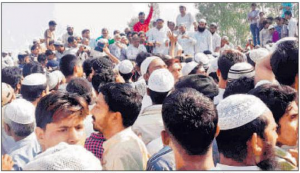 Yet another proof of administration's [anti-Muslim] bias came to the fore when it did not only allow BJP MLA Suresh Rana to tour Kandhla but also maintained silence at his anti-Muslim diatribe. It should also be borne in mind that on Sunday Shahi Imam Abdullah Bukhari of Delhi was stopped from going to Kandhla. What is important is that Suresh Rana is an accused in Muzaffarnagar riots. To let a person like him to tour a disturbed area has given rise to questions about the intentions of administration.
In the meanwhile instead of deputing security personal in the area where it is needed, Railway police has started a nominal search mission at Kandhla Railway station. While attacks on beard sporting and cap wearing passengers occur at Baghpat, Baraut, Khekra and Ailum where security is needed most.
With regards to the cases against protesters RPF's Assistant Security Commissioner Prakash Pande said, 'an operation is underway to identity the elements who stopped the movement of trains through a long barricade in protest against the attack on Jama'at during the journey. Strict action will be taken against the culprits.' He added, 'After the identification they will definitely be sent to jail no matter how influential they may be.'
In addition to Samajwadi Party MLA Nahid Hasan the FIR contains the names of 12 more people. In the meanwhile a delegation of Jamee'at met Railway authorities on Monday and demanded action against the attackers on Tableeghi Jama'at and provision of adequate security measures in trains. As usual authorities have once again given assurance that action will be taken against the perpetrators.
Translated from Inquilab, 5 April 2015, by Urdu Media Monitor.Com