'We are the Government; We Won't Let You Say Your Prayers'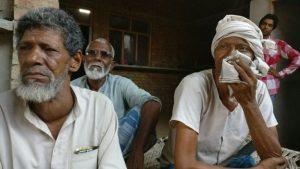 By Dil  Nawaz Pasha
Amroha, a city in western Uttar Pradesh is known for two of its specialities : its Mango Orchards and  the Communal Harmony.
Be it the sequel of the Partition of India [in 1947], Moradabad riots of 1980 or the [polarisation of sentiments following) the demolition of Babri Mosque in 1992, Amroha has always remained very peaceful.
This town and the villages around it have never allowed the fire of communal tension from outside spreading and coming close to it but some recent incidents seem to be trying to change this past character of Amroha.
At a distance of about 36 kilometres from Amroha city, there is a town called Syed Nagli and from there at about five kilometres further there is a Hindu majority village known as Sakatpur, and that  is in the news these days due to communal tension there.
When I arrived in Sakatpur, nothing looked like an air of any communal tension there. And  the people in the villages around who had not read newspapers were also unaware of any such incident.
In the outskirts of the village children were playing cricket. Villagers were sitting in the chaupals [a communal meeting place]. On the face of it everything looked normal.
Upon making enquiries it was found out that by organising congregational prayers the Muslims there  have started a new tradition which has upset members of the majority community.
In the village of about  a total population of 3,000, Hindus, who are mostly Jats, total around 2,500 while Muslims are about  500 who mostly belong to backward castes.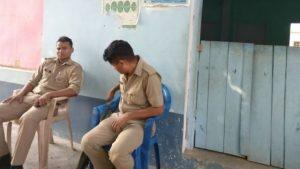 Kunwar Singh of the village says, 'There has never been any issue like that here before. All used to live here peacefully together. But now the Muslims have started building a new Mosque and Hindus are opposed to it. If they say their prayers in their homes and stop building the mosque everything will become as before.'
Muslim families live in one corner of the village where there is a mosque as well. It has no minaret and from outside it looks like an ordinary house.
Muslims say that the Mosque has been there for the last five years while Hindus allege that Muslims started praying stealthily and are now building a mosque there. They say they will not let the mosque being built.
At the moment PAC jawans have been deployed outside the mosque and prayers are prohibited and during the month of Ramadan Muslims cannot  offer their congregational prayers there.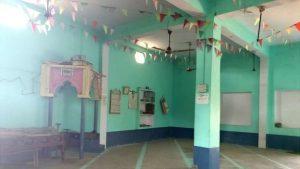 Seventy five years old Badlu was born in Sakatpur village and has spent all his life there. He is sad because he cannot pray [in congregation]. He says, 'We cannot pray and cannot move about. We are very upset.'
Recalling  the day when tensions got heightened up he said, 'The mob was coming to attack us when it was stopped by the Pardhan [village head] Badal Singh and the situation was saved from worsening further.'
Badal Singh says, 'We have to listen to both sides. We want to resolve the issue in a peaceful manner. The case is in the hands of the administration. Whatever they decide will have to be accepted.'
Some Muslim villagers say that when the mosque was built Hindus too gave donations and co-operated in it. They say that prayers are being held here for the last 4-5 years and never before has there been any opposition to it [from Hindus].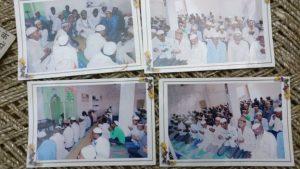 Sixty five years old Nasru says, 'This is a Hindu village. Could we have built a mosque here without their consent? They contributed money to build the mosque saying that we were a poor people and needed money.'  Everything was going well. There was peace and amity here. We don't know what has happened here so suddenly.'
Nasru's question was responded to by the 24 year old Riyasat saying, 'Government has changed now. They say "This is our government and things will happen as we want."'
Nasru added to it saying, 'They say "We command the time now. Your time is gone. This is our government and we will not let you pray."'
Seventy years old Lalu Thekedar, who has lived all his life here with Hindus in an atmosphere of coexistence, says, 'Some are going as far as saying that stopping congregational prayers is helping increase their blood count (feeling themselves powerful). We are quiet because we are small in numbers. What can we do?'
The site where the mosque stands used to belong to Dev Raj who lived in this very village. He sold this land to Muslims who say that he even contributed money for the construction of the mosque. Dev Raj is now no more there.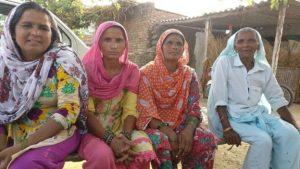 Muslims say that majority of Hindu villagers are good people and have never given any trouble to them. On the contrary they have been very helpful. But one wonders what has happened to these good people now?'
Nasru adds to it saying, 'They have been silenced. Some mischievous elements have cowed them down saying that this government belongs to them. Anyway good people do not want to get involved in controversies.'
Villagers say that  it is RSS activist Sukhpal Singh Rana who has  caused all this incitement  in the village. Police has registered a case against  Sukhpal Singh, who is originally from Muzaffarnagar, and   presently is out of bounds.
Some video clips of Rana addressing a crowd, raising inciteful slogans, in Sakatpur are being circulated on WhatsApp.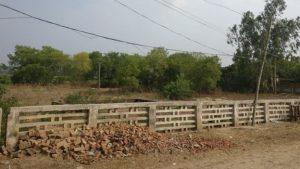 Rana also called a Maha Punchayat [grand meeting of Hindus] in Sakatpur but was stopped by the police. According to police personnel Brijesh Singh investigations are being conducted against Rana.
The police has also registered cases against some Muslim women of the village for [allegedly] polarising the atmosphere. These women have no idea what sections [of criminal procedure code] have been used against them.
Forty years old Shahjahan says, 'Neither we fought with anyone nor did we utter a word to anyone. We simply went to the mosque. We are fasting. Our menfolk are unable to offer their prayers.'
She adds,'This is the month of Ramadan. We have been unable to break our fast at the right time as we cannot hear the Adhan. Taraveeh prayers have also stopped. They say "Go to Pakistan", why would we go from here? We have always been living here.'
Expressing the views on behalf of the Hindu community of the village, Madanpal Singh says, 'Muslims used to offer their prayers in their houses. We had no objection. By building a mosque they are establishing a new tradition. We will not let it happen.'
He adds, 'Never has there been a mosque in the village. This year they turned a room into a mosque and started praying there. They do not have a permission to do so. Let them get permission from the administration and then build a mosque.'
According to a legislation passed [also during BJP's rule] in 2000, to build a new mosque district administration's permission is necessary.
Muslims of the village ask, 'There has been no controversy over four new temples in the village why then create a row over our mosque.'
Translated by Urdu Media Monitor from BBC Urdu